By FSO Staff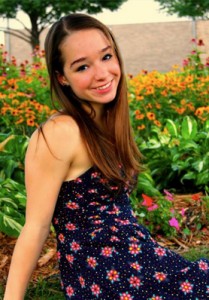 Kiri Baga, the 2009 U.S. Novice Ladies champion and silver medalist in her senior international debut at 2013 Coupe de Nice in France, will attend the University of Pennsylvania starting this fall. She announced her decision in her May 31st journal entry published on her official website, writing, "I felt ready to stop training and experience college life more [and] will be majoring in neuroscience."
When asked if she is officially retiring at the age of 19, Baga replied in an e-mail: "I just may do shows in the future. I don't think I'm competing anymore. But I'm not 100% positive I won't do collegiates or something."
In addition to her U.S. novice title, Baga won the U.S. junior ladies' pewter medal in 2010, and had a successful junior international career, winning three Junior Grand Prix medals (two gold, one silver), qualifying for two ISU Junior Grand Prix Finals, and competing at the 2010 World Junior Championships (7th place). She skated three times at the senior national championships, with her highest finish being 10th place in 2012. She also competed as a senior level pair skater, both nationally and internationally, with Taylor Toth in the 2012-2013 season.
She ended her journal entry emphatically:
"There is nothing I would change about the decisions or sacrifices I've made during my skating career. Each experience has taught me so many lessons that I will apply to my entire life. Skating is still a huge part of who I am and I love going to the rink. I'm coaching this summer and I may continue with that during college. I really can't thank the skating community enough for their endless support."
The Figure Skaters Online staff wishes Kiri all the best in the next, exciting chapter of her life.