By Gina Capellazzi. website administrator
After his ninth place finish at the 2020 U.S. Championships in Greensboro, North Carolina in January, Sean Rabbitt was getting ready to embark on what he has entitled "The Sean Rabbitt World Tour 2.0." Rabbitt had numerous workshops, seminars, performances set-up around the world, but in mid-March, Rabbitt's plans came to a screeching halt when the novel coronavirus became a serious pandemic and it was no longer safe for him to travel around the U.S. and internationally. In addition to several cancelled trips, Great Park Ice Arena, where Rabbitt trains and coaches in Irvine, Calif., also closed its doors on March 14.
Figure Skaters Online's website administrator Gina Capellazzi spoke with Sean after Nationals and checked in with him again  to see how the coronavirus was impacting his planned tour.  This Q&A is a combination of their interviews from January and March.
Figure Skaters Online (FSO): What did you think of your Nationals performances, especially since you weren't sure you were even going to compete this season?
Sean Rabbitt: The reason I decided to compete this season was I had made a really good placement in the ISU's [Season Best list] top 75. One of my goals as an athlete is to compete on the Grand Prix circuit. I have competed internationally a number of times now and I've even medaled internationally. So being on the ISU's top 75, it really gives you a better chance than just getting the Skate America TBD position or something. So that kind of lit my flame to want to continue competing. And besides that, I have a great fan base. People love my skating. So for me, it felt right (to compete). 
Regardless of the ISU's position, if I wanted to compete internationally, I needed to get the score to be in the ISP [U.S. Figure Skating's International Selection Pool] because I had missed it by just two points at the 2019 U.S. Championships. So to do so, I had to try and get it at Glacier Falls or one of the summer competitions. So unfortunately, that (Glacier Falls) did not go well. I really honestly felt broken at that time and a lot of people actually criticized me for feeling that way because they are like, 'Oh it's a summer competition. Like who cares. You have the rest of the season.' I don't think people realized how much that one summer competition really meant to me.
So after that, I talked to the team, my coach [Tammy Gambill], my trainer [Tyrone Bennett] and I talked with a lot of my close friends who have passed on into the professional world, and a lot of them said, 'you know, a Grand Prix doesn't make or break you. It's just another thing to add to the list. But you also, as Sean Rabbitt, have so many cool things that many other top athletes don't.' I have never medaled at Nationals in any level, but I can walk into an arena and get a standing ovation. I'm definitely one of the best, but not the best. And everyone said those are qualities that no one else can do. No quad can make up for that. So it really changed my perspective and I just want to share my love of the sport, my love of skating and appreciate what it's given to me and give back to the fans in the best way that I can, which is continue skating for me and for them!
So fast forward to Nationals, I worked so hard. I thought that I was in good shape at Sectionals and I skated well. The placement [4th] was definitely not what I wanted being that I was the four-time Pacific Coast champion leading up to that. But I think that made me just work so much harder. I'm getting older and things are getting more difficult so I just need to focus even more. I need to train a little bit differently, but more efficiently. So coming into Nationals, I felt so prepared, probably one of the most prepared Nationals I've ever had in my life, to be honest.
The short program was exactly how I had been training it. The whole week, every practice I didn't miss a jump, like, it was really a good week. Unfortunately, in the long program, I think I was wanting it too much. I was almost looking for perfection because I knew between Sectionals in November and Nationals, I'd run probably about 20 clean long programs, which I feel is a pretty good amount. So I think instead of letting it happen like I did in the short, I kind of expected perfection (in the long program). But even that being said, because I was so well-trained, I feel like I was able to bounce back from the mistake and kind of fight my way through it.
I'm just really proud of what I did out there. Regards to the short program, two years in a row, I have been able to put out really strong, short programs under pressure at Nationals and get really good scores (two of my highest scores ever at age 28 and 29) that set me up for a really good placement. I think what's cool about that is, again, I can just skate and feel free. I knew I was prepared and that allowed me to focus more on my artistry and performing from my heart and get the audience. So Nationals, I'm so proud of everything I did that week and this whole season!
Sorry for the really long answer!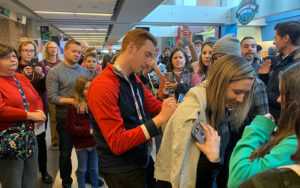 FSO: Not too long after you competed your short program in Greensboro, you were walking in the concourse and people were stopping you for autographs and photos, what was that like?
Sean: As I have said, that is kind of my quad. Like everyone talks about you need a quad and I don't disagree at all with that. I've done a triple Axel. I've competed them. I was training quads. So I totally understand you need a quad, but I also feel like (grabbing the audience into my performance) is my quad. I'm really good at pulling people in and I think it's so cool. Having that kind of response at Nationals, walking upstairs and being mobbed is something I feel very grateful for! After Nationals, I gained a ton of extra followers on social media and a couple of them, what I thought was super cool, were people that were like, 'hey, I happened to be watching NBC. I know nothing about figure skating, but loved your skating and now I'm a huge fan and because of you, I really want to learn more about figure skating.' I thought that was so cool. Having these people that support me, even outside of the sport, it really makes me feel like I'm doing something correctly. Even from a score or standings standpoint, if I'm not the best, I really do feel like I'm the best at something and I'm hoping that it's drawing more attention and changing the sport for the better. So the support from the fans is really cool. I'm so appreciative of it. Every time I meet somebody who is a fan and wants a picture or autograph, I always make sure to take the time and really say thank you because without them, I wouldn't be still skating.
FSO: This was your ninth senior Nationals and you have been skating for more than a decade. What do you have to say when you look back on your skating career so far?
Sean: I know, it's crazy! It was my ninth senior Nationals, ten years as a senior. I think it is really cool. I was sitting and talking with [six-time U.S. Champion] Todd Eldredge and he was like, 'You're one of the few that have gone to more than, say five or six senior Nationals'.  So there's him (12 senior Nationals). There's Michael Weiss (13 senior Nationals). There's probably one of the Baldwin (Don and John) brothers, if not both. [John- 7 senior Nationals as a singles competitor; 10 senior Nationals with partner, Rena Inoue]. So I'm in an exclusive club of people that have been to that many senior nationals. I think a lot of it goes down to my training. I am very, very fortunate to have Tammy Gambill for the last seven or eight years as my coach, and off-ice training with Tyrone Bennett for a little longer than that. And before that, all my coaches have been very smart with how they trained me so I was able to stay injury free for the most part.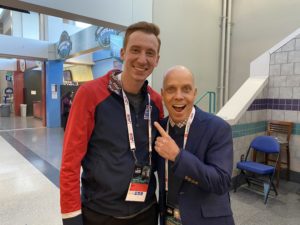 I think another reason for my longevity is I didn't get a triple till I was 17 or 18. I didn't make my first Nationals till I was 19. So I think that's why my body has been able to go to 10 seasons of seniors and keep progressing forward and keep improving.
FSO: So when we talked in January, you mentioned that you would be taking part in what you have called, "The Sean Rabbitt World Tour 2.0" and you were very excited. But then the coronavirus was becoming more of concern across Asia, then into Europe and now in the U.S. Can you give us an update on what happened with your tour?
Sean: Yes, when we last talked I was gearing up to maintain a pretty fun, but busy travel schedule. After Nationals, I went to Salt Lake City, Utah, where I taught a seminar and was the special guest for Ice Theatre of Utah's show. After that, I was home for just a week and then flew to Seoul, South Korea where I was the guest coach, working with coach Chi Hyun-Jung's skaters, to include Lee Hae-In, who I spent a lot of time working on her skating skills and components. This was so cool because the following week, she went to Junior Worlds where she was second after the short program, so it was rewarding to have played a small part in helping her. I spent the week working with all of coach Chi's students on their skating skills and power, all this while Korea was facing their outbreak of COVID-19.
The outbreak in Korea was centralized in a city called Daegu and the thousands that were affected with the virus were members of a particular group. The South Korean government did an amazing job of informing the public and keeping everyone updated in multiple languages.They even set up a website that was updated two times per day giving stats. Also, Korea shut down their country from countries viewed as a possible threat from entering their country; to include China. So I actually felt very safe in Seoul. The city was pretty much shut down and there was no one around. People were very conscious of the threat, hand sanitizer everywhere, people stationed at the doors so they could open it for you. When I left Korea and came back to the U.S., I had my temperature read and I was heavily questioned upon my arrival to the U.S. Once they felt I was okay, I was able to enter without needing to quarantine based on the U.S. Immigration's series of questions.
So upon my return from Korea, I had to cancel four other planned skating trips, including a trip to Japan.
FSO: But it hasn't been just cancelled trips, the rink, Great Park Ice Arena, where you train and teach is closed until the further notice. For someone like you, who relies on the rink to make a living, what has this situation been like for you, as well as your students?
Sean: I think the situation is very scary indeed, especially from a financial standpoint. I definitely rely on the rink as I am coaching and that's my only way of income. However, I am lucky from a young age that my parents were strict about us (my brother and I) learning about money and how to save for an emergency; so at this point, although it is sad and scary not having an income, I don't feel too worried…yet. I do feel this is a good opportunity for us to learn what kind of spending we do is important to us and what isn't. What can we cut out to make sure we are saving for a time like this. It's a really good learning opportunity (trying to keep my positive approach).
But the flip side of this (and this is what I keep telling everyone), I get a break! I get to sleep in, I get to rest my body, because at my age that is so important and I don't feel like I ever take enough time to rest and let me whole body recover. If I am traveling, I am usually on a plane, then on the ice, then I fly home and the next morning jump back into full schedule at the rink to ensure I stay in shape and to make sure my students aren't missing out and get the most of me too. I am very present in my work so I am very much enjoying this time away from the ice for now. Give me another week and maybe I'll have changed my mind on all of this.
FSO: You are getting creativity during this rough time–tell me about your YouTube series you started? Also, how have you reached out to your students during this time and what have you talked to them about?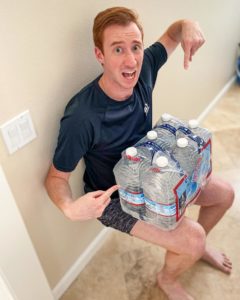 Sean: You said it! It's a rough time. I feel like I have a very big fan base and among those fans are a lot of young skaters who look to me for hope and guidance. So maintaining my positive approach, I decided immediately to show skaters that this is a good time to work on improving their strengths and flexibility through off-ice. I don't think enough skaters do off-ice, including my own (sorry guys, you know I love you) and so this is a great time for them to really see the importance of off ice training and what it can add to your skating!
So through my YouTube and my Instagram, I have been posting daily positivity posts and videos that include some really good home workouts that are good for skaters, but also the whole family! I have also been invited to do an online LIVE class through a program that the Figure Skating Club of Park City set up, so with my videos, doing their LIVE workout, and doing some off ice FaceTime lessons, I am keeping busy. I keep re-iterating the importance of using this time for good, but also how its good for their bodies to recover, and many of them go to school, skate, and do several other activities so it is a great time for them to enjoy not doing a lot and try to do some crafts or learn something from YouTube that maybe they didn't have time to learn before! Even myself, I am using this time to my advantage and signed up for online courses with the National Association of Sports Science and am taking their CPT (certified personal trainer) course, in hopes of finishing this and being a CPT before returning to the rink, whenever that might be!
FSO: You wear many hats as a coach, choreographer, guest instructor, etc. Most of those hats involve giving back to the younger generation. What do you enjoy about giving back to the next generation of figure skaters?
Sean: I enjoy seeing all these kids love skating. I love being an ambassador for U.S. Figure Skating, really. I think it's so cool to see kids and adults of all ages wanting to skate. I was sitting at the bar at the hotel, and this one lady came up to me and she was like 'I always wanted to skate, but I think I'm too old.' And I went on this whole thing about how we have this whole adult program. I think giving back is so important because I absolutely hate people who think that they are better than the rest. I hate people who are arrogant because they think they're better than the rest and don't take time to involve themselves with the community that has made them who they are. If you make connections with people and you're kind and you give back to the sport, that is where you will have an everlasting legacy in my opinion. And it's not even about the legacy or being known, but I think my point is I don't view myself better than anybody else in this sport. I might be better physically on the ice, but I am the same person.  I just happen to be good at something and because of that, I think it is so important to give back.
FSO:  As a veteran in sport, what is your advice and what do you have to say to the next generation of skaters?
Sean: That's a good question and I actually get asked this question a lot. It's funny. But I don't feel that I have the correct answer for them. But with that being said, everyone is on their own journey. Everyone is going to develop at a different rate at a different time. So my advice to them would be everything happens for a reason and everyone goes at their own pace. Don't compare your pace to someone else's. Try not to compare yourself to your friends, your training mates, you competitors. Sometimes they are going to grow and sometimes they're not going to grow. Sometimes they're going to get their triple Axel and a quad yet not make it to the Junior Grand Prix Final, and that is okay, because as long as you are persistent and you still want to, something good will happen. Just skate because YOU love to skate, that's my motto every day, and the honest secret to my continued longevity in the sport.
Stay tuned to Figure Skaters Online for more on how our skaters are adapting to these unusual circumstances.