By Victoria Burdman, blogger at www.celebratetheweekend.com and contributor to Russian language sports daily www.sovsport.ru.
Photos courtesy of Misha Ge
Skate America in Lake Placid, New York, was one of the most dramatic Grand Prix events this season, with quite a few skaters suffering injuries and misfortunes. It also recorded a number of notable debuts, including skater Misha Ge in a role of coach-choreographer in the coaching group of Inna Goncharenko of Russia.
Victoria Burdman, blogger at www.celebratetheweekend.com and contributor to Russian language sports daily www.sovsport.ru caught up with Misha Ge in the stands of the famous Herb Brooks Arena in Lake Placid during a rare break in the competition schedule when he was not busy coaching or watching his skaters, Maxim Kovtun and Sergei Voronov, get ready to perform.
Burdman and Ge spoke in Russian, but the article was translated in English for Figure Skaters Online.
Besides Russian, Ge is also fluent in English and Chinese. He was born in Moscow, Russia and had lived in China with his family as a child for many years. He represents Uzbekistan as a skater. A week before this Skate America, Ge won his first Grand Prix medal, a bronze, at Internationaux de France. Ge is known for his artistry. While still competing and getting ready for the 2018 Olympics, Ge has been choreographing programs for others skaters for a couple of years now. In an IceNetwork interview earlier this year, Ge noted that he considers his work with other skaters as an opportunity he is grateful for and not something to be "having a sense of pride about." Ge has worked with Gracie Gold, Anna Pogorilaya, Elena Radionova, Elizaveta Tuktamysheva, Alexander Petrov, Artur Dmitriev, Kevin Reynolds, Elizabet Tursynbaeva, Rika Hongo, Maxim Kovtun, and Sergei Voronov.
Victoria Burdman (VB): Where do you feel yourself at home?
Misha Ge (MG): I am a citizen of the world, I feel at home in Russia, China, and now in the U.S. (Los Angeles).
VB: Is the role of coach-choreographer something you see yourself in after you finish your
competitive career?
MG: I have already been practicing this role. Coach-choreographer would be my main role, then the development of  ice shows and sports management, then training camps and other new opportunities for the next generation of skaters around the world. I already have experience with ice shows, but I plan to get more experience in it, so I could develop and realize new opportunities.
VB: How do you manage to balance an active competition career with choreographing for other skaters?
MG: This season, I choreographed 19 programs and had to say no to 15 more programs because of the lack of time. In order to choreograph, I had to cancel my own participation in 38 show performances around the world, including the famous Swiss show, Art on Ice. Something had to give so I could continue my own training and preparation for the Olympics. After this season, I will most likely be transitioning into the role of choreographer and sport manager full-time, and I am getting ready for this transition now.
VB: Do you think a coach and a choreographer have to work together when putting together a new program or do they have separate and distinct roles?
MG: Everyone approaches this process differently based on their training style and individual habits. My goal as a choreographer is to help the team. I am flexible and can work with the team's needs.
VB: Not every skater can afford daily lessons with choreographer. Do you think it is necessary?
MG: Again, a lot here depends on the training style and level of the athlete. But in general, yes, the more you polish something, the more it has a chance to develop and "shine."
VB: Skate America was your first experience as a coach at a major competition. How do you know what to say to the skater before he goes on ice?
MG: Well, some skaters need these special words a couple of hours or even a day ahead of the performance. Yet, others need them right before they skate. It all depends on what a skater is used to. I have kept in my head the worlds that parents (Misha is coached by parents, Larisa and Jun Ge) have been telling me during my own training.
VB: Which ones?
MG: It all depends on the situation. A good coach knows what is needed and the words could really save the performance. A skate is made of so many factors — physical condition, mental readiness and technique. Sometimes, coaches and choreographers can really help with these right "last" words a skater hears before they take the ice. Since I was little, I have been observing how my parents coach, choreograph the programs, prepare the skaters mentally, solve issues, correct the technique. All I know as a coach and choreographer is from my parents, and I am very grateful to them.

VB: How did they(your parents) end up in figure skating?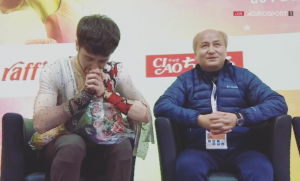 MG: They each have their own story–a long one, but they met in figure skating. My dad grew in China, but it was my grandfather, who brought my dad and his sister to the rink. My grandfather used to skate along the frozen rivers in their native Jilin, not far from the Russian border.
VB: As a skater who is known by the artistic merits of your programs, what do you think of
the current state of judging of the "artistic" components?
MG: I am not ready to express my opinion yet. I believe thousands of experts, coaches, judges and even spectators have to express their opinions in order to decide which direction to take.  I do know that a program has to be balanced and maybe it means that skaters have to be judged for the whole program, and not separately for technical and artistic aspects of it.
VB: Whose program in men's singles skating do you admire?
MG: I still have goose bumps when I watch the "Gladiator" by Alexei Yagudin (2002 Olympic champion). From more recent performances, I admire the programs by Takahashi Daisuke (2010 Olympic bronze medalist).
VB: Since you have worked with and personally know so many skaters, you probably would not be comfortable giving any predictions for the upcoming Olympics?
MG: I hope that all my skating friends will have good performances. I wish them all to have good "skates" – and then let the best ones to be chosen based on that. This season, there are so many surprising up and downs in all figure skating disciplines. I wish them all to skate well at their national championships – in Russia, Japan, U.S, Canada – so that they can show their full potential.
Inna Goncharenko, coach of Sergei Voronov and Maxim Kovtun, said this about Misha: "I think Misha has a great potential to grow as coach-choreographer, he has great insights and this is what he wants to do. We help each other – I feel close to him personally and I really wish that all works out for him."