By Gina Capellazzi, website administrator
Header photo by Matthew TW Huang via Stars on Ice (Hartford, CT show)
PITTSBURGH, PA — Many people have come to know Jason Brown for his warm and cheerful personality. Hardly seen without a big smile on his face, always eager to greet fans with a big hug, it is hard not to become an instant fan.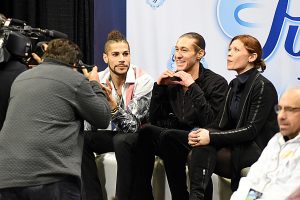 But what Jason Brown fans may have not realized was that despite that outgoing personality, the 2015 U.S. Champion and 2014 Olympic team bronze medalist was struggling on the inside with the disappointment of not making the 2018 Olympic team and finishing in sixth place at the U.S. Championships in San Jose, California in January.
"I was hurting and it was hard," Brown revealed to Figure Skaters Online before the Stars on Ice Pittsburgh show on April 27.
"I definitely went through a difficult time after Nationals," he added. "I was a little depressed, a little frustrated. A little angry."
These are thoughts Brown hasn't shared publicly until now. Just recently, on his YouTube channel, Brown posted a vlog recorded from his hotel in Pittsburgh, sharing those same thoughts.
"The U.S Championships was really difficult, not making that Olympic team. Being that first alternate was the most gut-wrenching, heartbreaking experience that I have faced in my skating career up until this point," Brown confessed in his vlog.
Despite the setback of not making the Olympic team, Brown was assigned to compete at the Four Continents Championships in Taipei City, where he ended up winning the bronze medal, his first-ever ISU Championship senior medal.
"After Nationals and I got assigned (to Four Continents), I was really excited and proud to just have the assignment, " he shared. "Obviously, it wasn't exactly what I wanted, but I was still proud to be assigned to an event."
"And going (to Taipei City), I wanted to do me and I wanted to do what I was comfortable with and what I can be confident with and to end the season feeling good about myself," Brown adding, noting that he decided to go back to his 2016-2017 free skate to "The Scent of Love" from The Piano film soundtrack. "I was super proud to go to Four Continents and skate my heart out. To have that result in a medal was like a cherry on top."
Four Continents would end up being Brown's final competition of the season. After 2018 Olympic team bronze medalist Adam Rippon withdrew from the World Championships following the Olympic Games, Brown, as first alternate, was invited by U.S. Figure Skating to compete in Milan. However, Brown chose to decline the invitation. While Brown says he isn't able to share all of the reasons for that decision at this time, he did tell Figure Skaters Online that a big component for that decision was his mental state.
"I wasn't in a mental space that was worth put myself through it again (competing)," he explained. (As Worlds drew closer), I was finally starting to feel happy and gain perspective and feel good about myself, but I wasn't at that point to be put right back into the spotlight and I felt like I needed to allow myself to have that space." 
While the World Championships were going on, the 23-year-old from Highland Park, IL, instead took some time to travel, backpacking through New Zealand with his older sister, Jordan. Shortly upon returning home, Brown headed to Florida to begin rehearsals for Stars on Ice. This is Brown's first tour as a regular cast member.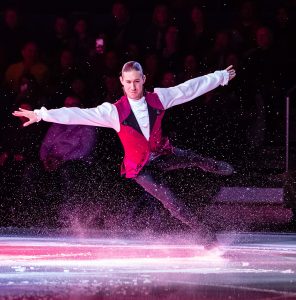 In the show, Brown is performing his "Room Where It Happens" short program from the past season, which has gotten a huge response, including from Lin-Manuel Miranda, Hamilton's creator and the original Alexander Hamilton on Broadway. Brown says Hamilton is his first-ever program to a Broadway soundtrack, which is a bit surprising to the skater who considers himself a huge Broadway fan.
"Since I was like five, we (my family) would always go to Broadway shows in Chicago and whenever we were in New York, we would see shows," Brown noted, who also skated to "Waving Through a Window" from Dear Evan Hansen as an exhibition program during the season. " It (Broadway) is a part of my family's culture and how I grew up so the fact that Hamilton is the first musical that I competed shocks me!" he exclaimed.
"Now that the Broadway gates are opened, you'll be seeing a lot of Broadway from me!" Brown added with a laugh. "Maybe even next year."
Brown is also skating an upbeat and entertaining program to Justin Timberlake's "Can't Stop the Feeling!" from the animated movie Trolls, which was choreographed by Rohene Ward for the tour.
"I originally wanted to do something emotional, something to kind of reflect on what I went through (this season)," Brown explained. "Being that I'm such an upbeat happy person that has a very positive outlook on life, I don't general do slower, more beautiful songs when it comes to shows. But I was like, 'I kind of want do that'. But Rohene said 'You know what, you are going to be doing it for six weeks, and I kind of want you to do something fun that shows your personality, that shows that you are good and you are feeling great.' As the time went on, I felt better and better and so we wanted to do something upbeat that I can dance to and have fun with. I cannot be more thankful for that decision because every night is a blast. Every night I step onto the ice to perform that second number, it brings a smile to my face and it is great."
When Stars on Ice ends in two weeks, Brown will start to focus on next season. While he did not specifically address the rumor that he may have left longtime coach Kori Ade, Brown did say he is taking this time while on tour to explore various options for next season.
"I'm still in that phase of 'I'm on the tour and we are having fun' but, obviously, as this is all going on, I have a lot in the back of my mind of what I want to do, but it is all just an exploration period. Each day, I'm figuring out something new about myself or something new about what I'm looking for … whether it be coaches, whether it be location, whether it be schooling, and whether it be so many different aspects of my life. So I think I'm just taking this period of time, especially through the end of Stars, which ends at the end of May, to really allow myself to figure it out."
"One hundred percent I want to compete next year," Brown continued. "Obviously, in my head, I'm definitely looking at a four-year plan. I'm thinking that way. But at the time, with this being so fresh and new, I'm still really just taking the time to close this chapter before moving forward."
For right now, Brown is more than content to continue traveling and performing with his fellow Stars on Ice cast members to various cities across the country.
"It is so amazing. I absolutely love it. It is so much fun," he exclaimed. "There's nothing that I enjoy more than being able to perform and to perform every weekend is pretty great!"