Interview and Photos by Francesca S., staff writer
MONTRÉAL, QC–After her former partner, Dylan Moscovitch, retired from competitive skating following the 2017-18 season, Lubov Ilyuschechkina, 27, had ventured to the performance side of skating, touring with Cirque du Soleil's Crystal show. That is, until a Facebook message gave her another chance to compete. The message was from Charlie Bilodeau, 25, who had competed with Julianne Séguin through the 2018 Olympics and World Championships. He was looking for a new partner. Fast forward a few months — the new Canadian pair team of Ilyushechkina and Bilodeau held a practice session at their Montréal training rink that was open to the media on April 1, 2019.  Figure Skaters Online had the opportunity to speak with them as well as with one of their coaches, Richard Gauthier.
Figure Skaters Online (FSO): Lubov, you have shown the media the message that started this partnership: Charlie contacted you a few months ago on Facebook congratulating you on your Cirque du Soleil gig and asked if you liked it. What did you reply?
Lubov: Something like, 'Yes, I like it so far and things are going well.' I answered directly, and then I expected the question about the tryout.
FSO: When did the tryout happen?
Lubov: I came back to Toronto during my tour break. Sometime in September. I had two weeks off.
FSO: Is that when did you decided to form a team?
Lubov: Not quite, not yet. For me, it was food for thought and then we started thinking about when we could try again. So when I was back after my next tour break, I came here to Montréal and we trained for a week together and decided to start our partnership then.
FSO: How did you pick your coaching team of Richard Gauthier and Bruno Marcotte?
Lubov: We kept the conversation open and we were talking about it when I was on tour. We gradually decided for Richard's and Bruno's team in St-Leonard.
FSO: Had either of you skated with them before?
Charlie: I started working with Bruno before, but I didn't skate here in Saint-Leonard. Montréal is big in the skating world with both the Gadbois ice dance school and here, so for us it was a good option.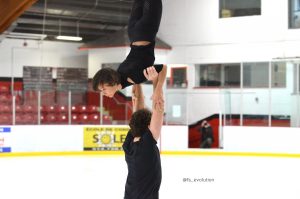 FSO: What do you think are your strengths as a team?
Charlie: What have you seen us do that you liked? 
I think we both come with our own strengths and experiences. We want to put all of it together and create something new and go further.
Lubov: I can't wait to see our growth and progress. We will have our own look and style, and we'll work on what we'll think we need to develop.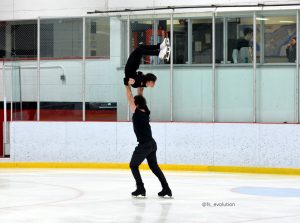 FSO: Do you have ideas for programs?
Charlie: We have songs!
Lubov: The short program music is already decided; the free skate is coming.
FSO: What are your short term and long term goals?
Charlie: It's pretty early to say anything about goals. We'll start our competitions this summer at the Quebec Summer Championships [August 8-11, 2019 in Pierrefonds], and next year Worlds are in Montréal so we want to be there, but then for the specific results it's hard to say; we'll see!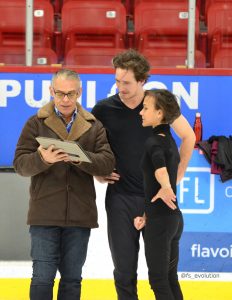 FSO: What do you think their strengths are?
Richard Gauthier (RG): Her flexibility. I've had many girls in the past that were flexible, but I would see some pictures in my head of a lift, and I would never find the skater who was able to do it. When I ask Lubov, she gives me more than I have in my head. I want them to look like a team that people want to see because they'll see something different. So far we found the entry for the twist, lift positions, even in the pairs spin. She has positions that only she can do. I think the time spent in the circus [Cirque du Soleil's Crystal tour] pays off now. I think they both match well together; the stroking matches from the beginning. It always takes a few years for a pair team to look like one. Three years is fast even when they both are experienced — take Meagan [Duhamel] and Eric [Radford] or Jamie [Sale] and David [Pelletier]. But when you're experienced, you don't have to focus on the technical part so you can perform more. With Lubov, people thought she had problems with jumps before, but I think the problems she had in competition with jumps were more mental than physical. I think skating with Charlie — he's a good guy — will be a positive environment. When I have a team like this, it's like having a brand new car that you want to show the world, it will be fun coaching them.
FSO: Who is going to be in the coaching team?
RG: Marie-France Dubreuil and Guillaume Cizeron. I think he's a genius; he and Marie-France will be doing their programs so we'll see something different. They will go once a week to train with the ice dancers. The coaching team is me, Bruno, Sylvie Fullum to clean their programs — she used to teach to Patrice and Marie-France — and then Marlène Picard and Yvan Desjardins who are, to me, two of the best single coaches we have in Canada. 
FSO: How did they approach you?
RG: Charlie had approached her and they had one try out. He asked me what I thought and I said: 'If you want to come back, you have to do it with someone with whom you think you'll do better than your previous partner, otherwise, you start from scratch, but you have to give it eight years', which was not the case here. So that didn't leave much choice. I was surprised Lubov was willing to come back. I thought after joining Cirque du Soleil she wouldn't, but she realized she didn't like too much repetition of easy stuff every day. She still hasn't achieved what she wanted to competitively. For me it's important that my skaters have great self esteem when they leave the sport, I think that's what she'll be gaining here.
FSO: What will their season look like?
RG: Quebec summer provincials, and they'll aim to make the world team. It was hard to squeeze in the Canadian pairs scene the last few seasons, but there is room now. Hopefully they get some Grand Prix [competitions] too; they can keep their ranking from the previous partnerships. We'll wait to see how they look like in the summer and hopefully they get invited. I think people know them and will be curious to see them.
MORE PHOTOS