By Maura Sullivan Hill, Team FSO staff writer
Header photo by Cornelius Atkinson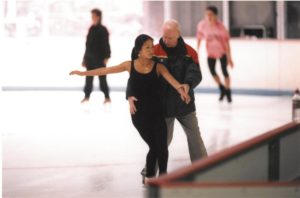 Frank Carroll has coached a skater at almost every Olympic Games since 1976 (missing only in 1984 and 1994). A fixture at the boards at international events and sought-after coach of champions, Carroll coached Michelle Kwan to multiple word titles and Evan Lysacek to an Olympic gold medal. Now, at 81 and semi-retired, he sees himself more as a grandfather figure than power player.
"The only thing I can compare it to is what my sister said to me [about] how much she loved being a grandparent. When you have kids, you're always responsible for them, teaching them, correcting them, making sure they learn. But when you're a grandparent, you don't have the responsibility and all you can give them is love," Carroll said from his home in Palm Springs, Calif. "That's the way it is in skating right now for me. I can go in and enjoy it, but I'm not responsible for the outcome. It's just going into the rink and doing what I can to help them, and they're very deeply appreciative of my efforts, and that is all joy."
This year, in recognition of his coaching achievements and his own skating career as a national competitor and show skater, the Ice Theatre of New York is honoring Carroll with their annual Lifetime Achievement Award. Carroll, who says he is "so happy and honored" to be recognized by the Ice Theatre of New York, will receive the award on Monday, Oct. 21 at the organization's annual benefit gala and performance at Chelsea Piers in New York City.
"I felt like it was the right time to honor him because he had announced his retirement and because of his incredible legacy in skating," said Moira North, founder and artistic director of the Ice Theatre of New York. "He's had this amazing ability to translate his love of his own skating onto his students, and he has an incredible list of students. It is the right time to focus on and celebrate him."
In addition to Kwan and Lysacek, Carroll has coached a list of students full of the most recognizable names in the sport: Linda Fratianne, Christopher Bowman, Nicole Bobek, Timothy Goebel, Gracie Gold, and the late Denis Ten. During a coaching career that stretched more than 60 years, Carroll was named PSA Coach of the Year in 1997, 2000, and 2001, as well as Olympic Coach of the Year in 1997. He was inducted into the U.S. Figure Skating Hall of Fame in 1996 and the World Figure Skating Hall of Fame in 2007. In his active retirement, Carroll has also been working with 2019 U.S. National Ladies Champion Alysa Liu, who he describes as "a very sweet, kind little girl. Until she gets on the ice, and then she becomes a tiger."
These days, Carroll isn't going to the rink every day, but he still works as the High Performance Consultant at Great Park Ice and Five Point Arena in Irvine, Calif. and also works for U.S. Figure Skating as a mentor and monitor for U.S. skaters on the international selection team.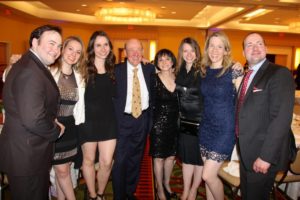 In addition to Carroll's Lifetime Achievement Award, the Ice Theatre of New York will present the Ice Angel Award to John and Amy Hughes and the Hughes family, for all their contributions to the organization over the past 26 years. 
"The theme of our gala this year is 'It takes a village' and, certainly, the Hughes family has been an important part of our village," North said.
All six Hughes siblings have been involved with Ice Theatre of New York in some capacity. The most well-known is when 2002 Olympic Champion Sarah Hughes and 2006 Olympian Emily Hughes performed as young apprentices with the Ice Theatre at the beginning of their skating careers. But all six siblings have skated in group numbers at Ice Theatre performances at one point or another, with the Hughes brothers even jumping in on their hockey skates for an on-ice fashion show North choreographed one year. Plus, the video honoring Hughes family at this year's event was produced by Matthew Hughes, one of many video projects he has assisted with over the years.
These days, the Hughes' granddaughters are the ones on skates in Ice Theatre of New York productions, but the whole clan will be in New York for the celebration on Oct. 21. Skating is a family affair for the Hughes, and the Ice Theatre of New York is a major part of that, according to matriarch Amy.
"We believe that ice skating is more than jumps and spins—it is about artistry and performance and passion. Ice theatre celebrates skating holistically, and not just during the relatively short time in a skater's life that a person might be competing," Amy Hughes said. "We also appreciate how ice theatre brings the joy of skating to people who otherwise might not be exposed to it, with the public school outreach shows and related work and edge classes and doing all the artistic things. It's like dance—dance isn't just one thing, it's ballet, it's jazz, it's ballroom, it's going to a party and dancing. Well, that's how skating was with us. It wasn't just the competitions, it was fun, doing the shows and opening Rockefeller Center [with the Ice Theatre]."
Hughes said she is "flabbergasted" that they are receiving the Ice Angel Award and that "it is going to be a wonderful evening" with the whole family together to celebrate and support ITNY, as they have for so many years.
"We've met so many wonderful and kind people, including, of course, Moira, who is a force of nature. She, along with [executive director] Jirina [Ribbens] and so many others at the Ice Theatre of New York, have become very close friends of our family," Hughes said. "Ice theater enhances the skating community immeasurably by demonstrating all the dimensions of ice skating to different audiences. This is for everybody."
This year's benefit gala and performance is shaping up to indeed have something for every skating fan in the audience. This event is the largest fundraiser for the Ice Theatre of New York, and it always includes skating performances.
The ensemble will skate to two new pieces, including one set to "Bohemian Rhapsody" as a nod to the 2018 film, and a quartet about relationships. The junior ensemble will perform to music from the movie "The Imitation Game," choreographed by Elisa Angeli, ensemble director. Eliot Halverson is choreographing a new solo for Armen Agaian to "Take Five" by Dave Brubeck. Two performers from the Cirque du Soleil, Zabato Bebe and Julien Duliere, who will be showcasing "freestyle"—but not as most skating fans know it.
"It is a combination of hockey, hip hop, street dance, and skating," North said. "We have two freestyle skaters coming in from Cirque du Soleil to do an original piece for ice theatre, to educate audiences about freestyle, which is very popular in Europe."
Following the show, there will be a cocktail hour, awards presentation, and a pledge drive to support the Ice Theatre of New York outreach programs that bring skating to physical education classes in the New York City public schools.
"We have public school children from Harlem, the Bronx, Brooklyn, and Queens, come to Riverbank State Park during their school day for a short show by the ice theatre, and then they join those same performers on the ice for a free skating clinic," North said. "Thousands of kids get to see it over the course of the year, and are introduced to a form of dance on ice and invited to learn the basics of skating, which might become a lifelong activity. We'd like to expand on it."
For more information on the benefit gala and to buy tickets, visit https://icetheatre.org/2019-benefit-gala-performance.html.
Check out Figure Skaters Online Tuesday for a special Q&A with Frank Carroll.