By Claire Cloutier, Team FSO contributing writer
Photos by Melanie Heaney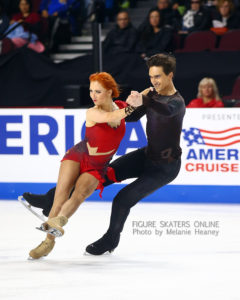 Five years ago, ice dancers Tiffani Zagorski and Jonathan Guerreiro teamed up to skate for Russia. Zagorski and Guerreiro have faced their share of challenges since then, including citizenship issues, injury problems and a disappointing result at last season's Russian Nationals. However, the team has started the new season with a burst of energy, showing two exciting and upbeat programs at 2019 Skate America to place fifth.
When Zagorski and Guerreiro spoke with Figure Skaters Online after the competition at Skate America, they were full of smiles as they expressed pleasure with their performances in Las Vegas and anticipation for the season ahead. The duo is looking to bounce back from their setback at 2019 Russian Nationals. And, in speaking with Zagorski and Guerreiro, it seems that optimism in the face of adversity is perhaps an underlying theme of their partnership.
Zagorski and Guerreiro first tried out as partners in 2014. At that time, Zagorski was training on her own in France. Zagorski was born and grew up in London, England, but had competed for France with two previous partners. Her last partnership ended in 2012, and she had been waiting two years to find the right new partner. ("A long time," Zagorski said.)
Guerreiro was also seeking a new partner. "I split with my partner [Ekaterina Pushkash] after the 2014 Olympic season. We got to the point where she was ready to finish. And it was just something that was long overdue," Guerreiro said.
Guerreiro was born and raised in Sydney, Australia, until he was 14, but then moved to Russia with his family. His mother, Svetlana Liapina, is a former ice dancer who skated for the Soviet Union with ex-partner Gorsha Sur, while his father, Francisco Guerreiro, hails from Portugal. Liapina now works as an ice dance coach in Moscow, where she resides with her husband. (Guerreiro's brothers recently returned to Australia.)
"Tiffani and I got into contact through mutual people who actually texted both of us," Guerreiro said. Russian dance coach Alexander Zhulin then arranged a tryout in Moscow, which was successful. "Zhulin was like: 'Okay, this is good. Let's do this for Russia.'"
Indeed, the couple had to choose which country to skate for. Their decision to skate for Russia was driven by two factors. First, the Russian federation had helped support and fund Guerreiro's junior career. Second, due to the length of time she had been out of competition, Zagorski would be eligible to compete for Russia sooner than Guerreiro would have been eligible to compete for France. Therefore, the couple decided to skate for Russia.
"We didn't think it would be a problem," said Guerreiro.
"We thought it would be easy," echoed Zagorski.
However, getting Zagorski's release from France turned out to be a much more fraught and lengthy process than the team had anticipated. The French federation declined to approve the release–leaving the couple in limbo and uncertain of their future–while also holding up Bruno Massot's release to Germany to skate with Aliona Savchenko. It was not until the case became a cause celebre among skating fans and the ISU got involved that the releases were approved in October 2015."
Not all partnerships would survive a year of such uncertainty and stress, but Zagorski and Guerreiro chose to focus on the positive side of the situation.
"It was a bit of a deadlock. But it helped us bond as a partnership," Guerreiro said.
"He was great during all of it," Zagorski said of her partner.
"We supported each other. And it really solidified the partnership and made it easier for us to start competing, because we had already bonded," Guerreiro noted. "We went through so much that it was just pleasant and enjoyable to start competing."
Two weeks after the release, Zagorski and Guerreiro competed at, and won, their first international competition together, the 2015 Santa Claus Cup in Budapest, Hungary. 
"We were just so happy to be there," Zagorski recalled. "We're like: 'We're finally competing!'"
Once settled in their training location in Moscow, Zagorski found she enjoyed training there quite a bit. "It's become this really international city," she said of Russia's capital. "It's such a cool, lively young city. Everything is open 24 hours. It's really great."
"It's nice," Guerreiro agreed. "The younger generation, most people are English-speaking, very friendly. Even living spaces–there's lots of lofts, open spaces, parties. All this movement."
Zagorski did not speak any Russian when she arrived in Moscow. "I moved there and couldn't say a thing," she recounted. "But now I can speak and hold a conversation and get my point across. Any opportunity I had, I would try and repeat words and ask: 'What does this mean, how do I say this?'" Guerreiro, meanwhile, is trilingual, having grown up speaking Russian, Portuguese, and English.
In addition to learning the Russian language, Zagorski has also learned more about her family's connection to Russia since moving to Moscow. "My grandfather was actually born in Russia, and his wife was Russian," she said. She also has Polish, Irish, Scottish, English, and Welsh heritage.
The following season (2016-17) brought more competitions and success for Zagorski and Guerreiro. They won three Challenger Series medals, made their Grand Prix debut, and placed fifth at Russian Nationals for the third consecutive year. At the end of that season, they changed coaches from Alexander Zhulin to Elena Kustarova and Svetlana Alexeeva. (Guerreiro had previously worked with Kustarova and Alexeeva during his junior years.)
As the Pyeongchang Olympic season (2017-18) opened, it seemed that Zagorski and Guerreiro's chances of making the Russian Olympic team were slim. With only two slots available and several higher-ranked couples in contention, Zagorski and Guerreiro were seen as underdogs. "At the time, it sounded ridiculous, to go to the Olympics after coming fifth three times at Nationals. It was close–but yet so far," Guerreiro recalled.
Still, Zagorski and Guerreiro were optimistic. They won another Challenger Series medal and had a good Grand Prix season. Their new coaches were supportive. "They were really happy to push and work us and get us ready," said Guerreiro.
Zagorski and Guerreiro moved up to bronze at 2018 Russian Nationals, then finished a solid sixth at the European Championships. In late January, word came that fellow Russian ice dancer Ivan Bukin would not be invited to Pyeongchang. In the absence of Bukin and his partner Alexandra Stepanova, Zagorski and Guerreiro were awarded the second spot on the Russian team for Pyeongchang. Against all expectations, they were going to the Olympics.
"Things fell in place," Guerreiro said. "And the Olympics became a possibility, and then Worlds became a possibility."
"They say you should always be ready," Zagorski commented. "You've got to be ready, because you never know what's going to happen." 
Zagorski and Guerreiro felt a measure of vindication. Over the years, some had questioned why this very international team–who could have had opportunities to skate elsewhere–had chosen to skate for Russia, with its crowded ice dance field. 
"Even some people within Russia were like: 'Do we really need that couple?'" said Guerreiro.
It felt good to prove their worth. Zagorski and Guerreiro placed 13th at the Pyeongchang Olympics and then 8th at the 2018 World Championships.
The post-Olympic season brought both highs and lows for Zagorski and Guerreiro. The couple again had a good Grand Prix season and qualified for the Grand Prix Final. However, Zagorski struggled with a recurring knee injury. And then disaster struck in the free skate at Russian Nationals, when Guerreiro's boot laces come undone and Zagorski made several mistakes. The team ended in seventh place–their lowest finish ever at Russian Nationals.
"We had the misfortune of everything that could possibly go wrong, went wrong," Guerreiro said ruefully. "And it's a pity because, for our financing and funding in Russia, international competitions don't really count. Nationals is what they base the National team on." Zagorski and Guerreiro were assigned to the Russian reserve team.
The result at Russian Nationals was an emotional and financial setback. Nonetheless, Zagorski and Guerreiro pressed ahead with plans for the new season.
Their coach Elena Kustarova choreographed their new short program to The Greatest Showman. "She's very good with the rhythm dance," Guerreiro said of Kustarova's choreography. "With the short [rhythm dance], there's actually not that much space. It's more about the best way to show the structure and the elements. And obviously, our coaches know us very well, and they can do a good job with that."
"The rhythm dance is quick, and there's a lot of elements," added Zagorski.
"And it's very raw, in a sense … For example, the tango last year–it's a tango. It's not abstract. It's very blunt. And she's very good at that," Guerreiro noted, referring to Kustarova.
To choreograph their free dance, Zagorski and Guerreiro turned to 1984 Olympic champion and famed choreographer Christopher Dean. It was their second consecutive season working with Dean on the free dance. "Christopher is amazing, and we loved working with him last year, and wanted him to do it again this year," said Zagorski.
The duo spent 10 days with Dean in Colorado Springs to craft their new free dance. They chose the music–Beyonce's "Survivor," arranged by 2Wei–from a selection of songs that Dean had sent to them. "I think he already had in mind that he wanted this music," said Guerreiro with a smile. "But he gave us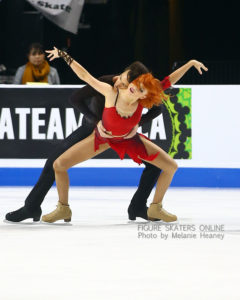 some different random options [first], and then he hit us with that. And we were like, 'Yes.'"
After they got their programs choreographed, Zagorski and Guerreiro hit another rough patch during late summer and fall when Zagorski came down with a viral illness and then tore the meniscus in her knee. The team lost significant training time due to the unexpected health issues, and it was all the more challenging because both their Grand Prix events (Skate America and Internationaux de France) were scheduled for the first half of the series. 
"We didn't get as prepared as wanted to be for this competition," Zagorski said of Skate America. "But still, for what we prepared, we put out two good performances. Our goal was to do two clean, presentable programs. The short program, I was a bit more nervous. With the free [dance], we were both pretty relaxed, and we came out with a great performance. We were both really happy with the free."
Guerreiro added: "I think our coach put it very well. She said: 'Very few people can actually, without training–undertrained–go and pull out a performance like you did in the free.' So, for ourselves, we actually did a great job. Everything came together, and it worked. This misfortune of not having much training these last two months, and to go and compete at Skate America and do ourselves justice, and perform two good programs, and get some nice feedback…I think that's really good, going into this season. So now, hopefully, we have the time to train, and things will go well. Now we can train and polish the programs. The feedback we got was that a lot of people loved the material–and they loved us in the material. Now, I think everybody wants to see it a bit more polished. Hopefully, when we do that, it will look completely different and even much better."
So, after a challenging start, Zagorski and Guerreiro are looking ahead with optimism and anticipation to the rest of their season, at Internationaux de France and beyond. Which seems very much in character for this lively and confident couple!