By Gina Capellazzi, Team FSO website administrator
Photos by Robin Ritoss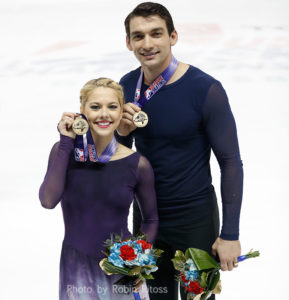 GREENSBORO, N.C. — Three-time U.S. pairs champions.
Up until recently, that accolade did not seem obtainable for the husband-and-wife team of Alexa Knierim and Chris Knierim. After accomplishing their lifelong dream of qualifying for the Olympics, and then winning an Olympic bronze medal in the team event, the Knierims experienced a year filled with countless changes, sacrifices, and questions of whether they had reached the zenith of their career.
Following their 15th-place finish at the 2018 World Championships, Alexa, 28, and Chris, 32, parted ways with long-time coach Dalilah Sappenfield in Colorado Springs to train with 2018 Olympic Champion Aljona Savchenko and her coaching staff in Germany.
"After the Olympics, we knew that we had to make a change," Chris explained. "It kind of worked out through everything to go with Aljona and move to Germany and make a big, huge change."
Alexa and Chris moved all of their belongings from Colorado Springs to Alexa's parents' garage in Addison, Illinois. Alexa's parents looked after the pair's two cats and two dogs while they were in Germany.  Alexa and Chris would travel back and forth to Oberstdorf to work with Savchenko for a few weeks at a time, and then would return to Illinois to continue training.
"That was very difficult, because we changed a lot when we went to Aljona and to Germany," Chris admitted. "Going to Germany for a few weeks and then back [to Chicago], it was a little crazy. There was no real routine."
While in Germany, Chris said he and Alexa spent a considerable amount of time on the ice and learned a great deal from Savchenko and her team.
"We're grateful for the opportunity that we had there [in Germany] and I think it was good because we got a lot out of it," Chris recalled.
But unfortunately, Chris said, as the season progressed, the situation in Oberstdorf started to change. In October, a week before they competed in Skate America in Everett, Washington, the Knierims quietly decided to leave Savchenko. They attended the event without a coach.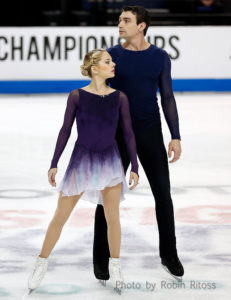 "That was really different for us, but it was also good because we had to rely on each other," Chris told Figure Skaters Online. "We grew a lot in those few weeks [without a coach]."
Following their fourth-place finish in Everett, the Knierims flew out to Southern California and began working with three-time U.S. pairs champions and World medalists Jenni Meno and Todd Sand. Sand accompanied the team to their second Grand Prix event, NHK Trophy.
"We decided to try Jenni and Todd because we thought it would be best if we had a male and female as a coaching team because we're married," Chris explained. "It seemed right to go with a team that knows how that is on the day-to-day."
The Knierims officially named Meno and Sand as their coaches following their third-place showing at NHK Trophy. Then at the U.S. Championships in Detroit in January 2019, the team finished in 7th place, their lowest score and placement of their partnership. Two weeks after Nationals, Alexa and Chris returned to Illinois to gather up their possessions and officially moved to California. Chris also had surgery to repair his torn wrist tendon. 
During the off-season, Alexa and Chris worked with Meno and Sand and established themselves at the new Great Park Ice Arena in Irvine, Calif. At the end of May, they also began working with Rafael Arutyunyan, coach of four-time U.S. champion and two-time World champion Nathan Chen.
"Raf is very blunt and honest. I think that is what is so great about him for me. He has been a huge help," Chris said, noting that they take Arutyunyan's stroking classes a couple times a week, and he has been working with them on their technique.
"I love him [Raf] a lot. He has been a really big influence on me. I think that is where I got my confidence back. Todd and Jenni believe in us too, but knowing that he [Rafael] believed in us was kind of the only person I needed to hear it from besides myself, and I think that is what got my confidence back," Alexa added.
While things were starting to turn around for them on the ice, the team struggled financially due to a decrease in funding and a loss of sponsorship right after their California move. To make ends meet, they started coaching between their training sessions at Great Park. Also, every Monday morning, Chris and Alexa would travel to San Diego to coach at a rink near La Mesa, where Chris used to skate when he was younger. Alexa and Chris also sold a lot of their possessions, including Chris's cars.
"We made a lot of sacrifices," Chris said.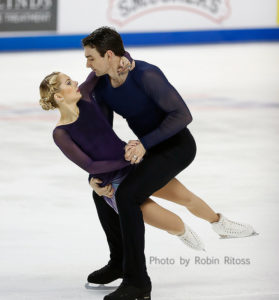 The 2019-2020 season started for the Knierims with respectable second- and fourth-place finishes at Nebelhorn Trophy and Skate Canada International. But then a disappointing seventh-place finish at NHK Trophy and a wrist injury that forced them to withdraw from Golden Spin in December had the 2018 Olympic team bronze medalists considering stepping away from the sport.
"Chris and I had a long talk after that event [NHK Trophy], and we were questioning if it was in the cards for us to continue skating, that maybe we had our moment and it's time to move on," Alexa openly shared. "The feelings we had inside were questions like 'Maybe, we're fooling ourselves.' It was really dark, really honest, really raw."
"Like 'We guess we had hit our peak and now we're just….'" Chris added.
"'Are we a joke?'" Alexa finished.
"We're older, and it's not like we need to keep doing this," Chris continued. "We can stop whenever we want. We'd had a great career behind us and a lot of accomplishments. So maybe we just need to be okay, stepping back and letting everyone else take over the sport."
The two even considered not finishing the season and not competing at the 2020 U.S. Championships.
"At one point, I was not wanting to come here [U.S. Championships]," Chris told Figure Skaters Online. "It was injury after injury. One gets better and you get another one, just setback after setback."
"And then he'd be jumping really well for X amount of days, and then he would kind of spiral out of jumping well, and that would mess with his head and he would question his abilities," Alexa added.

Yet, following those difficult conversations and while letting Chris' wrist heal, the Knierims began working on other things at the rink. They performed in two ice shows in December, which Alexa said helped them find their love of skating again.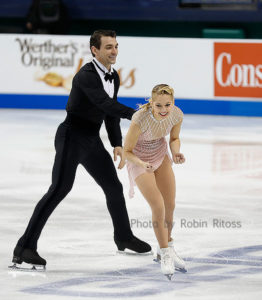 "[The shows] kind of helped us find inspiration, in training, like remembering how much joy it brings us. So I think in the back of our heads coming into these championships this year, we're fully committed," Alexa said.
In Greensboro, the Knierims earned the best pairs short program score of the night (77.06) to head into the free skate in first place. Two days later, the team secured their third U.S. title with an overall score of 216.15, a new U.S. Championships record.
"We had a great short, and [to] pull out the win [was] really special. We've had lot of ups and downs this year, so it's a blessing to be able to be on top of podium," Chris told the media following the free skate.
"We're just fighting for our dreams, like anybody else," Alexa added. "Nobody sees what happens behind the scenes, that's why we react the way we do. And that's why all the kids out there react to a great performance the way they do, because we put so much into it that is unseen. You live for these moments, and I'm very excited to claim our title, and three's the charm!"
With their win in Greensboro, the Knierims will now compete at the ISU Four Continents, Feb. 4-9 in Seoul, South Korea and the World Championships, March 16-22 in Montreal, Quebec, Canada. They said they hope to carry the momentum from their win in Greensboro into the remainder of their season.
"This competition is going to give us a lot of motivation moving forward," Chris said. "We want to put out another solid, short program and then just do better in the free. We just want to keep getting better."
Stay tuned to Figure Skaters Online Thursday, Feb. 6, for a feature on Alexa Knierim's new venture.