The 2020-2021 Grand Prix season kicks Oct. 23 with Skate America, taking place in the Orleans Arena in Las Vegas, Nevada. Due to the COVID-19 pandemic, there will be no spectators inside the arena for the event.
Also, because of the travel restrictions, the International Skate Union has decided that the Grand Prix events would be held as a domestic-events, with skaters/teams participating in their host country or with skaters/teams who train in or close to the host country.
This year, there will be five Grand Prix events. Skate Canada announced Oct. 14 that it has cancelled Skate Canada International, Oct. 30-31 in Ottawa, Ontario, due to a 28-day shut down in Ontario's hot spots, which includes Ottawa.  Right now, Internationaux de France, Cup of China, NHK Trophy and Rostelecom Cup are all scheduled to take place as planned.  The ISU has postponed the 2020 Grand Prix Final, which was to take place in December in Beijing, China.
Figure Skaters Online's Maura Sullivan-Hill and Gina Capellazzi will be covering Skate America virtually — check back for their coverage on the event, including interviews with the athletes.

SKATE AMERICA HUB 

Men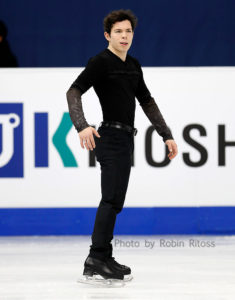 Keegan Messing 🇨🇦
Age: 28
Coach: Ralph Burghart
Last competition: 2020 ISU Four Continents Championships – 8th
Last Grand Prix event: 2019 Cup of China – 4th
2020-2021 Short Program: "Perfect" by Ed Sheeran
2020-2021 Free Skate: "November Rain" by Guns 'N' Roses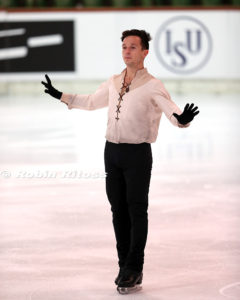 Alexei Bychenko 🇮🇱
Age: 32
Coach: Galit Chait Moracci
Last Competition: 2020 European Championships – 12th
Last Grand Prix event: 2019 NHK Trophy – 11th
2020-2021 Short Program: "Words" by Harel Skaat
2020-2021 Free Skate: Music from Pirates of the Caribbean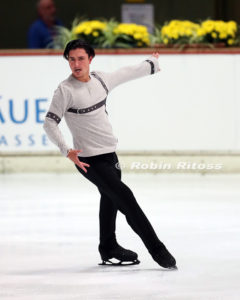 Daniel Samohin 🇮🇱
Age:22
Coach:Igor Samohin
Last Competition: 2020 Challenge Cup – 9th
Last Grand Prix event: 2019 Internationaux de France – 9th
2020-2021 Short Program: TBD
2020-2021 Free Skate: TBD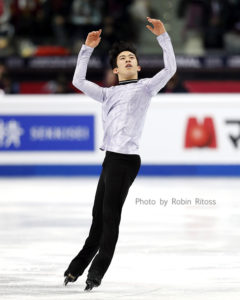 Nathan Chen 🇺🇸
Age: 21
Coach: Rafael Arutiunian
Last Competition: 2020 U.S. Championships – 1st
Last Grand Prix event: 2019 Grand Prix Final – 1st
2020-2021 Short Program: "Asturias, Canción del Mariachi" (from Desperado) performed by Los Lobos, Antonio Banderas
2020-2021 Free Skate: Selections from Phillip Glass
Tomoki Hiwatashi 🇺🇸
Age: 20
Coaches: Damon Allen, Christy Krall
Last Competition: 2020 Four Continents Championships – 9th
Last Grand Prix event: 2019 NHK Trophy – 10th
2020-2021 Short Program: "Standards" by Leslie Odom Jr.
2020-2021 Free Skate: "Take Five" by Dave Brubeck; "Blue Light, Red Light" by Harry Connick Jr.; "Nutville" by Buddy Rich
Joseph Kang 🇺🇸
Age: 17
Coaches: Priscilla Hill-Wampler, Anne Militano
Last Competition: 2020 U.S. Championships (Junior) – 6th
Last Grand Prix event: Making his senior Grand Prix debut at Skate America
2020-2021 Short Program: "November Rain" by Guns N' Roses
2020-2021 Free Skate: "Danse Macabre" and "Organ Symphony" by Camille Saint-Saens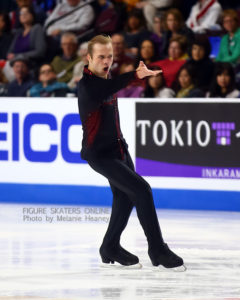 Alex Krasnozhon 🇺🇸
Age: 20
Coaches: Alexei Letov, Olga Ganicheva
Last competition: 2020 U.S. Championships – 6th
Last Grand Prix event: 2019 Rostelecom Cup – 10th
2020-2021 Short Program: "Heart Upon My Sleeve" by Avicii & Imagine Dragons
2020-2021 Free Skate: "Fahrenheit 452" by Bernard Hermann; Interview with a Vampire (soundtrack) by Elliot Goldenthal; Dracula (soundtrack) by Wojcech Kilar; "Archangel" by Two Steps from Hell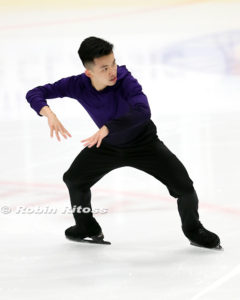 Jimmy Ma 🇺🇸
Age: 25
Coaches: Alexei Letov, Olga Ganicheva
Last competition: 2020 U.S. Championships – 13th
Last Grand Prix event: 2018 Skate America – 12th
2020-2021 Short Program: "Come Together" by Gary Clark Jr.
2020-2021 Free Skate: "The Catalyst" by Linkin Park
Ilia Malinin 🇺🇸
Age: 15
Coaches: Tatyana Malinina, Roman Skorniakov
Last competition: 2020 World Junior Championships – 16th
Last Grand Prix event: Making his senior Grand Prix debut
2020-2021 Short Program: "Billie Jean" by David Cook
2020-2021 Free Skate: "Nobody Knows" by Autograf
Maxim Naumov 🇺🇸
Age: 19
Coaches: Vadim Naumov, Evgenia Shishkova
Last competition: 2020 World Junior Championships – 5th
Last Grand Prix event: Making his senior Grand Prix debut
2020-2021 Short Program: "Run" by Joji
2020-2021 Free Skate: "Unstoppable" by E.S Posthumus and "Stabat Mater" by Woodkid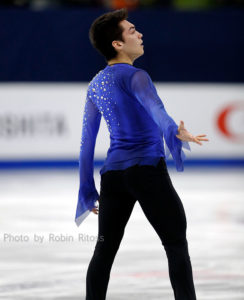 Camden Pulkinen 🇺🇸
Age: 20
Coaches: Tammy Gambill, Damon Allen
Last competition: 2020 ISU Four Continents Championships – 11th
Last Grand Prix event: 2019 Cup of China – 8th
2020-2021 Short Program: "Caruso" by Josh Groban
2020-2021 Free Skate: "Close Your Eyes" by RHODES
Vincent Zhou 🇺🇸
Age: Will turn 20 on Oct. 25
Coaches: Christy Krall, Mie Hamada
Last competition: 2020 U.S. Championships – 4th
Last Grand Prix event: 2018 NHK Trophy – 4th (Vincent skipped the 2019-2020 Grand Prix season)
2020-2021 Short Program: "Vincent (Starry Starry Night)" by Josh Groban
2020-2021 Free Skate: "Algorithm" and "Algorithm (Alternate Reality Version)" by Muse

Ladies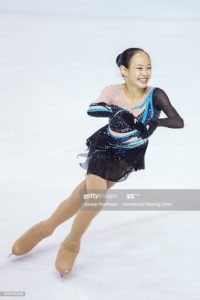 Shan Lin (Ashley Lin) 🇨🇳
Age: 17
Coaches: Aleksei Letov, Olga Ganicheva
Last competition: 2018 Inge Solar Memorial Alpen Trophy – 4th (competed for the U.S.; sat out the 2019-2020 international season to switch countries from the U.S. to China)
Last Grand Prix event: Making her senior international debut for China and making her senior Grand Prix debut
2020-2021 Short Program: "On My Own" by Lenore Kay
2020-2021 Free Skate: Romeo and Juliet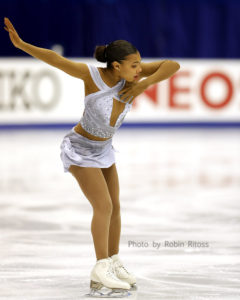 Starr Andrews 🇺🇸
Age: 19
Coaches: Derrick Delmore, Peter Kongkasem, Ivan Dinev, Anastasiya Sharenkova
Last competition: 2020 World Junior Championships – 8th
Last Grand Prix event: 2019 NHK Trophy – 8th
2020-2021 Short Program: "It's A Man's Man's World" and "Joke's on You" by Jurnee Smollett-Bell and Charlotte Lawrence
2020-2021 Free Skate: "Finally" by Fergie
Mariah Bell 🇺🇸
Age: 24
Coaches: Rafael Arutunian, Vera Arutunian, Adam Rippon
Last competition: 2020 U.S. Championships – 2nd
Last Grand Prix event: 2019 Rostelecom Cup – 3rd
2020-2021 Short Program: "Glitter in the Air" by P!nk
2020-2021 Free Skate: ABBA medley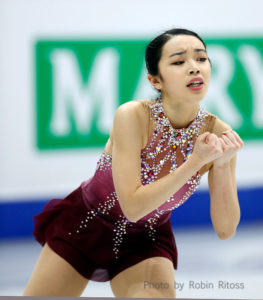 Karen Chen 🇺🇸
Age: 21
Coach: Tammy Gambill
Last competition: 2020 Four Continents Championships – 7th
Last Grand Prix event: 2019 NHK Trophy – 9th
2020-2021 Short Program: "Rise" by Katy Perry
2020-2021 Free Skate: "Butterfly Lover Concerto" by Takako Nishizaki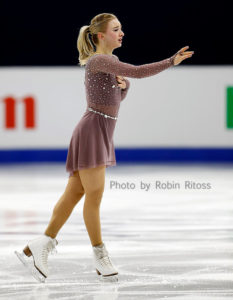 Amber Glenn 🇺🇸
Age: will be 21 on Oct. 28
Coaches: Peter Cain, Darlene Cain
Last competition: 2020 Four Continents Championships – 9th
Last Grand Prix event: 2019 Cup of China – 6th
2020-2021 Short Program: "Scars" by Madilyn Bailey
2020-2021 Free Skate: "Rain in Your Black Eyes" by Ezio Bosso, arranged by Misha Ge with Opera Vocals and Orchestra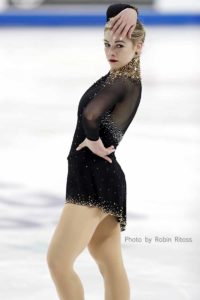 Gracie Gold 🇺🇸
Age: 25
Coaches: Pasha Filchenkov, Alex Zahradnicek
Last competition: 2020 U.S. Championships – 12th
Last Grand Prix event: 2016 Trophée de France – 8th (WD after SP at the 2018 Rostelecom Cup)
2020-2021 Short Program: "Survivor"  by 2WEI
2020-2021 Free Skate: "War in my Mind" by Beth Hart
Finley Hawk 🇺🇸
Age: 17
Coaches: Jeremy Allen, Denise Myers
Last competition: 2020 Midwestern Sectional Final (Junior) – 7th
Last Grand Prix event: Making her senior Grand Prix debut
2020-2021 Short Program: "When the Party's Over" by Billie Eilish
2020-2021 Free Skate: "Carmen" by Georges Bizet
Pooja Kalyan 🇺🇸
Age: 17
Coaches: Tom Zakrajsek, Becky Calvin
Last competition: 2020 Midwestern Sectional Final – 5th
Last Grand Prix event: Making her senior Grand Prix debut
2020-2021 Short Program: "It's All Coming Back To Me Now" by Celine Dion
2020-2021 Free Skate: Music from the Porgy and Bess soundtrack by George Gershwin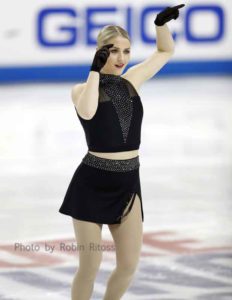 Paige Rydberg 🇺🇸
Age: 20
Coach: Tom Zakrajsek
Last competition: 2020 U.S. Championships – 14th
Last Grand Prix event: Making her senior Grand Prix debut
2020-2021 Short Program: "Man I Feel Like a Woman!" and "That Don't Impress Me Much" by Shania Twain
2020-2021 Free Skate: Music from the Titanic soundtrack by James Horner
Audrey Shin 🇺🇸
Age: 16
Coach: Tammy Gambill
Last competition: 2020 Winter Youth Olympic Games – 7th
Last Grand Prix event: Making her senior Grand Prix debut
2020-2021 Short Program: "The Giving" by Michael W. Smith
2020-2021 Free Skate: Music from the Modigliani soundtrack by Guy Farley
Bradie Tennell 🇺🇸
Age: 22
Coach: Tom Zakrajsek
Last competition: 2020 Four Continents Championships – 3rd
Last Grand Prix event: 2019 Grand Prix Final – 5th
2020-2021 Short Program: "Moderation" by Florence and the Machine
2020-2021 Free Skate: "Sarajevo" by Max Richter and "Dawn of Faith" by Eternal Eclipse
Sierra Venetta 🇺🇸
Age: 20
Coaches: Christy Krall, Damon Allen
Last competition: 2020 Challenge Cup – 5th
Last Grand Prix event: Making her senior Grand Prix debut
2020-2021 Short Program: "Unforgettable" by Sia
2020-2021 Free Skate: Music from the Mao's Last Dancer soundtrack by Christopher Gordon

Pairs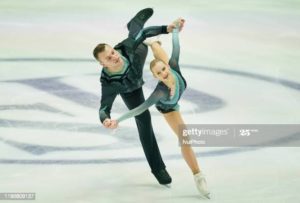 Anna Vernikov/Evgeni Krasnopolski 🇮🇱
Ages:18/32
Coaches: Daniel Raad, Galit Chait-Moracci
Last competition: 2020 European Championships – 13th
Last Grand Prix event: Making their Grand Prix debut
2020-2021 Short Program: TBA
2020-2021 Free Skate: TBA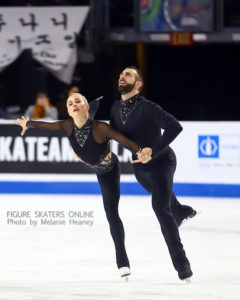 Ashley Cain-Gribble/Timothy LeDuc 🇺🇸
Ages: 25/30
Coaches: Peter Cain, Darlene Cain, Nina Mozer
Last competition: 2020 U.S. Championships – 4th
Last Grand Prix event: 2019 Internationaux de France – 4th
2020-2021 Short Program: "Never Tear Us Apart" by Bishop Briggs from the Fifty Shades Freed soundtrack
2020-2021 Free Skate: "Piano Concerto No. 2″ by Sergei Rachmaninoff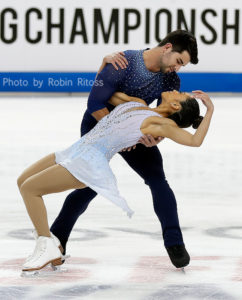 Jessica Calalang/Brian Johnson 🇺🇸
Ages: 25/24
Coaches: Todd Sand, Jenni Meno, Christine Binder
Last competition: 2020 ISU Four Continents Championships – 4th
Last Grand Prix event: 2019 Skate Canada – 6th
2020-2021 Short Program: "Light of the Seven" (Game of Thrones soundtrack) by Ramin Djawadi
2020-2021 Free Skate: "Who Wants to Live Forever" performed by The Tenors ft. Lindsey Stirling
Emily Chan/Spencer Howe 🇺🇸
Ages: 23/24
Coaches: Aleksey Letov, Olga Ganicheva
Last competition: 2020 U.S. Pairs Final – 6th
Last Grand Prix event: Making their senior Grand Prix debut
2020-2021 Short Program: "Onmyoji II – Main Theme" by Shigeru Umebayashi
2020-2021 Free Skate: "The Prayer" by Andrea Bocelli and Celine Dion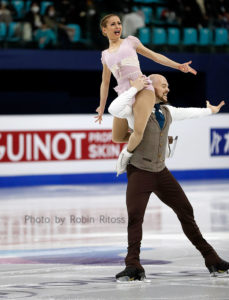 Tarah Kayne/Danny O'Shea 🇺🇸
Ages: 27/29
Coach: TBD (Former coach Jim Peterson will travel with the pair to Skate America)
Last competition: 2020 Four Continents Championships – 5th
Last Grand Prix event: 2019 NHK Trophy – 6th
2020-2021 Short Program: "Clair de Lune" by Claude Debussy
2020-2021 Free Skate:  Music from Carmen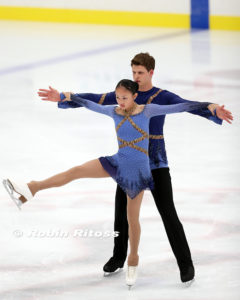 Audrey Lu/Misha Mitrofanov 🇺🇸
Ages: 18/23
Coaches: Aleksey Letov, Olga Ganicheva, Evgeni Nemirovskii
Last competition: 2020 Challenge Cup – 2nd
Last Grand Prix event: 2019 Rostelecom Cup – 8th
2020-2021 Short Program: "Show Must Go On" from Moulin Rouge!
2020-2021 Free Skate:  Charlie Chaplin Medley
Alexa Scimeca Knierim/Brandon Frazier 🇺🇸
Ages: 29/28
Coaches: Todd Sand, Jenni Meno, Chris Knierim, Rafael Arutiunian, Christine Binder
Last competition: First competition together
Last Grand Prix event: Making their senior Grand Prix event as a new team (both competed on the Grand Prix with their previous partners)
2020-2021 Short Program: "In the End" by Tommee Profitt; "Too Far Gone" by Hidden Citizens
2020-2021 Free Skate: "Fall On Me" by Andrea Bocelli and Matteo Bocelli
Olivia Serafini/Mervin Tran 🇺🇸
Ages: 23/30
Coaches: Jason Briggs, Jana Brazee
Last competition: 2020 U.S. Championships – 7th
Last Grand Prix event: Making their senior Grand Prix event as a team (Mervin  competed on the Grand Prix with his previous partners)
2020-2021 Short Program: "If I Ain't Got You" by Alicia Keys
2020-2021 Free Skate: "Chasing Cars" by Snow Patrol

Dance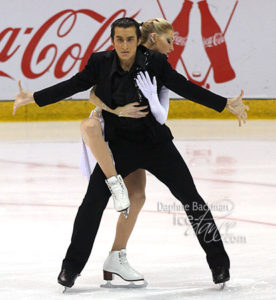 Emily Monaghan/Ilias Fourati 🇭🇺
Ages: 22/22
Coaches: Denis Petukhov, Melissa Gregory
Last competition: 2020 Bavarian Open – 6th
Last Grand Prix event: Making their Grand Prix debut
2020-2021 Rhythm Dance: Music from Fosse
2020-2021 Free Dance: Pet Shop Boys "Brits" Medley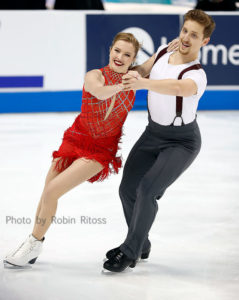 Christina Carreira/Anthony Ponomarenko 🇺🇸
Ages: 20/19
Coaches: Igor Shpilband, Pasquale Camerlengo
Last competition: 2020 U.S. Championships – 4th
Last Grand Prix event: 2019 NHK Trophy – 6th
2020-2021 Rhythm Dance: "Too Darn Hot" from Kiss Me Kate  by Cole Porter
2020-2021 Free Dance: Music from Doctor Zhivago
Molly Cesanek/Yehor Yehorov 🇺🇸
Ages: 19/21
Coaches: Alexei Kiliakov, Elena Novak, Dmytri Ilin
Last competition: 2020 Egna Dance Trophy (Junior) – 1st
Last Grand Prix event: Making their senior Grand Prix debut
2020-2021 Rhythm Dance: "Shout" by original Broadway cast of Ain't Too Proud, and "Walking on Sunshine" from Walking on Sunshine
2020-2021 Free Dance: "Make It Rain" by Foy Vance performed by Matt McAndrew and "Take Me to Church" by Hozier performed by Matt McAndrew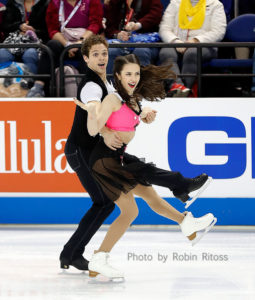 Caroline Green/Michael Parsons 🇺🇸
Ages: 17/25
Coaches: Alexei Kiliakov, Elena Novak, Dmytri Ilin and Ramil Sarkulov
Last competition: 2020 U.S. Championships – 5th
Last Grand Prix event: 2019 Skate Canada – 7th
2020-2021 Rhythm Dance:  "I Turned The Corner" and "What Do I Need With Love?" from Thoroughly Modern Millie
2020-2021 Free Dance: Prince Medley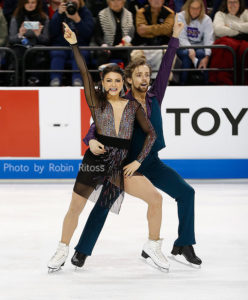 Kaitlin Hawayek/Jean-Luc Baker 🇺🇸
Ages: 23/27
Coaches: Marie-France Dubreuil, Patrice Lauzon, Romain Haguenauer
Last competition: 2020 Four Continents Championships – 6th
Last Grand Prix event: 2019 Cup of China – 5th
2020-2021 Rhythm Dance: Selections from Saturday Night Fever
2020-2021 Free Dance: "Heart of Glass" by Philip Glass and Blondie, and "First Movement" by Philip Glass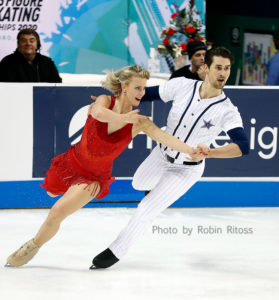 Madison Hubbell/Zachary Donohue 🇺🇸
Ages: 29/29
Coaches: Marie-France Dubreuil, Patrice Lauzon, Romain Haguenauer, Pascal Denis, Josee Pichet, Benjamin Brisebois
Last competition: 2020 Four Continents Championships – 3rd
Last Grand Prix event: 2019 Grand Prix Final – 3rd
2020-2021 Rhythm Dance: Burlesque medley by Christina Aguilera
2020-2021 Free Dance: "Hallelujah" by Jeff Buckley and k.d lang
Lorraine McNamara/Anton Spiridonov 🇺🇸
Ages: 21/22
Coaches: Alexei Kiliakov, Elena Novak
Last competition: This is their first competition together (Lorraine competed last season with Quinn Carpenter; Anton competed last season with Gianna Buckley
Last Grand Prix event: Making their Grand Prix debut as a team
2020-2021 Rhythm Dance: "Big Spender" and Rich Man's Frug" from Sweet Charity by Cy Coleman
2020-2021 Free Dance: "Money" and "Shine on You Crazy Diamond" by Pink Floyd
Eva Pate/Logan Bye 🇺🇸
Ages: 20/22
Coaches:  Igor Shpilband, Pasquale Camerlengo, Natalia Deller, Adrienne Lenda
Last competition: 2020 U.S. Championships – 7th
Last Grand Prix event: Making their senior Grand Prix debut
2020-2021 Rhythm Dance: Selections from Motown The Musical
2020-2021 Free Dance: "Say Something" by A Great Big World and Christina Aguilera, and "Primavera" by Ludovico Einaudi

Event Schedule
Friday, October 23, 2020
Ladies' Short Program: 7:06 p.m. (ET)/4:06 p.m. (PT)
Men's Short Program: 8:56 p.m. (ET)/5:56 p.m. (PT)
Pairs' Short Program: 10:46 p.m. (ET)/7:46 p.m. (PT)
Rhythm Dance: 11:25 p.m. (ET)/8:25 p.m. (PT)
Saturday, October 24, 2020
Ladies' Free Skate: 1:59 p.m. (ET)/10:59 a.m. (PT)
Men's Free Skate: 4:03 p.m. (ET)/1:03 p.m. (PT)
Pairs' Free Skate: 8:43 p.m. (ET)/5:45 p.m. (PT)
Free Dance: 10:17 p.m. (ET)/7:17 p.m. (PT)

TV Schedule
Friday, October 23, 2020
8 a.m. – 12 a.m.  ET on NBC SportsNetwork (Live)
Saturday, October 24, 2020
3-6 p.m. ET on NBC (Live)
9 p.m.-Midnight ET on NBC SportsNetwork (Live)

Streaming Schedule
Friday, Oct. 23, 2020

Ladies' Short Program –  7:06 p.m. ET/4:06 p.m. PT
Men's Short Program – 8:56 p.m. ET/5:56 p.m. PT
Pairs' Short Program – 10:46 p.m. ET/7:46 p.m. PT
Rhythm Dance – 11:25 p.m. ET/8:25 p.m. PT
Saturday, Oct. 24, 2020
Ladies' Free Skate – 1:59 p.m. ET/10:59 a.m.  PT
Men's Free Skate – 4:03 p.m. ET/1:03 p.m. PT
Pairs' Free Skate – 8:43 p.m. ET/5:43 p.m. PT
Free Dance – 10:17 p.m. ET/7:17 p.m. PT