By Gina Capellazzi and Maura Sullivan Hill
Photos by Robin Ritoss
Beyond the headlines from COVID-19, as well as the stories of the champions and the Olympic team, the 2022 U.S. Championships in Nashville marked the senior Nationals debut for a number of skaters. There were some other special stories that came out of the event, from outstanding performances to new partnerships to new coaches.
Figure Skaters Online's Gina Capellazzi and Maura Sullivan Hill spoke with some of these skaters that had other accomplishments and victories, beyond the podium. They are highlighting them here in what they have coined — "Music City Moments."
Senior debuts
After not qualifying for the U.S. Championships since 2019, Wren Warne-Jacobsen made her return to Nationals ice in Nashville, where she made her senior Nationals debut.
"It felt amazing," said Warne-Jacobsen, who finished in 14th place. "The energy out there was wonderful. It was so cool to see so many people. I haven't gotten to perform for that big an audience before. I had a great time. I'm really happy with how everything went."
Screens in the kiss and cry displayed Zoom feeds of skaters' family and supporters at home, and Warne-Jacobsen had friends, coaches, and her aunt cheering for her on screen. "And then my mom made a video documenting my skating journey from when I was five to now. It's amazing. You know, going day-to-day, I get sucked into the moment. But I've had so many cool experiences already, and just everything building up to this, it's made it so much more special. This kind of feels like the end of one journey, getting to this point, and then the beginning of a new chapter in my skating career. And I'm so excited for the experiences that will come."
Debbie Warne-Jacobsen, Wren's mom, said following the event that Wren's goal next year is to qualify for Nationals again and to this time skate well enough to make the national TV broadcast.
Jill Heiner last competed at Nationals in 2016. At that time, she was on the juvenile level. In Nashville in her senior debut, Heiner earned a standing ovation in the long program and got choked up talking about her journey.
"It is so cool. It's been a very long time. I've been really trying to get here, and there's been a lot of injuries and stuff. To be able to get here is probably the best feeling ever…it's just so good to be out there and to be able to show what I can do," Heiner said through tears.
Heiner is working with new coaches, Roman Skornyakov and Tatyana Malinina, in Reston, VA. Skornyakov and Malinina are the parents and coaches of Ilia Malinin, who won the silver medal in the senior men's event in Nashville.
"I love them (Skornyakov and Malinin) so much. They've helped me become the skater I am today, and everyone else along the way, too. But they've really helped me see that I belong. And I don't feel like I belong sometimes. Because you see everyone doing triple-triples, and everything. I'm still trying to work on that, too. But it's hard to put it into a program. I give so much credit to everyone here, because it's so difficult. But if I keep working the way I continue to work in practice with them — they've made me see how I need to work — and I think I can really start putting triple-triples in and hopefully one day start trying quads, because I'd really like to do quad lutz, because I love my lutz so much," Heiner said, who finished the event in 11th place.
Others that made their senior Nationals debut were Isabeau Levito (3rd place), Kate Wang (7th place), Ilia Malinin (2nd place), Liam Kapeikis (7th place) Paul Yeung (10th place), Valentina Plazas/Maximiliano Fernandez (pairs 6th place), Kate Finster / Matej Silecky (pairs 7th place), Sydney Cooke/Keyton Bearinger (pairs 8th place), Emily Bratti / Ian Somerville (ice dance 5th place), Katarina Wolfkostin / Jeffrey Chen (ice dance 6th place) and Cayla Cottrell / Uladzislau Palkhouski (ice dance 11th place).
New partnerships and new coaches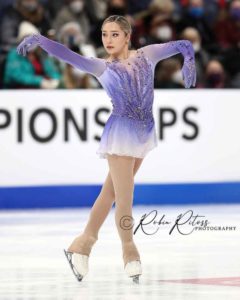 Eighth-place finisher Hanna Harrell had a new coach with her at the boards at the U.S. Championships. At the beginning of this season, Harrell moved from Boston, where she was training with long-time coaches, Olga Ganicheva and Alexei Letov, and re-located to California to train with two-time Uzbekistani Olympic figure skater Misha Ge. Ge had been Harrell's choreographer since the 2019-2020 season.
"After last year's Nationals, I felt like I needed a little change for myself. I was working with Misha Ge as my choreographer and I was talking to him (about it). So I moved to California, started working with him, so he's my choreographer and my main coach. It's a big change for me," Harrell explained.
"Since he's (Ge) still pretty young and basically only retired after PyeongChang (Olympics in 2018), he's been helping me mentally, especially coming back from an injury," she added. Since he was an athlete himself, he understands what I'm going through so he's been helping me mentally. He also pushes me in my training, even if I don't want to and I feel like he's just helping me become an overall skater. When I was younger, I was leaning towards just elements, elements, elements, but now I feel like he's taught me that skating isn't just about the jumps, it is more about the overall performance."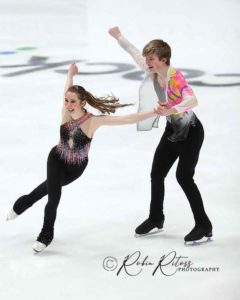 Emily Bratti and Ian Somerville not only made their senior debut – but this was their first Nationals as a team. The two teamed up in July and train with Greg Zuerlein, Dmytri Ilin, Charlie White, and Tanith White. Bratti previously competed on the junior level for France with partner Mathieu Couyras, and Somerville skated with Katarina Delcamp, with whom he won the 2021 U.S. junior bronze medal and Eliana Gropman, with whom he won the 2019 U.S. junior bronze medal. Since Bratti and Somerville partnered up, they have won the U.S. Championships Series in Blaine, Minnesota, and then were sent out to two ISU Challenger Series events, Cup of Austria and Golden Spin, where they finished in 8th and 5th place, respectively.
"We have similar opinions and work ethic," Bratti said about their partnership. "We are really similar people."
"Very similar people," Somerville agreed. "We can relate to each other on such an easy level. We get scared at the same time, we find joy at the same thing. We think about skating similarly. We are also really, really close friends. We are best friends."
Bratti and Somerville, who previously trained in Rockville, Maryland, moved to Michigan to train with Zuerlein and Charlie White. Recently, Tanith White, Charlie White, and Greg Zuerlein announced the opening of the Michigan Ice Dance Academy (MIDA) at the Arctic Edge Ice Arena in Canton, Michigan. The Academy will open March 1, 2022. While Tanith White was commentating for NBC, Charlie White was also in Nashville, watching the free dance event from the media section. He was seen standing up and applauding following Bratti and Somerville's performance.
"Having the support of Charlie White and Tanith White, it feels like you have super powers because they have so much confidence in you. If someone like that can believe in you, you have to believe in yourself," Somerville said.
"They are such amazing people," Bratti added. "They are like my favorite skaters ever."
"They are the most humble people, which is so amazing," Somerville went on to say.
Bratti and Somerville finished in 5th place and were named second alternates for the Olympics and World Championships. They will compete at the Four Continents Championships in Tallinn, Estonia, Jan. 18-23.
Others that debuted new partnerships were Kate Finster / Matej Silecky, Cayla Cottrell / Uladzislau Palkhouski, and Livvy Shilling/Ryan O'Donnell.
Alysa Liu had new coaches with her at Nationals. In November, Liu left coaches Massimo Scali and Jeremy Abbott in the San Francisco Bay Area and went to Colorado Springs, Colorado, to train with Christy Krall, Drew Meekins, and Viktor Pfeifer. Liu was forced to withdraw from the event after testing positive for COVID-19 before the free skate.
Noteworthy performances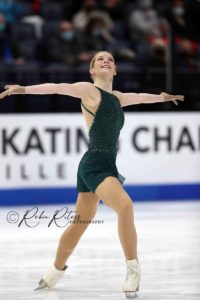 The crowd inside Bridgestone Arena was on their feet for a number of performances during the U.S. Championships.
In the women's event, the crowd rose to their feet for Gracie Gold before she was even finished skating her "East of Eden" short program. Bolstered by that support, Gold was radiating joy toward the end of her performance. The 26-year-old, who has battled back from mental health issues, depression, and eating disorder, said she delivered a clean Nationals short program for the first time since 2014.
"It was really amazing. It was just this huge emotional moment on so many different levels," Gold said.
Gold finished the short program in sixth place, and finished the event in 10th place — her best Nationals outings since her return to Nationals in 2020.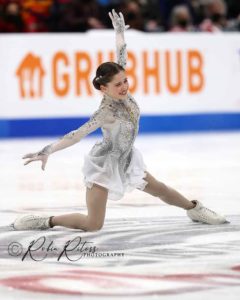 From a veteran like Gold to 14-year-old Isabeau Levito, who skated well beyond her age and delivered two podium-worthy performances in Nashville. In the short program, Levito finished in 4th place, just .42 points behind two-time U.S. Champion Alysa Liu. In the free skate, she had the second-best free skate of the event – earning a 139.75 and a total score of 210.75 to earn the bronze medal in her senior debut.
"I'm very excited as my goal was to medal, so here I am," Levito said after the free skate. "It was a good program overall and I reached my goal at this point."
Levito, who won the 2021 U.S. Junior title, is too young to compete at the 2022 Olympics, but is hoping to be named to the 2022 World Junior team, which will be announced on Feb. 1.
The senior men's short program was hands-down the pinnacle of the whole event. There was one surperb performance after another that brought the crowd to its feet. It started with 2020 U.S. junior bronze medalist Liam Kapeikis, who, in his senior debut, skated a clean short program. Following Kapeikis, it was Ilia Malinin, also making his senior debut, who delivered an exceptional short program that included a quad lutz and quad toe-triple toe combination. He earned a short program score of 103.46, which was more than 13 points higher than his short program score at the U.S. Championships Series event in Leesburg, Virginia, in November.
"That performance, it was one of my best. I think I prepared well for it and it gave a good result in the end and I'm really happy with how I skated," Malinin said following his 3rd place short program.
"It kind of felt really good. It gave me a lot of motivation to try to do the same thing tomorrow in the long, to keep it clean. I really enjoyed it," he added about the standing ovation he received.
Malinin did replicate his short performance in the free skate and delivered a free skate that included four clean quadruple jumps. He took home the silver medal and was named a first alternate for the Olympic team and was named to the 2022 World team.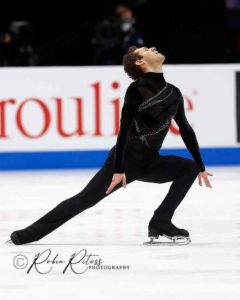 Following Malinin in the free skate, it was 2018 Olympic team bronze medalist Jason Brown who delivered another crowd-pleasing performance. Brown's "Sinnerman" short program earned the highest program component score of the short program.
"I just wanted to bring a big smile to people's faces — that was really the main goal of today. I could really feel the energy out there," Brown said.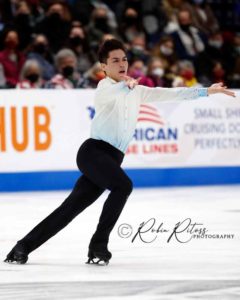 Next up at center ice was Camden Pulkinen, who opened his short program with quadruple toe jump.
"I'm happy with my performance," Pulkinen said after his short program. "It has kind of been a few years that I have come into Nationals feeling confident and having solid training behind me. Definitely, I'm pleased with my scores, I'm pleased with my skate. Overall, I'm happy that I have done something that I have been training really hard for since Russia (Grand Prix – Rostelecom Cup)."
Other performances worth noting in the men's short program were Jimmy Ma, who earned 16.96 points on his opening quad toe-triple toe combo; Vincent Zhou, reprising his fan-favorite "Vincent (Starry, Starry Night) short; and Nathan Chen, who returned to his 2019-20 short program to "La Boheme" after using a different program earlier in the season.