By Sean Conlon, Team FSO contributing writer
Photos by Robin Ritoss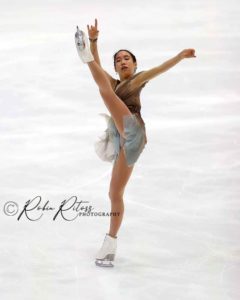 Almost one month after not making the Olympic team, Japan's Mai Mihara won the women's event at the Four Continents Figure Skating Championships in Tallinn, Estonia on Saturday, reclaiming the title she won five years ago. South Korea's Haein Lee and compatriot Yelim Kim finished in second and third, respectively.
Leading by 2.65 points over Lee after the short program, Mihara skated a near-perfect free skate, opening her "Fairy of the Forest" and "Galaxy" program with a triple Lutz-triple toe combination and landing five more triple jumps. The gold medalist's only mistake came when she stumbled on her flying camel combination spin – the last element of her program.
"I was so nervous today, maybe because I was skating last," Mihara said. "I was crying even before I went on to the ice."
Mihara earned 145.41 for her free-skate performance. Combined with her short program score of 72.62, she received a total of 218.03, all of which were new ISU personal best scores. But disappointment in her career made this competition even more meaningful for her.
"At the end of the year, I was very disappointed not making it to the Olympics, but I wanted to participate in the Four Continents," Mihara told the media after her short program on Jan. 20. "I am very happy to be selected and therefore, want to perform a perfect program.
Since winning her first Four Continents title, Mihara, 22, has similarly overcome other major setbacks: After failing to make the 2018 Olympic team, Mihara became the 2019 Winter Universiade champion. And on top of missing out on the 2022 Olympics prior to earning this second title, she was forced to sit out the 2019-2020 competitive season due to health issues.
"I am very happy that I can skate," Mihara continued. "I got a lot of messages and letters and I was well supported, surrounded by very warm people and it showed me how lucky I am. I was happy to come back."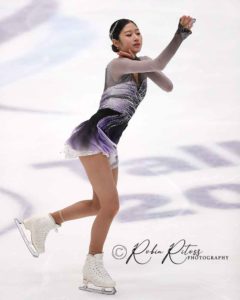 In her first trip to Four Continents, silver medalist Haein Lee finished second after the short program with 69.97, just 0.11 points shy of her personal best for the segment. She received a personal best of 143.55 for her "Homage to Korea" free skate, however, opening the program with a triple Lutz-triple toe and landing five more triples as well – her combined total of 213.52 was also a personal best.
"First of all, last time I made a mistake in the short program, but did good in the free program, but this time I did both programs good, so I'm satisfied and happy about it and I want to continue as it is," Lee told the media after her free skate. On her next goals for this season, the 16-year-old said, "I want to complete the season the best I can and to prepare more perfectly for the next season."
Lee's next and final competition of the season will be the World Junior Figure Skating Championships in Sofia, Bulgaria, which is scheduled for early March.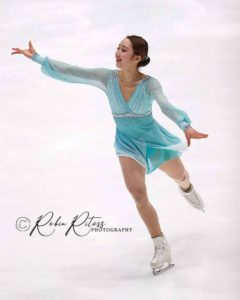 Bronze medalist Yelim Kim entered the free skate in third after the short program, 1.04 behind Lee with 68.93. Opening her "Violin Fantasy on Puccini's Turandot" program with a triple Lutz-triple toe followed by a double Axel-triple toe, Kim earned 140.98 for her performance, with a combined score of 209.91.
"I got confidence from this competition," Kim, 19, said about heading into the Olympics. "I got a clean program today, so it's confidence. "
Kim placed fourth in the free skate competition behind Japan's Rino Matsuike, who finished fifth overall with 202.21.
In the short program, Matsuike sat in eighth place after falling on an under-rotated triple flip and stepping out of a triple Lutz-triple toe. But she rebounded to third place in the free skate, landing all three of her jump combinations in the second half of her program.
"It's the first time I reached 140 in the FS and got a total over 200, that is great!" she exclaimed. "I learned in these international competitions that the tension is different and I was able to see different skaters and their unique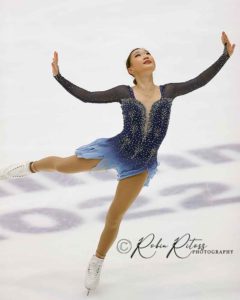 ness."
Team USA's Audrey Shin placed fifth in both the short program and the free skate but finished fourth overall with a season's best of 203.86. It was more than twenty points higher than any of her finishes since the beginning of the season – which was impacted by treatment for a stress fracture.
"Leading up to next season, I'm going to try to stay healthy and … not overwork myself too much, and hopefully that will help me prevent any injuries," Shin said.
South Korea's Young You rounded out the top six after popping her planned triple axel in the short program and falling twice in her free skate. She earned a combined total of 198.56.
Pairs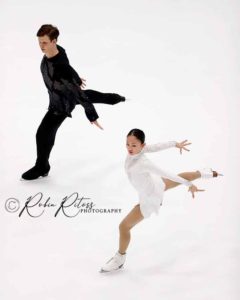 In a battle of North American teams, Team USA went 1-2 in pairs on Saturday as Audrey Lu and Misha Mitrofanov won their first Four Continents title, and teammates Emily Chan and Spencer Howe claimed the silver. Evelyn Walsh and Trennt Michaud of Canada received the bronze.
Lu and Mitrofanov opened their "Ancient Lands" free skate with a level-four triple twist and side-by-side triple Salchow-Euler-double Salchows. Their major mistake came when Lu fell on the side-by-side triple toes. 
But the pair instantly rebounded, executing a throw triple Lutz and throw triple loop as well as two level-four lifts. They received 120.75 for their performance and a combined total of 189.10, winning the competition by almost ten points.
"It means everything," Lu said on winning the gold here. "There were a few mistakes here and there, but we put up a good fight and I am happy."
This victory represents redemption for the pair, who suffered setbacks leading up to their bronze medal at nationals and had not performed the way they had hoped at that competition.
"After Golden Spin, we unfortunately encountered some problems, especially with Audrey's cheek – my blade accidentally caught her cheek on a death spiral and that sent her to the emergency room for 7 hours," Mitrofanov said following the short program. "And then we had a week before nationals, so we didn't have as much time to prepare."
"Definitely after nationals, we kind of understood that we kind of went back to our roots and just started to grind again, and just do what we normally do everyday" Mitrofanov continued.
Sitting in third after the short program, Chan and Howe opened their "Elegy For The Arctic" and
"Divenire" free skate with side-by-side triple Salchow-Euler-double Salchows, which received 0.22 in positive GOE. The program started to go south when Chan under-rotated her side-by-side triple toe and made mistakes on both throw jumps, falling on the throw triple loop and stepping out of the throw triple Salchow.
"They are always consistent, maybe a little bit we could have worked a bit better," Chan said about the throw jumps after their performance.
"I was proud of Emily for going into the sal (Salchow) and fighting for it," Howe added. "Even though it wasn't a perfect take off – she was a little tilted, but she managed to stay on her feet so I'm proud of her for that."
Despite these errors, the pair executed a level-four triple twist and level-four lifts, receiving positive GOEs on all of them. Their free skate score of 116.47 placed them in second for the segment and gave them a combined total of 180.94, edging them ahead of Canada's Walsh and Michaud by 1.24.
"​​It was an exhilarating experience to be able to go out and perform well, we've never been in that kind of situation before so it was a new experience that we had and I felt happy that we came down to what we could go out there and give our best," Howe said.
Walsh and Michaud opened their "Dreaming With a Broken Heart" free skate with a well-executed level two back-inside death spiral and a level three triple twist. The pair also executed two level-four lifts and a throw triple toe – three of their highest scoring elements in the routine.
But mistakes began to creep in when Walsh doubled the first jump in her side-by-side triple toe-double toe and landed her side-by-side triple Salchow on the quarter – Michaud also turned out of his. Walsh then put a hand down on the throw triple loop, and Michaud put down the pair's final lift too early, receiving a level one for it.
"Honestly, there were some good things, but we just did some costly mistakes and the lift at the end was a huge cost for us unfortunately," Michaud said after their free skate. "We've been skating so well and training so well, just disappointed that we couldn't fully show all of that today." 
"Rushing off nationals we made some mistakes that cost a lot of points, we are disappointed with the skate," Walsh said. "We have a lot of things to go back and fix in this program, and we have to keep moving forward."
Walsh and Michaud received 114.28 for their performance, dropping to third in the free skate and earning the bronze with 179.70.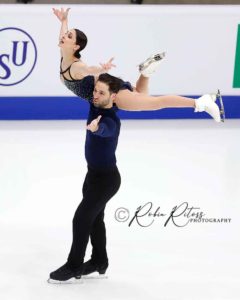 Deanna Stellato-Dudek and Maxime Deschamps of Canada moved up from fifth after the short program to fourth in the free skate. The 2022 Canadian bronze medalists ultimately placed fourth overall with a combined total score of 172.71.
"Every time we are learning new stuff, to make us grow, so it will just be beneficial for the next season," Deschamps said.
When asked what keeps them going and the trend of "older" skaters, the 30-year-old responded, "We still believe we are super young, we feel young."
Team USA's Katie McBeath and Nathan Bartholomay placed fifth with 168.18, and Lori-Ann Matte and Thierry Ferland of Canada rounded out the top six with 163.60.
Men
In the men's event, South Korea's Junhwan Cha won his first Four Continents title on Sunday, making history by becoming the first South Korean man to do so.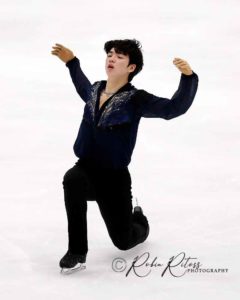 After falling on an under-rotated quad toe loop in the beginning of his "Turandot" free skate, Cha recovered with a quad Salchow. He then went on to land seven other triples, including two triple Axels – one of which was called under-rotated.
"There were little mistakes, but I am still pleased," Cha said. "I was happy to perform here for the audience and give my energy."
Cha received 174.26 for the program and a combined total of 273.22, winning the competition by less than five points ahead of Kazuki Tomono of Japan. With only two weeks until the start of the men's event at the Beijing Games, Cha plans to use this experience as an opportunity for further preparation.
"When coming here, I did not think about medals and placements," the 20-year-old said after his free skate on Jan. 23. "… for me it was another step towards the Olympic[s]."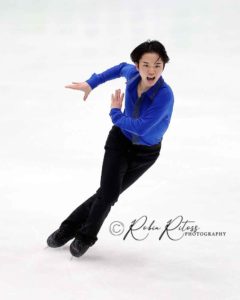 Trailing Cha by 1.86 after the short program, Japan's Kazuki Tomono was right on his heels. But in his "La La Land" free skate, Tomono opened the door for Cha to secure his victory.
Tomono put a hand down on his opening quad toe, which forced him to double his planned triple toe in the combination. He then fell on his second quad toe less than a minute later.
Nevertheless, the 23-year-old executed the rest of his program well, receiving positive GOEs on a quad Salchow, two triple Axels, and three more triples. He received 171.89 for the performance and a combined total of 268.99, earning the silver medal.
"I have regrets that I haven't felt before, but the fact that I have persevered on a new stage makes me very happy," Tomono said following his performance.
Another Japanese skater, Kao Miura, 16, persevered after suffering an injury during practice the day before the free skate. Though he left points on the table by reducing some of his planned program content, he still rallied to deliver a solid free skate with three quads – one of which was in the second half – and two triple Axels.
Miura received 162.70 for the performance, earning the bronze with 251.07.
Dance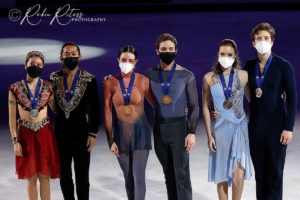 In their first outing at Four Continents since pairing up in 2019, Team USA's Caroline Green and Michael Parsons won the dance event, becoming the third consecutive U.S. dance team to win this competition since 2018. They earned a combined total of 200.59 – the only team to break 200 points at this event.
Making his return to the competition after last competing in the men's event nearly a decade ago, Japan's Daisuke Takahashi and partner Kana Muramoto earned the silver with 181.91.
Team USA's Christina Carreira and Anthony Ponomarenko earned the bronze with 175.67.
For a recap of the dance event, visit Ice-Dance.com.
For photos from Four Continents, visit Photos – 2022 Four Continents Championships.