By Sean Conlon, Team FSO contributing writer
Photos by Robin Ritoss
BEIJING, CHINA — Team USA's Nathan Chen made history on Thursday by becoming the seventh American man to win gold in the men's event at the Olympic Games – and the third in 34 years. The 22-year-old is the latest American men's skater to win the event as the reigning world champion, continuing the trend set by Dick Button with his second Olympic gold in 1952.
Heading into the free skate, Chen set a world record in the short program with 113.97, beating previous record holder Yuzuru Hanyu's score by 2.15 points. The world record also beat Chen's ISU personal best of 111.71, which he earned in the team event the week before.
But that momentum didn't end there. Shortly after the thirty-second countdown began when his name was announced, Chen blasted off.
He opened his "Rocket Man" free skate with a quad flip-triple toe combination, which received 19.60 points – his highest-scoring element of the program. Chen then landed four more quads, including a quad Lutz – which earned the highest score in Grade of Execution (GOE) at +4.93 – and a second quad flip.
His only mistake came when he popped the flip in his planned quad toe-Euler-triple flip combination into a single. Shaking off the minor error with a smile that was apparent throughout the rest of the program, he immediately bounced back, following up with a triple Axel and triple Lutz-triple toe combination.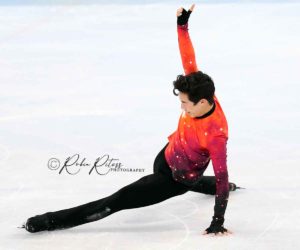 "Of course, there are certainly many things I could have done better, but overall I was very happy I was able to do the program that I put down," Chen said following his performance. "It means the world. I'm just so happy."
After disappointing performances at the 2018 Olympics, Chen has remained virtually undefeated ever since, winning every competition entered in the last four years except for 2021 Skate America, where he placed third behind Team USA's Vincent Zhou and Shoma Uno of Japan.
Within that four-year cycle, he has broken the world record not just for the short program but also for the free skate (224.92) and combined total (335.30), setting both at the 2019 Grand Prix Final in Torino. That season, Chen first launched his "Rocket Man" free skate, a program that he says took some getting used to before its debut on competition ice.
"Historically I skated to pretty slower-paced, more classical pieces, so bringing in this faster-pace, very exciting, very happy program was something I wasn't totally adjusted to from the beginning," he said. "But as we started working on it, it was something that totally made sense, and was just so much fun to skate to. This program, no matter what, is always fun for me to skate."
This clearly shined through in his skate, especially after his final jump where he began pumping his fists in his choreographic sequence. Chen says that towards the end of the program is where he really lets loose.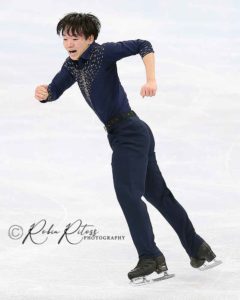 "I almost tripped on that last step (laughs), but that was fun," Chen said. "Once you're done with your jumps, it's a relief, and you have fun, trust the program and enjoy yourself. I'm glad I was able to do that."
For his performance, Chen earned a score of 218.63. Combined with his short program score, he earned a total score of 332.60 – more than 22 points ahead of Japan's Yuma Kagiyama in second place.
Kagiyama opened his free skate with a quad Salchow, which was then followed by a quad loop that was called on the quarter, a quad toe, and a triple Axel-double toe combination. In addition to the quarter under-rotation on the quad loop, he also performed a double Salchow in his planned quad toe-Euler-triple Salchow combination. His score of 201.93 was 7.01 points behind his free skate performance in the team event, which had no major mista
kes.
"I was a little bit nervous so it didn't go as well as the team event," Kagiyama said of his performance. "But I am still grateful that I did what I could in the middle of it and delivered a good performance after all."
With his second-place score of 108.12 for the short program, Kagiyama earned 310.05 for his combined total, which placed him more than 17 points ahead of compatriot Shoma Uno in third place.
Uno sat in third place after the short program – less than three points behind Kagiyama with a score of 105.90. The beginning of his "Boléro" free skate looked like he might be able to make up the difference, as he opened with a solid quad loop – an element that earned the highest score in GOE (+3.45).
The program began to unravel, however, when he then two-footed a quad Salchow that was called on the quarter, and then fell on a quad flip. He fought through the rest of the program, but appeared tighter in the second half, landing forward on his first quad toe and popping the flip in his planned triple Axel-Euler-triple flip combination into a single.
"I failed in the second and third jump," Uno said following his free skate. "I guess I did get nervous. But I thought I must do as much as I can in the second half. I have world championships coming. I believe I'll deliver an even better program then."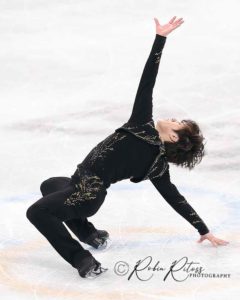 Earning 187.10 for his performance, Uno received a combined total score of 293.00. Regardless of the mistakes, he says that his third-place result is exactly what he expected.
"If I had another chance, I would probably finish the same way," he said about claiming the bronze. "It was a good experience. I believe it will lead to greater ones. With these experiences, I will be able to perform the beautiful program Nathan Chen did."
Two-time Olympic gold medalist Yuzuru Hanyu of Japan placed fourth in the event. With his 8th-place finish in the short program – where he popped his planned quad Salchow into a single – he planned to land the first-ever quad Axel in his free skate to make up the points.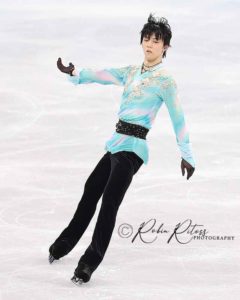 Opening his "Heaven and Earth" program, Hanyu fell on an under-rotated quad Axel attempt. He then fell on a quad Salchow that was called on the quarter. Despite not achieving his goal of landing a quad Axel at this competition, he still made history by becoming the first skater to perform a quad Axel attempt that was not downgraded to a triple.
"I think I am pushing the boundary today," Hanyu said about his free skate. "No matter how hard, no matter how unimaginable, I want to push a little bit more for those who have expectations in me."
Finishing third in the free skate with 188.06, Hanyu received a combined total score of 283.21, finishing less than 10 points off the podium.
"It was a hard time for me on the ice," he continued. "If I'm not doing 4A, I could have done a better combo. But that (quad Axel attempt) was my pride. It's going to make me more complete. That's why I did it."
Junhwan Cha of South Korea rebounded from a fall on an under-rotated quad toe at the beginning of his free skate to land a quad Salchow, two triple Axels, and five more triples. He earned 182.87 for the program and 282.38 for his combined total, dropping from fourth after the short program to fifth overall.
Team USA's Jason Brown finished in sixth place, just 1.97 points from fourth. Choosing to focus on the artistry of skating, he earned the second-highest components score in the event with his "Schindler's List" free skate.
"I think our sport is such a beautiful combination," Brown said. "It's unbelievable to see the technicians pushing the sport technically and I'm blown away and think so highly of them, and I respect them so much.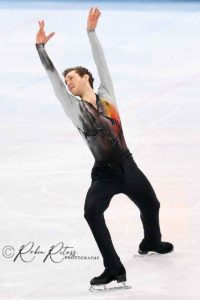 "It's also making sure that that other side isn't forgotten about and I want to keep pushing it and proving that there's so much value to that and I'm going to constantly give it my all," he continued. "If I could push the sport technically I would. That being said, I'm not willing to give up that artistic side because that is what I fell in love with and makes me — me."
Landing seven triples – including two triple Axels – and receiving a level four for his step sequence and all three of his spins, Brown earned 184.00 for his performance. Combined with his short program score of 97.24, he received a combined total score of 281.24, all of which were personal bests.
"I'm just so grateful," Brown said on what this moment feels like for him. "It's been eight years (since he last competed at the Winter Olympic Games) and I have given it everything I've had to get back on this stage and to be able to perform. I'm just so proud to be back and be able to put in two performances like that."
Daniel Grassl of Italy, who placed 12th after the short program, moved up to fourth in the free skate, finishing seventh overall.
Team USA's Vincent Zhou, who was expected to challenge for a spot on the podium, tested positive for COVID-19 following the team event and was forced to withdraw from the men's event. The reigning U.S. bronze medalist and 2019 World bronze medalist, has been invited to skate in the gala next week.