By Maura Sullivan Hill, Team FSO contributing writer
"I feel like I am watching a movie about my life," Gabriella Papadakis said with a laugh, after winning the gold medal in the 2022 Olympic ice dance competition.
Let's set the scene:
Capital Indoor Stadium, Beijing — February 14, 2022
The 2018 Olympic Silver Medalists in ice dance take the ice as the final competitors in the 2022 Olympics. After setting a world-record score in the rhythm dance, they back it up with a world-record setting free dance.
The long-awaited gold is theirs, earned with the highest-ever score in Olympic ice dance history, 226.98 points.
They couldn't have scripted it better.
"Four years ago, we were pretty disappointed the way we skated on the short dance. Above everything else we wanted to have a good experience here. We wanted to take joy and pleasure while skating and have those Olympic moments we have been dreaming of," Cizeron said. "It fueled us to want that gold medal more than anything else. We never worked that hard for a specific goal throughout our career. All our gold medals kind of came one after the other without us specifically wanting that as a precise goal. This year we gathered the courage to want to win. That was a pretty important shift."
Papadakis echoed her partner, saying, "For years this was the only medal that we wanted and the past four years were just about that moment. We worked a lot and it was very hard."
The last two years, in particular, were filled with challenges for the team. The five-time European Champions unexpectedly lost their title in 2020, and both partners got sick with COVID-19 in July 2020. With opportunities to compete in front of an audience few and far between in 2021, they elected to skip the 2021 World Championships to start preparations for the Olympic season, for that gold medal that was the only acceptable outcome for the duo.
That extra preparation time paid off, especially in their inventive rhythm dance, which featured waacking, a form of street dance created in underground gay clubs in the 1970s in Los Angeles that emphasizes arm and hand movements. It may have started in the disco era, but waacking is thriving on Instagram and Tik Tok in 2022. Papadakis and Cizeron worked with a waacking specialist in Montreal to perfect the style.
"We started working on it last year. We knew the theme [of the rhythm dance] is urban dance. We tried different kind of dances and we started doing some waacking dance…and we fell in love with it," Papadakis said. "We did the choreography and we started working on the program. It really is a program that we love so much."
This Olympic title is the second for a French ice dance team; Marina Anissina and Gwendal Peizerat won in Salt Lake City in 2002.
Victoria Sinitsina and Nikita Katsalapov of the Russian Olympic Committee took the silver medal, with two performances that improved upon their showing in the Olympic Team Event. They finished second in both segments of that event, but here in the individual ice dance event they looked much steadier and improved on both their segment scores.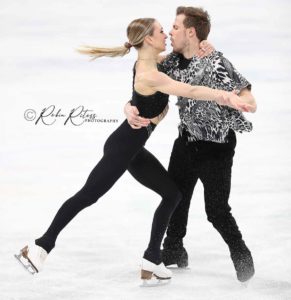 In the rhythm dance, Sinitsina and Katsalapov earned a personal-best 88.85, 3.8 points higher than in the Olympic Team Event. In the free dance, they improved on their team event score by 3.49 points, earning 131.66 points for a total score of 220.51. It was less than a point (0.66) shy of their personal best, set at the 2021 World Championships.
"I was just so hungry, so focused. I feel like I brought forward all of my best qualities to make this performance as successful as it was," Katsalapov said. "I am very glad it happened as it did and that we skated to an Olympic medal."
Madison Hubbell and Zachary Donohue of Team USA took the bronze medal, in a moment of redemption after finishing second at the 2022 U.S. Championships and after a late-program stumble kept them off the Olympic podium back in 2018.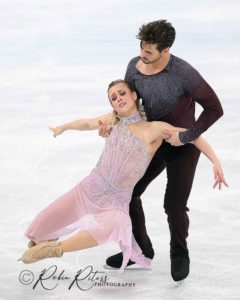 "Zach and I wanted to change the way we approached the competition and the preparation going into it, in comparison to our experience in 2018. And we trained way better mentally, we were more stable. Our friendship is tougher. The day-to-day joy of training has been so much different than other years," Hubbell said. "And so when we were here, we wanted to take in the magic of the Olympics, but not try to overdo it, and just trust that whatever we put out would be enough to end up on the podium. We're very happy and grateful to our training center and coaches and everyone involved that helped prepare us because here we are and we were able to rely on that."
They earned personal best scores in the rhythm dance and free dance for a new personal best total score of 218.02.
"Standing on an Olympic podium is absolutely a mix of pride, joy, elation, relief, and all the stress that's been building up for an entire season," Donohue said.
Their U.S. teammates Madison Chock and Evan Bates, in their third Olympics together and Bates' fourth, finished in fourth place. They went into the free dance trailing by 2.99 points, and even a personal-best performance of their "Alien and the Astronaut" free dance wasn't enough to vault onto the podium.
"We really wanted to be on the podium. And I think fourth place sometimes can be one of the hardest places to finish," Bates said. "But the fact that there are only three spots on the podium is what makes this sport so fierce and so loved by so many people and the fans at home and the athletes, too. We want the competition to be strong and deep, and that's exactly what it is."
In the end, the performance is what mattered most to the duo, with Chock saying, "It was so exhilarating to perform today and to finish our Olympic experience off with that performance. And I'm just really proud of Evan and how we trusted ourselves and did the work. We're very pleased with that. And to go home knowing that we did two solid performances is a good feeling."
The free dance was a controversial choice, with some fans loving the concept and others not appreciating it, but Chock and Bates stayed committed to their vision for the program all season.
"What we're going for is an evolution of at first being uncertain of one another and having a guard up. Then we have conflict and resolution. Then it's like a beautiful anthem. In the end, it's all about learning to find love and acceptance for people who look different than you or people who are from a different place than you are," Bates said. "That was the message that we wanted to bring to the Olympic stage."
Chock and Bates weren't the only team to pursue an inventive free dance theme this year. Beyond the podium, there was lots of creativity on display, particularly from the teams of the Ice Academy of Montreal.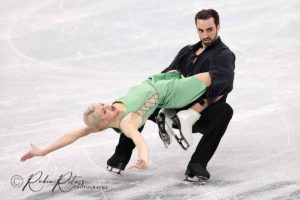 Spain's Olivia Smart and Adrian Diaz earned a personal best score with their "Mask of Zorro" free dance and an 8th place finish. They performed the program with verve and energy, especially the sword fighting flourishes throughout, not showing any signs of fatigue after an intense season-long battle to earn Spain's lone Olympic ice dance spot.
Great Britain's Lilah Fear and Lewis Gibson performed to "The Lion King," showcasing stunning and unique lifts en route to their 10th place finish. Canada's Marjorie Lajoie and Zachary Lagha took flight as birds, performing a high-energy program to the "Rio" movie soundtrack and finishing in 13th.
Americans Kaitlin Hawayek and Jean-Luc Baker finished in 11th place in their Olympic debut. This year marked their 10th season as a team, and it started with challenges: Hawayek sustained a concussion in practice over the summer and they weren't able to compete until November, at Rostelecom Cup.
"Technically we will finish our 10th season at worlds (world championships) but to be able to have such a highlight in our 10th season, to be competing at our first Olympics, it really means the world," Hawayek said after the rhythm dance.
Baker's parents traveled to Hawayek's hometown of East Aurora, N.Y., to watch the duo perform alongside Hawayek's parents.
Hawayek, especially, looked overjoyed after their rhythm dance performance, and both partners looked pleased after the free dance, where they showcased classical, ethereal skating. They plan to continue competing after this Olympic season.
"We're proud of [our performances here], and then moving forward I think we will have a lot of opportunities," Baker said. He acknowledged that injuries have kept them from competing early in the fall season for the past several years, so their goal is to stay healthy and improve their world ranking. "We're really thrilled to go into the World Championships coming up. Knowing that Hubbell and Donohue are retiring, and not knowing what Chock and Bates are doing, but knowing that we're sticking around and we want to be taking the leading in U.S. ice dance and then stepping on that world stage at a higher level."
For photos of all the action from the ice dance competition, click here.