By Gina Capellazzi, Team FSO website administrator
Photos by Robin Ritoss
0.43.
That was the exact margin that separated Olympic champions Aljona Savchenko and Bruno Massot, of Germany, from silver medalists Wenjing Sui and Cong Han of China at the 2018 Olympic Games in PyeongChang, South Korea. A mistake on the side-by-side triple salchow cost the Chinese team the gold medal. Disappointed, Sui and Han set their sights on striking gold in 2022 in their home country.
After the pairs' short program at the 2022 Winter Olympics, where Sui and Han broke their own world record for a pairs' short program score (84.41), it was just 0.16 points that set them apart from Evgenia Tarasova and Vladimir Morozov, three-time World medalists from the Russian Olympic Committee.
Hungry to earn the gold medal at their home Olympics, Sui and Han delivered an emotional "Bridge Over Troubled Water" free skate that included a quadruple twist that was given a plus 2.82 for the grade of execution and earned a total of 10.42 points. However, the element that eluded them in PyeongChang and cost them the gold in 2018 haunted them again, as Sui's side-by-side triple salchow was downgraded. With only a miniscule lead after the short program, it was going to be close for the gold, but Sui and Han found themselves on the other side this time, winning the gold by a little more than half of a point. (0.63). They earned a free skate score of 155.47, which was just shy of their personal best of 155.60, and a personal best total score of 239.88, a new world record.
Sui and Han became the first Chinese pair team to win a gold medal since their coach Hongbo Zhao and his partner and wife, Xue Shen, won the 2010 Olympics in Vancouver.
"I'm so happy that I feel that my dream has come true," Sui said.
"This is an unforgettable night. We realized our dreams in our homeland," Han added.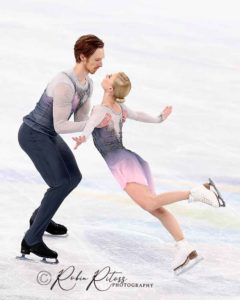 After finishing off the podium at the 2018 Olympics, Tarasova and Morozov were determined to get on the podium this time in Beijing. With such a close margin after the short program, Tarasova and Morozov had to deliver a near-perfect free skate to claim the gold medal. In their "Lighthouse" free skate, the team executed a perfect triple twist — it earned the maximum of 9 points (6.00 base value + 3.00 for grade of execution). In addition to the twist, Tarasova and Morozov received all positive grades of execution points for the rest of their elements, which included side-by-side triple salchows and triple toe-double toe-double toe combination, and throw triple loop and triple flip. The team earned a free skate score of 155.00 and a total score of 235.25, both personal best scores, to win the silver medal.
"We've been working for years to get this medal, so just to get it, means a lot to us," Morozov said.
"When we stood in the final pose of the program, and you understood that you did well and that you skated clean, at that moment, you have an explosion of emotions," Tarasova said of her reaction after the free skate. "It is happiness that everything worked at the right moment. You cannot hold them in."
After the free skate, Morozov did respond to the tight margin that separated the two teams.
"This is the judges' score and it's really a small difference, but we did everything that we can do," he said.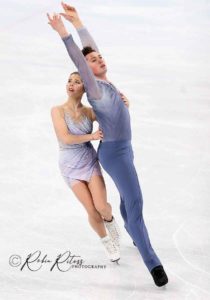 Reigning World Champions Anastasia Mishina and Aleksandr Galliamov, who were also in contention to win the gold medal in Beijing, took home the bronze medal in their first Olympic appearance.
Their "The Snowstorm" and "Time, Forward" free skate was highlighted by a side-by-side triple salchow-euler-triple salchow combination and side-by-side triple toe, plus throw triple flip and loop jump. They earned all positive GOEs on their elements to earn a free skate score of 154.95 and a total score of 237.71.
"We are very proud of it. We did all our elements well," Galliamov said.
"We are very happy that we managed to skate well and show what we can do at this Olympics," Mishina added.
"We will keep working," she continued. "Third place gives us motivation to work harder."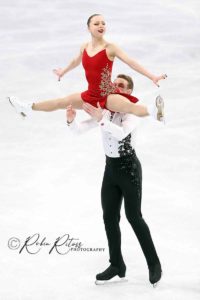 After Alekandra Boikova touched her hand down on the throw triple flip in the short program, the reigning World bronze medalists Boikova and Dmitrii Kozlovskii were in need of a perfect free skate for any chance at a medal. In their "Malaguena" free skate, Kozlovskii landed the triple toe on the quarter in the team's side-by-side triple toe-double toe-double toe combination. Also, Boikova stumbled on the throw triple loop. The team earned a free skate score of 141.91 and a total score of 220.50 to finish in fourth place.
"We are quite disappointed," Kozlovskii said of the team's free skate. "We made every effort to prepare ourselves for the Olympic Games. The result is not as (we) expected."
Two-time Four Continents medalists Cheng Peng and Yang Jin, who finished in 17th place at the PyeongChang Olympics, were looking to have an Olympic moment on their home ice in Beijing. In their "The Banquet" soundtrack free skate, Peng and Jin opened with their side-by-side jumps, in which Peng doubled the planned triple salchow. The rest of the program was strong and the team earned a free skate score of 138.74 and a total score of 214.84 points to finish in fifth place.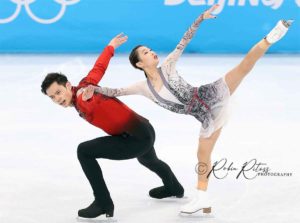 Peng and Jin said they have no regrets with their performances in Beijing.
"Today we performed our best," Peng said. "We enjoyed every moment and every move we made on the ice."
"We skated our best," Jin added. "We skated our best and almost had no errors, so we are satisfied with our performance today."
For Team USA, they may not be leaving Beijing with medals in the pairs' event, but they accomplished a feat that hasn't been done in 24 years. The two teams finished in 6th and 8th place, the first time the U.S. has had two pairs in the top 10 since 1998.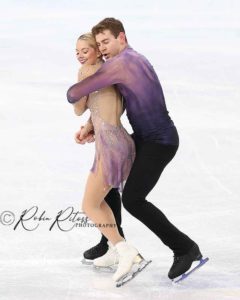 In their "Fix You" free skate, Alexa Knierim and Brandon Frazier, who won silver with Team USA in the team event, delivered a skate that included a throw triple flip and triple loop. The only mistake came on their side-by-side triple salchows, where Frazier doubled the element. They finished in sixth place with a free skate score of 138.45 and an overall score of 212.68, which was a personal best free skate and total score for the team.
"It was a true dream come true — it was our true selves out there — we didn't let our nerves get the best of us," Frazier said following his free skate. "We made one technical error on the jump on my part, everything else we did was solid."
"I have so much appreciation for the whole team and my family taking a shot on me," Frazier said. "I am forever in their debt for all their hard work. We weren't even sure we would try out and now we are here at the Olympic Games."
Teammates Ashley Cain-Gribble and Timothy LeDuc finished in eighth place. In their "W.E." free skate, Cain-Gribble fell on the side-by-side triple loop and also fell on the double loop of the triple salchow-double toe-double loop combination. Their free skate earned 123.92 and they earned a total score of 198.05. Cain-Gribble skated with a sprained ankle in both the short program and free skate, an injury that she suffered after a fall in practice in Beijing.
"There was a lot of fight in there," Cain-Gribble said. "Some good elements, some elements that I felt weren't me at all. But overall, we never gave up, and that's the main thing."
"In the last 48 hours, I have to go through a lot, but I'm thankful for the team around us that has helped me to be strong enough to even be able to go out on the ice," she added.
Beyond their performances, Timothy LeDuc also made history by becoming the first openly non-binary athlete to compete at the Olympics.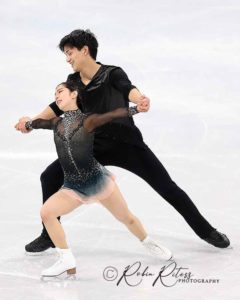 Japan's Riku Miura and Ryuichi Kihara finished between the two American teams in seventh place. The team's only mistakes in their free skate were two under-rotation calls on the side-by-side triple toe and triple salchows. Their free skate score of 141.04 was the fifth-best free skate of the event, and also a personal best for the team. Their total score of 211.89 was also a personal best score.
"We really enjoyed the free skate tonight, and the result was satisfying," said Kihara.
After a disappointing short program, where both Kirsten Moore-Towers and Michael Marinaro, of Canada, fell on the throw triple loop, the team finished in 10th place in what is their final season together.
"It was a big fight today. It's been a great career for us. We fought for everything," Moore-Towers told the media after her free skate.
Fellow Canadians Vanessa James and Eric Radford, who previously competed at the 2014 and 2018 Olympics with their previous partners, finished in 12th place.