By Gina Capellazzi, Team FSO website administrator
Header photo of Ashley Cain-Gribble and Timothy LeDuc by Robin Ritoss
Editor's Note: This story was published on March 22, in advance of the World Championships. Ashley Cain-Gribble suffered a concussion during the free skate of the World Championships. Unfortunately, due to this injury, Cain-Gribble, and her partner, Timothy LeDuc, will be unable to participate in the first weekend of the Ice Dreams Tour. However, they are looking forward to joining the tour in May.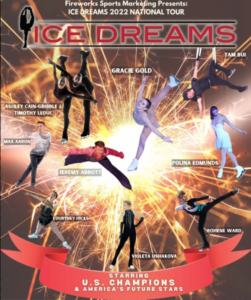 After the World Championships, skaters will hit the road to perform for audiences throughout the United States. The Stars on Ice tour will visit 24 U.S. cities in April and May. Yet, that isn't the only skating tour in the U.S. this spring. Ice Dreams, a production of Fireworks Sports and Entertainment, is launching its first-ever tour.
The 10-city tour will feature two-time U.S. Pairs Champions Ashley Cain-Gribble and Timothy LeDuc, who are competing this week at the World Championships in Montpellier, France. The team finished in 8th place at the 2022 Winter Olympic Games in Beijing, China last month. During a pre-World Championships media call March 16, Cain-Gribble and LeDuc said they were excited to be heading out on tour, just two-weeks after the World Championships. The team will be skating to a Great Gatsby medley, which was their free skate from the 2017-2018 season.
"We are kind of doing a remixed version of it, trying to add some elements and fun choreography," LeDuc explained. "Still in the process of putting it together, but we're really excited to do those performances with a really awesome cast."
"The cast is going to be amazing, " Cain-Gribble added.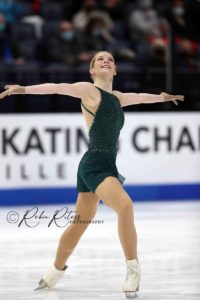 Cain-Gribble and LeDuc will be joined by two-time U.S. Champion and 2014 Olympic team bronze medalist Gracie Gold; four-time U.S. Champion and 2014 Olympic team bronze medalist Jeremy Abbott; two-time U.S. silver medalist and 2014 Olympian Polina Edmunds and 2013 U.S. Champion Max Aaron.
"We have a great cast," Tara Modlin-Maurizi, owner of Fireworks Sports and Entertainment, told Figure Skaters Online March 14. "This is a bunch of skaters that all love each other and really have fun as a unit, and more importantly are so excited (to be a part of this tour)."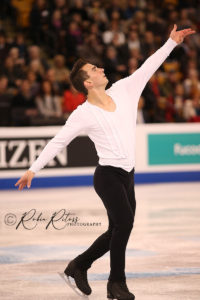 In addition to the headliners, two-time Olympic medalist Nancy Kerrigan will be performing in select cities. Courtney Hicks and Violeta Ushakova, and choreographer Rohene Ward will also be taking part in the tour.
While this may be Ice Dreams' first-ever tour, Modlin-Maurizi has been producing Ice Dreams shows since 2010. Ice Dreams' first show featured Olympians Johnny Weir and Rachael Flatt, fresh-off competing at the Vancouver Olympics, alongside 2006 Olympic ice dancers Melissa Gregory and Denis Petukov and two-time U.S. pair champions Keauna McLaughlin and Rockne Brubaker. The show was hosted by Olympic Champion Dorothy Hamill.
Aware of the lack of opportunities for figure skaters to perform in the U.S., Modlin-Maurizi said she started Ice Dreams to create opportunities for skaters, instead of waiting for opportunities to come their way.
"I'm always thinking of ways to make them (the skaters) successful, to help them not leave the sport," the former figure skater turned sports agent said.
The idea to put together a tour was a dream of Modlin-Maurizi going back to when she was a young skater seeing the Tom Collins' Champions on Ice tours.
"I would run around and think of ways to get backstage to get (skaters') autographs," Modlin-Maurizi recalled. "But I wasn't sure if it was just to get their autographs, or if it was because I wanted to see the inner workings of how this (putting a tour together) happened. I was always intrigued with the marketing of skaters and the marketing of the show."
Modlin-Maurizi's 10-city Ice Dreams tour will start in Morristown, New Jersey on April 8 and will visit Buffalo, New York and Clifton Park, New York that weekend. The second leg of the tour will start May 13 in Newark, Delaware and will visit Milford, Connecticut and Worchester, Massachusetts May 14-15 respectively. The third leg of the tour will begin in Strongsville, Ohio June 3 with a stop in Rochester, Michigan on June 4. The tour will conclude in East Meadow, New York on June 12. Modlin-Maurizi is also hoping to do a Chicago show.
"I wanted to do something local to where I am," Modlin-Maurizi explained of the cities. "Because I'm here (in the northeast), I thought I could promote it, but I also didn't want to just stay in the northeast."
What makes IceDreams different from other skating tours, Modlin-Maurizi said, is that local skaters of all ages and levels can perform in the show with the cast. They will attend practices and rehearsals and participate in an on-ice seminar and meet and greet session with the cast. Modlin-Maurizi said allowing skaters to perform with the stars creates an opportunity for them to get to know them and have an experience that they'll never forget.
"Kids don't know our stars anymore. So in order to get them to know our stars, they have to meet our stars," Modlin-Maurizi said. "They have to be on the ice with them, they have to hug them, they have to learn from them, get their autograph and get their photo."
"I'm excited to meet the local skaters in the rinks," Cain-Gribble said of the experience to skate with young skaters. "We're going to a lot of really awesome cities, so a lot of the local skaters get to take part in the show, so it will be really fun."
Modlin-Maurizi is having a non-skater choreograph the show. Nikki Manx, who owns a dance, Pilates and yoga studio in Ridgewood, New Jersey, will be doing the choreography. "She's (Nikki's) going to be doing some sort of fusion between hip hop, modern and jazzy stuff," Modlin-Maurizi said.
When asked to describe the type of show fans can expect,  Modlin-Maurizi said the audience can anticipate "a night out at a dance party".
"It's all party time, pop music, so bring your energy! " she exclaimed. "Bring your dancing shoes."
To learn more about Ice Dreams, to purchase tickets or register a skater to perform in the show, visit icedreamstour.com