By Gina Capellazzi, Team FSO website administrator
Skating photos by Robin Ritoss; Photo of Nadiia, Molly and Yehor courtesy Cesanek Family
Beyond the headlines of Rinka Watanabe, Shoma Uno, Rika Miura and Ryuichi Kihara and Piper Gilles and Paul Poirier,  2022 Skate Canada marked Grand Prix debuts for number of skaters. There were some other special stories that came out of the event.
Figure Skaters Online's Gina Capellazzi spoke with some of these skaters that had other accomplishments and victories, beyond the podium. She is highlighting them in what she has coined — "Mississauga Memos."
Late minute assignments and Grand Prix debuts
Like Skate America, Skate Canada International marked the senior Grand Prix debut for a number of athletes.
For Rinka Watanabe, of Japan, she started her senior Grand Prix debut earlier than she expected. When the assignments came out in July, Watanabe was assigned only to NHK Trophy. Upon the withdrawal of fellow Japanese skater Wakaba Higuchi, Watanabe was added to Skate Canada International Oct. 11.
"I was only told one week ago that I was participating at Skate Canada so it very difficult for me to adjust my training, but I did the best I could," she said.
The same thing for Team USA's Ava Marie Ziegler, who only found out she was going to Skate Canada Oct. 22, just days before the start of Skate Canada. Ziegler had no other Grand Prix events, but found herself in third after the short program and finished the event in fourth overall.
While she didn't have the performances she was hoping for in her first senior Grand Prix debut, Team USA's Lindsay Thorngren enjoyed the experience of her first Grand Prix.
"I was really excited to skate in front of a really big audience and the arena is really nice. I loved it here and I loved the crowd. I was just so excited to skate my first Grand Prix with all the skaters," Thorngren said following her free skate.
Making history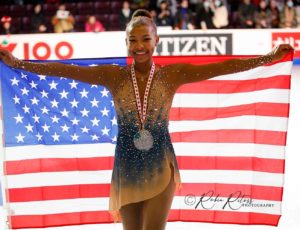 When Starr Andrews won the silver medal at Skate Canada International, she not only won her first Grand Prix medal of her career, she also made history by becoming the first U.S. black figure skater to win a Grand Prix medal.
During the women's free skate press conference, Team USA's Lynn Rutherford asked Andrews about that achievement.
"I think that this is incredible," she said. "I think it's a huge deal, especially being one of the few people of color in this sport and I'm so proud that I could represent them and to be able to bring a home a medal is even more special."
Training disrupted by Skate America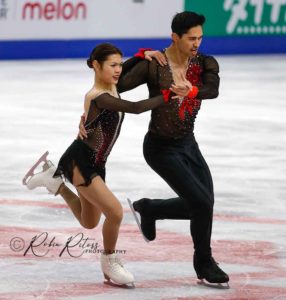 The Skating Club of Boston welcomed sold out crowds for the first Grand Prix of the season, Skate America.
While this was great for the Skating Club of Boston to host this caliber event in only their second year in their new facility in Norwood, unfortunately, that meant that skaters who train at the Skating Club of Boston had to change up their training for the week. The club's main rink, the Tenley Albright Performance Center was being used for the event, and the West Rink ice was melted to create a media working room, press conference and mixed zone area, accreditation and a warm-up area for the athletes. Losing their two main training rinks for the week was especially hard for Team USA's Emily Chan and Spencer Howe and Jimmy Ma, all who competed at Skate Canada International this weekend. Chan and Howe, along with Ma, both were able to train in the club's third rink, East Rink.
"It was a little more challenging to be off our normal schedule, but I felt like it was a blessing in disguise being able to handle different circumstances because that's how it'd be in competition," Chan said.
"It (The East rink) was a little smaller, but I think the most challenging part was the session times, we didn't have as much ice time throughout the day," Spencer Howe explained. "It was a blessing in disguise because when you have these competitions, you don't have an 80 minute session or an hour to get going. You have to be quick on your feet so it all worked out."
"The Skating Club of Boston has always been really good with accommodating, which makes me very proud to be a part of their club," Ma added.
Ma did note that the East Rink is more catered toward hockey, with the ice being more harder.
"So there were some adjustments needed to be made, schedules needed to be changed around, so definitely it tested our adaptability," Ma mentioned. "I think we did overall pretty well."
Broken lace
Japan's Kao Miura, the leader after the short program, had an unfortunate situation happen during the six-minute warm-up of the free skate. The lace on one of his skates broke, forcing him to leave the ice to take care of it. He was able to return before the conclusion of the warm-up, but lost quite a bit of warm-up time.
"My lace broke right in front of my skate," he told the media. "Considering this I give myself 100 percent on my performance today. I am very happy."
Miura did win the silver medal – his second silver medal of the Grand Prix series this season.
Friends from home
It's always nice for skaters to have family and friends in the audience, watching them skate. It was particularly special for Team USA's ice dancer Yehor Yehorov, who is originally from Ukraine, who had friends from home both in the arena and on the ice with him.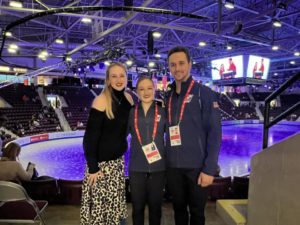 Yehorov's really good friends, Israel's Maria Nosovitskaya and Mikhail Nosovitskiy, were competing in the ice dance event at Skate Canada. The twins were born in Kyiv.
'We grew up together in Ukraine at the rink every day," he shared. "I was in juniors and they were in novice and right now, look at where we are – I'm representing Team USA and they are representing Israel and we are both at Skate Canada, senior Grand Prix. It's amazing. Figure skating really brings people from all over the world."
On Friday, Yehorov also saw his good friend, World Junior bronze medalist ice dancer Nadiia Bashynska, of Canada. Bashynska also grew up with Yehorov in Kiev.
"We talked to each other as we haven't see each other for a while," he said. "It's a special feeling when you don't see your friends like for years and then you see each other and it is like you grew up together, you've been through many things and you are just so appreciative to where you are now and what we do now."
Late nights in the library
Camden Pulkinen is in the midst of his first semester at Columbia University, while also preparing for another senior Grand Prix season.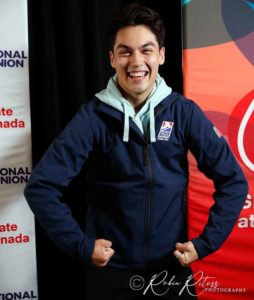 Following his short program, Pulkinen told Figure Skaters Online that he had midterms the last few weeks.
"I may have been spending a little too much time in the library until midnight," Pulkinen admitted. "I would have liked to have a little better training going into this competition, but I stayed fit and I did my job training.
"It's really just all about compartmentalizing now and school is really proving to be a challenge," he added. "But I think that while I'm young and while I'm at this age, I'd rather put as much on my plate and see how much I can conquer."
Pulkinen's second Grand Prix – Grand Prix Espoo – takes place during his Thanksgiving break from Columbia.
Baby announcement in the Kiss & Cry
Following his short program Friday, Canada's Keegan Messing held a photos of his wife, Lane's sonogram, announcing that they are expecting their second child. Keegan and Lane are already parents to a 15-month-old son, Wyatt.
Messing told Figure Skaters Online that Lane is due in January 2023.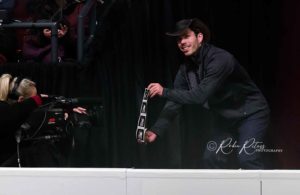 "Right smack dab in the middle of (Canadian) Nationals," he said with a laugh. "I can't seem to plan anything very well or do anything the easy way."
"I'm so happy with life right now. I couldn't be higher," he added.
The Messings don't know if their second child is a boy or girl.
"It's a surprise. I'm hoping for a girl, but I'd be overjoyed with a boy too. Whatever comes out, I'll be in tears regardless," he said.