By Gina Capellazzi, Team FSO website administrator
Header photo by Melanie Heaney. Other photos by Robin Ritoss and Luke Wang
At the end of May 2022 after graduating from high school, Luke Wang moved across the country to try his hand at pairs skating. The singles skater had never tried pairs before, but a month later, he teamed up with Olivia Flores, who was also new to the discipline.
A few months later, the team qualified for the U.S. Championships where they won the junior pewter medal. Then in February, the team won gold in the junior pairs event at their first international competition, Challenge Cup in The Hague, Netherlands.
In addition to pairs, both Wang and Flores compete as single skaters. Flores competed in the junior women's event at the 2023 U.S. Championships.
Now in their second season as pairs skaters, Flores and Wang are hoping to skate on the Junior Grand Prix Series with goals of qualifying for the Final. They are also setting their sights on the World Junior Championships.
As they prepare for the new season,  Figure Skaters Online caught up with Flores and Wang.
Looking back on last season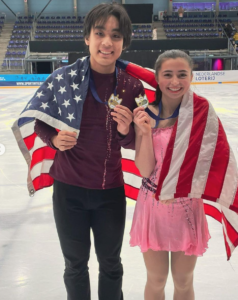 Figure Skaters Online (FSO): What were you most proud of last season?
Luke Wang: I was most proud of our journey last season. We both had so much self growth and learned so much about partnerships and pairs. It was by no means an easy road being new to pairs, but the journey to get here was invaluable for sure.
Olivia Flores: I am most proud of how much we developed in a short period of time. Learning pairs elements and how to skate with someone else is challenging, especially for two single skaters.
FSO: What did you think of your first season together?
Wang: I am immensely proud of where we are now. Just a year ago, I wasn't sure if we were even going to be able to make it this far, but it's incredible to see how much we've grown in such a short amount of time.
Flores: I think it went really well. I loved that at each competition we kept improving and getting better.
FSO:  What was your favorite moment of last season?
Wang: I have to say—Nationals was extremely fun. I got to catch up with old friends and made new ones as well. Also, the Netherlands was an unforgettable experience. The team there made our first international competition the most enjoyable and fun!
Flores: My favorite moment from last season would be going to Nationals together. It was an incredibly special competition, and it went by too fast to pinpoint an exact moment.
New programs
FSO:  You guys decided to keep your "Once Upon a December" short program from the 2022-2023 season. Why did you guys decide to keep it? Did you make any changes to the choreography?
Wang: We decided to keep our short program this season because we felt we didn't get to perform it enough last season (being our first season together). We only got to perform it three times — Pairs Final, Nationals, and Challenge Cup — so we thought it would be nice to continue developing the program and because we absolutely love performing to this piece.
FSO:  How did you guys come up with Star Wars for your free skate? Luke, it's your favorite movie franchise, right?
Wang: Yes!!! It's absolutely my favorite franchise and has resonated with me ever since my dad introduced my sister and I to it. I'm a nerd when it comes to Star Wars. I've watched all the movies, in addition to the TV shows and spin-offs such as Clone Wars and Star Wars Rebels. Drew [Meekins], our choreographer and Olivia and I all thought it would be dynamic and cool to be a pairs program. The music is so sweeping and stunning! Definitely keep an eye out for this one! 😉
FSO:  Describe your Stars Wars free skate – what music selections are you skating to? Are you playing particular characters? Have you thought about costumes?
Flores: We are skating to covers of "The Force Theme", and "Rey's Theme". For me, I feel like I'm playing a character who's a mix between Rey and Leia. Luke plays Luke Skywalker (obvi!!). My goal is to encompass the toughness and strength of both Leia and Rey through our skating. We are still working on costumes, but I am super excited to perform this program!
This Season
FSO:  Will you stay in juniors? Are you hoping for a Junior Grand Prix spot(s)?
Wang: Oh yes, definitely. We're extremely excited for this season and what it will bring! Stay tuned!!! 😉
FSO:  What will be your first competition this season?
Our first competition this season will be the Glacier Falls Summer Classic. We are excited to debut our new free skate and to continue growing and performing!
FSO:  What are your goals for your second season together?
Wang: Liv and I really want to step up to the occasion this season and make larger improvements in our performances each time we step on out there. We believe we have so much more to show and we're really excited to show all that we've got!
Flores: Our goal for this season is to qualify for the Junior Grand Prix Final and Junior Worlds.
FSO:  How has training been going? How much have you guys grown as a team since last year at this time? Any particular element you are really working on?
Wang: We have been working extremely hard, preparing for the next season. We've been working on new lifts and improving our pair elements. I think we've grown immensely since last season. It's crazy to think at this time last year, we were both brand new to pairs, struggling to put everything together. I'm really excited for what this season has to offer for the both of us!
FSO:  Are you still planning to compete in singles or are you just focusing on pairs this season?
We are both competing singles this season, yes. You can catch us competing in the 2023-2024 National Qualifying Series.
The pairs' discipline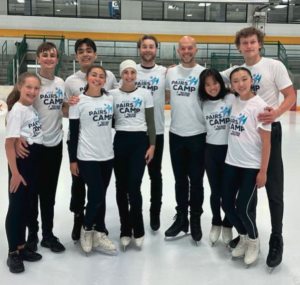 FSO: You recently attended the U.S. Pairs Camps — what was that like and how did you find it helpful? What did you learn?
Wang: While pretty physically demanding, I found it to be extremely fun overall! I loved getting to see old friends and meeting new ones. I think having everyone together in one spot was really uplifting and inspiring.
Flores: It was tiring but worth it. A lot of the time, techniques are similar, but some coaches teach the information differently than others. That was helpful because it caused me to slightly alter how I approached an element.
FSO: Talk about your coaches. What is it like working with them and the WASA (World Arena Pairs Academy) in Colorado Springs?
Wang: There is no other place I'd rather be. We're all really supportive of each other and there to help one another. It's a place of comfort and I've made some of the best friends ever here.
Flores: Our coaches are the best. WASA Pairs is a great little community, and we all love being around each other, which makes it more enjoyable.
FSO: What are your thoughts on the pairs discipline, especially in the U.S.? Are you seeing more teams coming up through the ranks? Do you think the discipline is growing? As two single skaters who recently turned to pairs, what is your advice for single skaters who may be considering the discipline?
Wang: I'm optimistic about the pairs discipline in the U.S. I think we have a long way to go in terms of growing the discipline and shedding more light on the discipline as a whole, but it is inspiring and encouraging to see the new teams coming up through the ranks just like we did. My biggest advice to single skaters who may be considering pairs is give it a shot because you could end up really liking it. You never know until you give it a try! I was never keen on trying pairs before my coaches, Drew and Natalia [Mishkutionok], reached out and urged me to at least give it a try. It changed my life!
Flores: I think pairs is definitely growing as a discipline. There are more teams that are age eligible to compete internationally, as well as more people who are interested in watching pairs. My advice to any singles who may be considering pairs is to try it–you'll never know unless you try, and there's no harm in trying new things!
Beyond Skating
FSO:  Are you both attending school this fall?
Wang:  I am currently enrolled at the University of North Carolina at Chapel Hill, but will likely defer a year to focus on my training in Colorado. In the meantime, I continue to brush up on my studies on the side. I'm also taking this time to find what I want to study as well as my potential future career path! Definitely keeping myself busy both in and out of the rink!
Flores: I will be a junior in high school at Cheyenne Mountain High School. Balancing school and skating is definitely a challenge, but I'm getting used to it.
FSO:  Any plans for the summer other than skating? Any vacations?

Wang:  Oh, I wish! I think we are mainly focusing on our training, making sure we are 100% prepared for this next season. At Glacier Falls Summer Classic, I would love to go to DisneyLand afterwards! But as of now, I don't have any plans for the summer outside of training.
Flores: Mostly skating! We might go camping or hiking, but that's about it.
FSO: How did you get into doing "Cold Angles" and recording your training mates? Is that something that you want to do more videography in the future?
Wang:  You know what, I've always loved photography and videography. While I am not a "pro", I just always loved doing it as a hobby—whether it was going out in nature or at the rink or even strolling down the street. It started out as a joke. I just filmed when a few people asked me to, but as I took on the @WASAPairs Instagram account several months ago, I found my skills were pretty useful when it came to highlighting all of our teams here in a positive light. I enjoy promoting such an atmosphere where we all uplift one another and I found I could do that through videography and social media. That's how my @ColdAngles account came to be—thanks to my contribution to WASA Pairs. For now, I don't have intentions of pursuing it professionally, but I do enjoy it as a hobby nonetheless!
You can learn more about Olivia Flores and Luke Wang on their official website.