By Maura Sullivan Hill, Team FSO contributing writer
Photos by Maura Sullivan Hill
Team Storm photo by Stephen Bell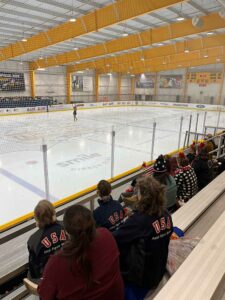 Nicola Cheyne and Kimberly Coxe are an unlikely pair of friends. Cheyne lives in Brisbane, Australia, and Coxe lives in Cleveland, Ohio. Without figure skating, they never would have met.
Both women participate in adult competitions, and they first crossed paths last year, in 2022, at the International Skating Union (ISU) adult competition in Ottawa, Canada.
They compete at the same level, women's bronze II (the two stands for skaters ages 38-48), so that's how they met. But on the adult competitive circuit, being competitors isn't a detriment to friendship. In fact, the prevailing atmosphere at adult competitions is like a supportive party.
That was the scene at the ISU International Adult Figure Skating Competition held in Nashville at Ford Ice Center Bellevue from Oct. 18-21, 2023.
The cheers are loud whether skaters are doing a waltz jump or a double Axel (of which there were several), and it is a tradition for skaters to make "tossies" (think like a party goody bag) to throw for the other competitors in their event. They used to throw them onto the ice, like you'd see at an elite level competition, but now, in the interest of time, the tossies are thrown into buckets in the stands. You can read more about the story behind the tossies tradition in our other story here.
Cheyne and Coxe both competed in free skate and artistic free skate, which is an ISU event that is judged solely on the basis of program components, though jumps and spins can and are included.
Coxe's artistic free skate program was set to the theme from the movie "Love Story," and she said it "was all about the love of skating, passion of love, anything that you love."
Cheyne dubbed her artistic free skate "girls' night out." She performed to a medley of songs: The Piña Colada Song, Tequila, Wipeout, and I Get Knocked Down.
"It actually came about when my friend and I got drunk one Halloween, and we were like, 'What would be a really fun program to do that might be a bit different?'" Cheyne said of the program's inspiration.
Cheyne and Coxe made time for a girls' night out of their own after they finished competing. They went to Broadway, ate some Nashville barbecue, and saw the Grand Ole Opry.
Both skaters said they love the sport because it helps them put aside the stresses of daily life, and that was a theme for many of the competitors at the event, all of whom balance their training on the ice with work, life, and family.
How International Adult Competitions Work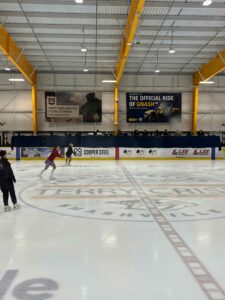 The ISU adult competitive circuit includes an annual event in Oberstdorf, Germany, in the spring, plus an annual competition in North America and the Gay Games. Every four years, the Winter World Masters Games, an event for adult athletes in winter sports, is part of the circuit. In 2024, the Winter World Masters Games will be held in Italy.
Beth Delano is the U.S. representative for singles and pairs in the ISU adult skating group, as well as an adult skating competitor herself. The organizers of these international adult competitions take their responsibility seriously.
"There's so many skaters who dream of representing Team USA, or whatever their national governing body might be, and you know, that goes out the window at some point, you get a life and a job and go to school. And as I told the local organizing committee and all the officials here, this is really a fantasy camp. If we can make this competition as much like a regular Grand Prix or Worlds, then we've done our job," Delano said in an interview during the event. "[The skaters] want to hear, 'Representing the United States of America,' or 'Representing Canada, or Mexico.' It's just goosebumps."
The Nashville competition hosted 255 skaters from as far away as New Zealand and Australia, as well as skaters from the U.S., Canada, Mexico, and Europe.
Nashville's Ford Ice Center Bellevue and the Scott Hamilton Skating Club hosted the competition. This was only the second time that the North American ISU adult competition was held in the U.S., after Lake Placid in 2019.
"Nashville was an exceptional choice because they know how to run an event this size, and it's a wonderful place for adults to come as a tourist destination," Delano said. "And we haven't had an adult nationals [for the U.S.] in Nashville, so that was also something new and different for us skaters. And they have a history of building adult camps that are fantastic. You know it's going to be a well-run competition and you're going to have great coaching staff for seminars."
The levels and event requirements for adult international competitions are determined by Delano and her fellow adult skating group members, and updated annually. In addition to competing in their chosen level, skaters are also divided by age groups. You must be 28 to compete in an ISU adult competition, and the oldest age group was for 68-year-olds and up.
The adult competitors took their skating seriously, but the crowd atmosphere was a festive one. Where else are you going to see two little boys cheering and clapping for "Grammy" out on the ice performing?
What Motivates These Skaters
The love of skating and appreciation for each competitor's hard work and individuality was on clear display. Some of the competitors had skated as children, and then returned to the sport as adults.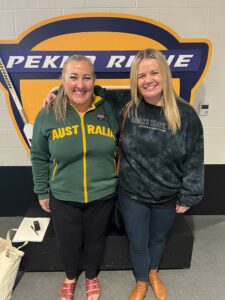 Sisters Lizanne and Catherine Pllu grew up in Scotland and now live in Australia. They skated for a few years as teens, and then put their skates back on when they learned about an adult synchronized skating team in their area. Now they also skate singles, and both competed in free skate and artistic free skate in Nashville.
"We've never been to American before," Catherine says. "Nashville sounded really exciting, some country and western music. And we absolutely love to skate, so it was the best excuse to come and travel to America and combine two passions together, travel and skating."
They spent a week in LA before arriving in Nashville, and then continued their trip in New York City after the competition.
Sasha Gazlay didn't have to travel halfway across the world to compete at this event. She lives in Nashville and trains at the Nashville Figure Skating Club.
"I didn't want to miss out, because it was right here in my backyard. How many times do you get to represent the United States?" said Gazlay, who choreographed her program alongside her coach Matthew Reuter, set to a song from an anime film called "Belle."
Gazlay continued: "I was actually peer pressured, I have a fellow competitor, she's great, and she said, 'You have to do it, it's in your hometown!' So I signed up because of her. Shout out to Reema [Hassan] for encouraging me to sign up. The whole audience is fantastic. It has been so welcoming and warm and loving and kind, and it was a pleasure to skate here."
Gazlay started skating as an adult, similar to competitor Olga Levien of New Zealand. Levien grew up in Saint Petersburg, Russia, and wanted to start skating when she was six years old, but was told it was too late. When she was 25, she heard about a learn to skate class for adults and signed up, which led to a few years of skating in Russia. She moved to New Zealand, where her husband is from, and was off the ice for a few years when she had her two children. But then she got back on the ice, and her 10-year-old daughter skates, too, on a synchronized skating team.
"What I love about skating is the freedom, you can kind of fly and go fast, and challenge yourself, as well. Figure skating is not only a graceful, beautiful sport, it's actually a sport where you need a lot of practice, a lot of hard work to get some results, and I like challenges," Levien said. "And the same for competitions, it's a mental challenge to do the same thing that you're doing in practice. It's also exciting because people are cheering you on, you're performing in front of an audience, in front of judges, and trying to be the best version of yourself, as best you can be."
Levien continued: "International competition, it feels really great. It's not about the results, it's more about meeting other people, connecting. You make new friends and feel their support, the like-minded community of fellow skaters that have the same passion."
Roland Jarquio of New York City started skating at 32 and has been skating for 20 years. He started competing on an all-male synchronized skating team in New York City, called Men In Sync, then shifted into individual competition.
"There's something about having an activity that's physical, that is completely different than having a musical outlet, for example. It has something to do with the endorphins, the sensation of the glide, the rotation, or throwing your body in midair and landing a jump. It's really hard to describe why that's addictive, but it is," said Jarquio, who worked on Wall Street for 13 years and now works in marketing for a startup in financial technology. "No matter how far you advance in skating, there's always going to be more and more to learn, and I think that's part of what makes it addictive, because you're never done. I prioritize it because I think it keeps me younger."
And Synchronized Skating, Too
The competition also featured three synchronized skating teams: Team Storm, which brought two teams, and Ice Unite from Canada. Team Storm, in particular, traveled with a boisterous crew of supportive family and friends. They wore red t-shirts that spelled out the team name and chanted in the bleachers.
Team Storm started in 2019, when they formed the team to compete at the Winter World Masters Games held in Austria in January 2020. After competing in Nashville, they'll head to the 2024 Winter World Masters Games in Italy, skating their programs to a Queen medley and an Elton John medley. Team Storm has skaters in their 20s up to their 50s, many of whom were on synchro teams as kids.
Coaching adults is "totally different," says Team Storm Head Coach Maggie Head. "It's a different atmosphere with adults, you're on the same level as them. I can jump in and skate with them if something doesn't work [and figure it out]. And we have all different kinds of learning styles, and you really have to bring all of those to life. With adults, it's easier to do video review. With little kids, the comprehension might not be there. We do a ton of video."
Giving Adult Skaters More Opportunities
Synchronized skating is a relatively new addition to international adult competitions. The organizers are focused on giving adult skaters every opportunity to get out onto competitive ice. Delano says her goal is to get more national governing bodies in figure skating to support adult skating. U.S. Figure Skating was the first to create an adult skating competitive program, and offers a template for other countries.
"These wonderful avenues that adults have now, with theater on ice or solo dance or judging, we have so many opportunities [to be part of the sport]. Adult skating, certainly here in the U.S., is big. And my job and our job as the ISU adult figure skating group is to promote it and get the other federations internationally to recognize it and that we [adult skaters] are an important piece of this puzzle."