Recap by Gina Capellazzi
Header image by Robin Ritoss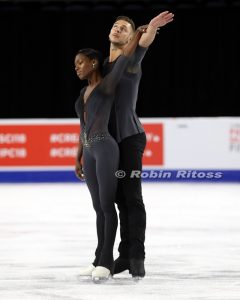 LAVAL, QUEBEC–Reigning World bronze medalists Vanessa James and Morgan Cipres won the pairs event Saturday in what they are saying was the best they ever skated their "Wicked Game" and "The Last Feeling" free skate.

James and Cipres nailed their side-by-side triple toe-double toe combination and side-by-side triple salchows as well as James landed her throw triple Lutz and throw triple salchow.
James and Cipres won the event by more than 20 points and set a new ISU personal best overall score of 221.81.
"We are really happy about the performance we did today.  It was better than yesterday. I'm really proud to win this competition, because again today, it was a big fight on the ice and everyone skated really well," Cipres said.
"(We are) very proud of this gold medal here, but even more so we are proud of the performance that we made," James added. "It gives us confidence. We are very proud. Hopefully, we will do the same performance, but it is going to be hard to beat."
China's Cheng Peng and Yang Jin earned the silver. In their "La Vie en Rose" free skate, Peng landed her throw triple loop and throw triple Salchow, but the pair struggled with their side-by-side jumps, doubling their Salchow and Peng fighting through the triple toe-triple toe combination. Peng and Jin earned an overall score of 201.08.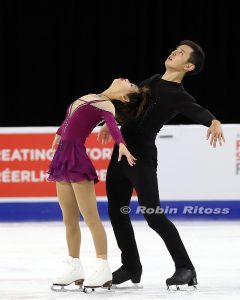 "We missed the jumps, but the other elements were okay and the GOE was good. We just need to improve the jumps. We love our programs this year and a big thank you goes to Lori Nichol (choreographer). She gave us so much help to show more emotions and our connection," Jin said.
Peng and Jin finished with an overall score of 201.08.
Canada's Kirsten Moore-Towers and Michael Marinaro claimed the bronze with their Pink Floyd medley free skate. Moore-Towers landed both her throw jumps and the pair completed their side-by-side triple toes, but the their triple salchow in combination with their double Axel was downgraded.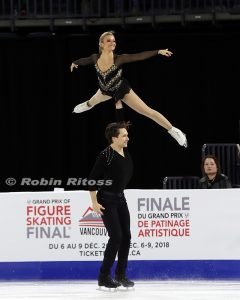 "We are very happy about our skate here today. It was a personal victory to go out in a group such as this one, of very capable and impressive pair teams, and to laid down a performance that we can be proud of. It is a little tough when the results are so-so close, but we respect all the teams here, we admire them, we learn from them every day we skate together so we are happy," Moore-Towers said.
"Our goals are mainly to improve on our performances each time. We started with a rough competition at Autumn Classic, we got a little bit better in Finlandia (Trophy) and a little bit better again here," she added. "Like I said, we are very happy with our skate today. I, personally, was super nervous so it was nice to put down a program that we can be proud of and we have a solid week of training now before NHK where we hope to improve a little bit then."
Moore-Towers and Marinaro finished with a total score of 200.93, missing the silver by .15 points.
The 2017 World Junior silver medalists Aleksandra Boikova and Dmitrii Kozlovskii, of Russia, came in second in the free skate with their performance to "The Nutcracker", and finished in fourth place in their senior Grand Prix debut with 196.54 points. Canada's Evelyn Walsh and Trennt Michaud improved on their 8th placement last week at Skate America and finished in sixth in Laval. Team USA's Haven Denney and Brandon Frazier finished in sixth.
Read more about France's Vanessa James and Morgan Cipres win their first-ever Grand Prix title …