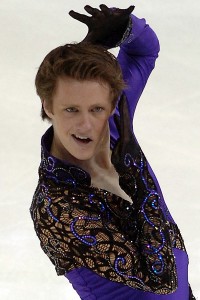 Jeremy Abbott came into the U.S. Championships in Cleveland with second billing. He is leaving with his first national title.
"I felt awful leading up to this event, I felt awful today, I felt awful on the ice," Abbott said. "But I was able to control myself and do what I needed to do. I'm really relieved that it's over, and I'm so excited that I won. It's certainly something I've been working for for a long time, and I'm very happy it's happened."
Two-time U.S. Champion Evan Lysacek and three-time U.S. Champion Johnny Weir, members of the 2006 U.S. Olympic team, were heavily favored to win the championship despite Abbott's win at the prestigious Grand Prix Final in December.
But Lysacek fell on his free skate opening quadruple toe and Weir faltered in both programs while Abbott was near perfect, winning by more than 12 points.  Brandon Mroz turned in the most technically demanding program of the competition to claim the silver medal by .60 over Lysacek, who won bronze with 229.10 points.
Abbott won the competition with 241.89.
"I wasn't tired, I wasn't winded, I wasn't tense," Lysacek said. "I was just wobbly, I guess."
Ryan Bradley was fourth despite beating Lysacek in the free skate. Weir improved from seventh after the short program to fifth overall. Weir previously medaled in every U.S. Championships since 2004 — when he won the first of three consecutive national titles.
Abbott was more nervous than he has ever been but it rarely showed. His coach Tom Zakrajsek tried to calm him, "I said, 'This is so typical for you to feel this way, Jeremy, because you have worked so hard and you deserve success and it's OK to feel that way. So now let's move on and get back to what needs to happen.'"
He landed seven triples — which would have been eight had he not popped a loop into a single – but was most impressive when it came to the quality of his program. He moved effortlessly from one element to the other, and eventually found himself on the top of the podium.
"I think everything happens for a reason and on time," said Abbott, who is only one day younger than Lysacek, but has only experienced great success this season. "I may be a late bloomer, but I guess it's just my time."
Only a high school senior, Mroz opened his program with a quadruple toe then continued to excel technically from there. He landed seven triple jumps, four of them coming in the three combinations he landed flawlessly.
"Over the season, we took a big leap, especially training with these guys on a daily basis," said Mroz, who was second in the junior competition last year. "I've put a lot of hard things in my program."
Lysacek decided to put the quad into his program for the first time this season. He received one point for the failed jump, which was also under rotated, but recovered to perform all his other elements cleanly.
The triple axel that gave him problems in his back-to-back bronze medal appearances on the Grand Prix series this year was spot on. He landed two in his "Rhapsody in Blue" program but it was not enough for a third straight title.
"The only reason why it's so difficult to defend the title is because it means so much to me," said Lysacek, who won the two previous national titles. "That's the saddest part."
Bradley also landed an opening quad toe in his seven-triple performance. It could have been eight triples had he not popped his easiest jump, a Salchow, into a single.
"It's kind of the same thing as [the short program]," Bradley said. "I did all of the hard stuff, and messed up on the easy stuff. That was kind of a big bummer, but I'm excited that I was able to come back after the mistake which is something that I haven't been able to do this season."
Abbott, Mroz and Bradley all train with Zakrajsek in Colorado Springs, Colo. "To have three of the top four men, they must be doing something right there," said California based Lysacek.
Zakarajsek also trains senior ladies Rachael Flatt, who finished second in the ladies competition, and last year's junior champion Alexe Gilles.
"For me, in 20 years of coaching, this is a really special moment," said Zakrajsek of his first senior national champion Abbott being joined by his two other skaters on the podium. "This will probably never be repeated."
Weir's triple axel was almost non-existent at the U.S. Championships. In addition to popping it in the short program, he only performed one in the free skate, in combination with a double toe, and performed both a single and double.
"I completely take primary ownership of my illness and the fact I wasn't prepared," he said. "But at the same time, I can't push myself and expect something that I know is impossible."
Weir has been sick since December. Hooked up to an IV on Christmas Day at a Korean hospital, he lost eight pounds, and had to have his costumes taken in because he could not regain the weight -and likely the strength – for nationals.
He was not selected for the World Championship team despite being the only American to medal at last year's championships. Instead, Abbott, Mroz and Lysacek were named to the Worlds and also the Four Continents team.
Other results from the men's competition at the U.S. Championships include Adam Rippon (193.76), 7th; Parker Pennington (192.48), 8th; Stephen Carriere (185.31), 9th; Eliot Halverson (171.14), 13th; and Douglas Razzano (164.14), 14th.
Nicholas LaRoche withdrew prior to the free skate. "I felt really satisfied with how I performed in the short program and wanted to leave the competition on that note," said LaRoche, who experienced a devastating loss over the summer when his parents were killed in a murder-suicide.
An injury forced Scott Smith to withdraw prior to the short program.
__________
Figure Skaters Online strives to be an accurate source of information related to the sport of figure skating. To report an error, please e-mail the news editor. Include the article date and title in your e-mail.