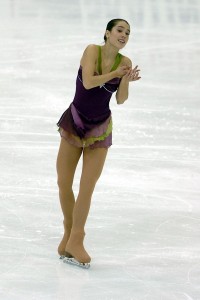 It may have taken a while but Alissa Czisny finally found the winning combination Saturday at the U.S. Championships in Cleveland.
"I think I'm finally ready," Czisny said after winning the national championship, only a year after a ninth place U.S. Championship finish had her considering retirement. "I think I needed to learn all those years."
Rachael Flatt won the silver medal for the second year in a row. Both Czisny and Flatt will represent the country at the World Championships, March 22-29, in Los Angeles. They are also slated for the Four Continents Championships, where bronze medalist Caroline Zhang will join them.
"I am speechless and so excited to go to Worlds —thrilled that it is in LA," Flatt said. She would have made the World team last year, along with Zhang, if both had met the minimum age requirement for International Skating Union (ISU) championships.
Czisny had 178.06 to Flatt's 173.78 points, making the 5.56-point lead Czisny had coming out of the short program her saving grace. Zhang had 171.08 while Ashley Wagner finished with 165.33, good enough for the pewter medal.
After starting with a triple lutz-double toe combination, Czisny landed a triple flip and triple loop to the "Dr. Zhivago" music before a double axel-double toe.
"The first part of if it started well but I had a couple mistakes. I had to keep trying my best," Czisny said. "Throughout the years, there have been many disappointments but I have been able to take them and learn from them, and learn a lot about life. It has made me a better skater."
The mistakes she made in her third place free include a fall on her triple lutz. In previous performances, one fall would unravel the entire program for Czisny, often thought of as one of the world's most beautiful skaters for her balletic moves and striking positions.
She continued to push through with a double toe-double toe and a double axel. Her program was highlighted by Level 4 spirals and spins, which brought the loudest response of the audience at Quicken Loans Arena.
Czisny won the bronze medal at the 2007 U.S. Championships, marking the only other medal she has from the championship (senior) level at nationals. She was 11th in her 2002 debut and from there finished 10th, 12th, 7th, 7th, 3rd, 9th and 1st.
Flatt skated cleanly except for having the second jump downgraded in her triple flip-triple toe combination. "I am very pleased with how I skated today," said Flatt, who beat Czisny en route to a silver medal at November's Cup of China.
Zhang received a standing ovation for her beautiful performance to "Ave Maria," the same program that received a standing ovation last year in St. Paul, Minn. But Zhang's program was not technically as difficult as it was artistically pleasing.
She under rotated the second jump in her triple flip-triple toe combination. Zhang also had three edge calls in her program for the triple flip in the combination, the triple lutz in her lutz-triple toe and the solo triple flip.
"I am obviously disappointed not to be going to Worlds but I think it will help me for the next year before the Olympics," Zhang said. "I will work on my technique."
Wagner won the free skating portion of the competition to move onto the podium from a 12th place short. Last year, she finished third at the U.S. Championships and represented the country at Worlds.
"Ever since Worlds, I've had this mental block," Wagner said. "I feel like tonight I really got over it and I came past it. I know it's going to be a lot of work to get back to solid, consistent program a 100-percent of the time but this gives me that little confidence boost to definitely get back to that."
She did not perform her trademark triple-triple combination but her program was packed with technical difficulty including six triple jumps.
Last year's U.S. Champion Mirai Nagasu finished fifth overall. In her free program, she completed three combinations including a triple lutz-double toe-double loop but both of her triple flips were downgraded to doubles.
Nagasu, who has struggled all season because of an injured ankle, was in tears before taking the ice.
"I was really nervous before I went out," she said. "My biggest fear was putting all that practice to waste. I was happy that I did my best and proved to myself I can be a contender."
Zhang, Wagner and Nagasu were all assigned to the World Junior Championships, making the U.S. contingent for that competition the same as it was in 2007 when Nagasu, Zhang and Wagner went 1-2-3 in the junior ladies competition at nationals.
Zhang captured the World Junior title two years ago while Nagasu and Wagner finished with silver and bronze. In 2008, Flatt won Junior Worlds with Zhang and Nagasu finishing second and third marking a second consecutive Team USA podium sweep.
Other results include Brittney Rizo (151.23), 7th; Alexe Gilles (151.20), 9th; and Beatrisa Liang (135.15), 14th.
__________
Figure Skaters Online strives to be an accurate source of information related to the sport of figure skating. To report an error, please e-mail the news editor. Include the article date and title in your e-mail.