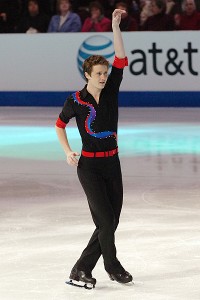 For the first time since becoming U.S. Champions, Jeremy Abbott and Alissa Czisny are competing at national titlists. They lead a American squad at the Four Continents Championships that includes Rachael Flatt, Evan Lysacek and Keauna McLaughlin and Rockne Brubaker.
The competition is Feb. 2-8, in Vancouver, British Columbia, Canada. The competition — which includes skaters from Africa, Asia, Australia and the Americas — will serve as a test event for the 2010 Winter Olympic Games. It will be held at the newly renovated Pacific Coliseum, which is host to the Olympic figure skating and short track speedskating events next year.
Czisny faces her first test as the nation's best ladies skater when she joins California teenagers Flatt, the 2008 and 2009 silver medalist, and bronze medalist Caroline Zhang in Vancouver. On the fall Grand Prix circuit, the ladies combined for three medals in four events.
Czisny started her season with back-to-back wins at the U.S. Collegiate Championships and the international Nebelhorn Trophy. She finished third at Skate Canada, her first Grand Prix medal since winning that event in 2005, and placed fourth at Cup of Russia before winning her first national title.
While Czisny's skating is known for graceful movements rather than jumps, Flatt is known as a consistent performer with solid triple jumps, which helped her win the 2008 World Junior Championship. Flatt opened the season, her first as a senior internationally, with a fourth place finish at Skate America and followed that with a silver medal at Cup of Russia. She was the top performing American lady on the Grand Prix circuit.
Zhang comes into Four Continents disappointed after missing a berth on the two-member World Championship team with her third place showing in Cleveland. A crowd pleasing performer with dynamic spins and spirals, Zhang won four medals in the 2007-08 season, her debut as a senior. She already has two this season, a bronze from Trophee Eric Bompard and the nationals.
International competitors include four strong skaters from Asia: Japan's World Champion Mao Asada, two-time World bronze medalist and 2006 World silver medalist Fumie Suguri and NHK Trophy silver medalist Akiko Suzuki and Korea's two-time World bronze medalist Yu-Na Kim. Four-time Canadian Champion Joannie Rochette, this season's Skate Canada and Trophee Eric Bompard Champion, is also competing.
The ladies compete Wednesday and Friday.
Abbott is having a breakout season after two-consecutive years of finishing fourth at the U.S. Championships. He won the Cup of China in November, took the Grand Prix Final in December and claimed the U.S. Championships in January. If the pattern continues, he could win the Four Continents Championship in February and the World Championships in March.
But Abbott, who set the highest score ever recorded by an American man in international competition in winning the Grand Prix Final, will face many challengers at Four Continents including two strong skaters from the United States.
A silver medalist at the national championships, Brandon Mroz is aiming for his first senior international medal when he takes the ice in Vancouver. He was seventh at Skate Canada but improved to fifth at Trophee Eric Bompard. At the U.S. Championships, he handed in the most technically demanding free skate, which including a quadruple jump.
Lysacek is looking for his first gold medal in what has been a lackluster season. A bronze medalist at Skate America and Skate Canada, Lysacek fell on the opening quadruple toe in his free skate at the U.S. Championships, settling for another bronze after winning the two previous national titles. Lysacek has solid credentials that prove he can compete with the world including two Four Continents Championships (2005 and 2007) and two World bronze medalists (2005 and 2006).
International competitors include Canada's Patrick Chan, who has the highest score this season with his 238.09 points at Trophee Eric Bompard, and Japan's Takahiko Kozuka and Nobunari Oda. Kozuka won the silver medal behind at Abbott at the Grand Prix Final. Oda is the 2006 Four Continents Champion.
The men's short program is Thursday and the free skate is Saturday.
The United States is sending McLaughlin and Brubaker, the two-time U.S. Champions, and silver medalists Caydee Denney and Jeremy Barrett to Four Continents for the first time.
Joining them are Olympians Rena Inoue and John Baldwin, who have competed at Four Continents five times previously, including when they won in 2006. Inoue and Baldwin come into the event as the national bronze medalists. They were fifth at Skate America and second at NHK Trophy.
McLaughlin and Brubaker missed last season's competition because she did not meet the minimum age requirements for the event. They have medaled in 11 consecutive events coming into Vancouver, including gold at the last two U.S. Championships. They were second at 2008 Skate America and third at Skate Canada.
Denney and Barrett were not even partners last season. Skating together for about six months, they have experienced rapid success, even winning the short program at the 2009 U.S. Championships, where they were second overall. The team finished fourth at their first event together, Nebelhorn Trophy, and first at the Eastern Sectional Championships.
International competitors include China's three-time and reigning Four Continents Champions Qing Pang and Jian Tong, who won the Grand Prix Final, and the Grand Prix Final silver medalists Dan Zhang and Hao Zhang. Canada's Jessica Dube and Bryce Davison, 2008 World Championship bronze medalists are also competing.
The pairs compete Wednesday and Thursday.
Newly crowned U.S. Champions Meryl Davis and Charlie White are competing against their Canton, Mich., training mates Tessa Virtue and Scott Moir of Canada. The Canadians edged out Davis and White at last year's Four Continents event.
Davis and White have had an exciting season thus far. They started with gold at Skate Canada then won bronze medals at Cup of Russia and the Grand Prix Final. With the absence of five-time U.S. Champions Tanith Belbin (Aston, Pa.) and Ben Agosto (Chicago), Davis and White easily won the national championship.
Joining Davis and White are national silver medalists Emily Samuelson and Evan Bates, who finished third at the NHK Trophy. Samuelson and Bates are the 2008 World Junior Champions and will make their first appearance at the World Championships this March.
Two-time U.S. bronze medalists Kim Navarro and Brent Bommentre are heading to Vancouver to defend their bronze medal from the 2008 Four Continents. This season, the team finished fifth at Skate Canada and sixth at NHK Trophy. They were 12th in their World debut last year.
International competitors include Virtue and Moir, the 2008 World Championship silver medalists who have sat out the entire season because of injury. World Junior silver medalists Vanessa Crone and Paul Poirier of Canada are also competing along with Japan's Cathy Reed and Chris Reed, who were once the U.S. novice champions before switching representation.
The compulsory dance is Wednesday, the original dance is Thursday and the free dance is Friday.
__________
Figure Skaters Online strives to be an accurate source of information related to the sport of figure skating. To report an error, please e-mail the news editor. Include the article date and title in your e-mail.