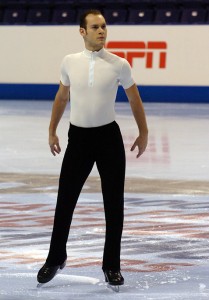 Nicholas LaRoche, the 2002 U.S. Champion in the junior men's competition, announced today that he has retired from competitive skating.
After not making the cut for the 2008 U.S. Championships, missing the national event for the first time in 10 years, LaRoche took a new approach when returning to the ice for his last competitive season in 2009.
"Last season, I ended up fifth at the Pacific Coast Sectionals and didn't qualify for the 2008 U.S. Championships in St. Paul," LaRoche said. "I had many thoughts of not wanting to follow along the path of competitive skating and stick to coaching full time."
But personal tragedy motivated him to compete at the 2009 U.S. Championships in Cleveland.
"My life took a drastic turn with the murder suicide of my parents in July 2008 and it made me look at life in a whole different perspective. I felt like everyone was just waiting for me to give up and walk away from skating due to the tragedy and hardships I had encountered," he said. "Instead of giving in, I for once in my career took to a competitive season with nothing but love for the sport and enjoyment of what I was working towards."
After skating a strong free skate at the Pacific Coast Sectional Championships and a solid short program at nationals, he withdrew from the U.S. Championships.
"My goal was to be satisfied, leaving the ice with no regrets and loving every minute of my performances," LaRoche said. "I did Pacific Coast Sectionals where I skated one of the best free skates of my career, and then an excellent short program in Cleveland. I put out two of the best programs in one of the most difficult years that anyone could encounter and that was beyond satisfying for me."
The highlights of his career include the silver medal at 2007 Ondrej Nepela Memorial and a bronze at 2003 Nebelhorn Trophy. He collected regional, sectional and national titles, all which helped him earn a spot on Team USA for events like the World Junior Championships.
LaRoche is now coaching full time at the Toyota Sports Center in El Segundo, Calif. He is also the president of the US Athletic Foundation, www.usathleticfoundation.org, a non-profit organization that he founded with his sister to help financially challenged athletes pursue their dreams.
__________
Figure Skaters Online strives to be an accurate source of information related to the sport of figure skating. To report an error, please e-mail the news editor. Include the article date and title in your e-mail.