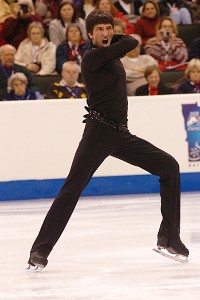 Evan Lysacek will compete for the first time as World Champion April 16-19 when the inaugural World Team Trophy comes to Tokyo, Japan.
Lysacek and seven of the United States' best skaters will challenge teams from Canada, China, France, Japan and Russia for the team title. Each team consists of two ladies, two men, one pairs team and one ice dancing team.
Rounding out the American squad are U.S. Champion Jeremy Abbott, who won the Grand Prix Final; five-time U.S. Champions Tanith Belbin and Ben Agosto, who won silver at Worlds; U.S. silver medalists Caydee Denney and Jeremy Barrett, who were ninth at Worlds; two-time U.S. silver medalist Rachael Flatt, who was fifth at Worlds; and U.S. bronze medalist Caroline Zhang, who was second at the World Junior Championships.
All ladies, men's and pairs competitors will skate a short program and a free skate, and all dance teams will perform an original dance and a free dance. Through an event-specific scoring system, the team earning the highest number of aggregate points will be the winner.
The strongest challengers to the USA, which qualified for the event with the highest point total, are expected to be the teams from Canada and Japan, which qualified with the second and third highest total points.
Canada's team includes World silver medalists Patrick Chan (men's) and Joannie Rochette (ladies) as well as ice dancers Tessa Virtue and Scott Moir, who were third at Worlds. Japan's team includes Miki Ando and Mao Asada, who were third and fourth at Worlds.
__________
Figure Skaters Online strives to be an accurate source of information related to the sport of figure skating. To report an error, please e-mail the news editor. Include the article date and title in your e-mail.