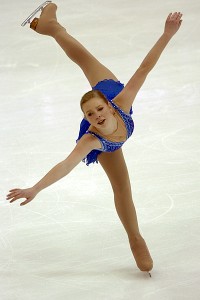 Led by World Champion Evan Lysacek, the United States won the inaugural World Team Trophy in Tokyo, Japan. The Americans finished with 60 points, besting teams five other nations.
"I've said this whole week I'm very proud of my team. They did a wonderful job. I think this is going to be a very memorable competition for everyone who participated, because it was the first of hopefully many," said Lysacek, the team captain. "I think it was very successful."
U.S. bronze medalist Caroline Zhang (175.68) and two-time U.S. silver medalist Rachael Flatt (171.81) finished third and fourth, respectively, in the ladies competition. Their placements earned 10 and nine points for Team USA.
Flatt's free skate featured four clean triples, including a solid Salchow and loop, but she received edge deductions on both her triple lutz jumps. The second jump in her triple flip-triple toe combination and third jump in her triple flip-double toe-double loop were also downgraded.
U.S. silver medalists Caydee Denney and Jeremy Barrett (158.24), coming off a ninth place finish at the World Championships, finished fourth in the pairs free skate. Their overall fourth place standing contributed nine points to the team score.
In their free skate to "Spartacus," which scored a 101.66, Denney and Barrett received a positive grade of execution on both throw triples, a lutz and a loop. They had trouble on their side-by-side jumps, getting only three tenths of a point for the double toes and 1.08 for the single axel-double toe sequence.
Team USA also included Grand Prix Final Champion Jeremy Abbott, who took fifth in the men's event. Five-time U.S. Champions Tanith Belbin and Ben Agosto, who recently won the silver medal at Worlds, won the ice dancing competition.
"Above and beyond any team's or any person's performance here, I think we are all proud and all impressed with level of competition that was brought here to Tokyo after the world championships concluding just two weeks ago," he said. "So it was a great test event to the importance of this competition, and, obviously, we thank the ISU and Japan for hosting it."
Canada (54), led by World silver medalists Patrick Chan and Joannie Rochette as well as World bronze medalists Tessa Virtue and Scott Moir, finished second while Japan (50) took third. The other nations participating were France (37), Russia (35) and China (34).
Team USA also won the team spirit award.
__________
Figure Skaters Online strives to be an accurate source of information related to the sport of figure skating. To report an error, please e-mail the news editor. Include the article date and title in your e-mail.