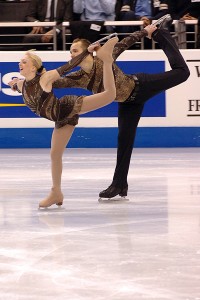 Caydee Denney and Jeremy Barrett just missed the podium in their first career Grand Prix. On Saturday in Nagano, Japan, the 2009 U.S. silver medalists finished fifth in the free skate to drop them from third to fourth overall. They finished with 151.43 points.
China's Qing Pang and Jian Tong claimed the gold medal with 199.65, more than six points ahead of Russians Yuko Kawaguchi and Alexander Smirnov (193.05), who had to take a medical break in their free skate performance because of her bad fall on the attempted throw quadruple Salchow.
Two-time U.S. Championships Rena Inoue and John Baldwin, who finished behind both Denney and Barrett as well as Keauna McLaughlin and Rockne Brubaker at nationals last season, won the bronze medal with 158.78. Inoue and Baldwin were unsuccessful in their throw triple Axel attempt but are still the only pair in the world to ever have landed it in international competition.
Denney and Barrett completed a throw triple loop and a triple twist but missed other elements, which hurt their overall performance. She fell on the landing of the throw triple Lutz. He singled the side-by-side double Axels.
Pang and Tong have qualified for the Grand Prix Final based on their gold medal performance in Japan and earlier at the Rostelecom Cup in Moscow, Russia. Kavaguti and Smirnov will also likely qualify but must wait until the conclusion of the series on Nov. 22 to see if their standing holds. With two silver medals, they are currently second overall.
NHK Trophy is the fourth event of the 2009 International Skating Union (ISU) Grand Prix of Figure Skating circuit. The series, now in its 15th season, consists of six international events in a cumulative, point-scoring format. The top six scoring athletes in each discipline move onto the Grand Prix Final, Dec. 3-6, in Tokyo, Japan, which will be combined with the ISU Junior Grand Prix of Figure Skating Final for the second consecutive season.
The six Grand Prix events are Trophee Eric Bompard, Oct. 15-18, in Paris, France; Rostelecom Cup, Oct. 22-25, in Moscow Russia; Cup of China, Oct. 29-Nov. 1, in Beijing, China; NHK Trophy, Nov. 5-8, in Nagano, Japan; Skate America, Nov. 12-15, in Lake Placid, N.Y.; and Skate Canada, Nov. 19-22, in Kitchener, Canada.
The points toward the Grand Prix Final that are awarded for each place are 15 points for first; 13 points for second; 11 points for third; nine points for fourth; seven points for fifth; five points for sixth place; four points for seventh place; and three points for eighth. In pair skating, only the top six receive points.
__________
Figure Skaters Online strives to be an accurate source of information related to the sport of figure skating. To report an error, please e-mail the news editor. Include the article date and title in your e-mail.