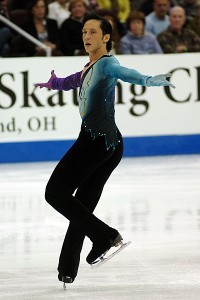 Johnny Weir redeemed himself from a lackluster performance at the Rostelecom Cup earlier this season by winning the silver medal Saturday at the NHK Trophy in Nagano, Japan. With a score of 217.70 points, he finished on the podium with France's Brian Joubert (232.70) and Czech Republic's Michal Brezina (217.48).
"I was very happy that I was able to push through this week," said Weir, who caught a sinus infection on the flight from New York to Tokyo. "It is definitely a medal well earned. Of course there were mistakes that shouldn't be made later in the season. [Competing in spite of illness) will help me immensely in the season, because I had this very stressful and difficult situation behind me and I came out with a medal."
Defending Grand Prix Final Champion Jeremy Abbott (208.45) slipped from second to fifth overall with a sixth place free skate. Adam Rippon (197.61), who was third at this year's Trophee Eric Bompard, improved from eighth after the short program to sixth overall, following a fifth place free.
Performing his "Fallen Angel" program, the third ranked free program, Weir landed seven triple jumps including a triple Axel-triple toe combination and a triple Lutz in combination with double toe. His second triple Axel, the solo jump, received a slight negative grade of execution as did his intended triple loop, which he popped into a single.
Weir had two Level 3 step sequences. While his first two spins were Level 4, his final was only a Level 1.
Debuting his program to "Symphony No. 3 in C minor" by Camille Saint-Saens, Abbott had problems throughout, falling on the opening quadruple toe, which was also downgraded, then falling on the triple flip and the triple Axel. He also singled the triple Axel in the triple Axel-triple toe combination although he later landed a triple Lutz-triple toe-double loop.
He received a variety of levels for his non-jumping elements. One spin was Level 4, one was Level 3 and one was Level 2 while his step sequences, circular and straight line, were both judged as Level 2.
"We have to take little steps to achieve a bigger goal," the 2009 U.S. Champion Abbott tweeted following his performance. "Today I tripped, but I will dust myself off and keep marching towards my dream."
Rippon's only fall of the day came on his downgraded triple Lutz but he did pop a triple Axel into a single. In his free skate, he landed a triple flip-triple toe and  triple Axel-double toe to start off the program. He also landed a triple loop, a triple Axel, a triple Lutz-double toe-double loop and a triple Salchow.
Three of Rippon's spins received a Level 4 while both step sequences were Level 2.
With two events remaining, only Japan's Nobunari Oda has a guaranteed spot in the Grand Prix Final, which will include the six top performers on the circuit. Joubert is in second place in the point standings while Weir is third and Rippon is sixth. Athletes who still have one event remaining include Abbott, Brezina, Evan Lysacek and Tomas Verner.
Lysacek won the silver medal at Cup of China while Verner won silver at Trophee Eric Bompard. Both men are among the favorites for the gold medal at the next Grand Prix event, Skate America. Abbott and Brezina square off in Canada, along with Japan's Daisuke Takahashi, who was fourth at NHK.
NHK Trophy is the fourth event of the 2009 International Skating Union (ISU) Grand Prix of Figure Skating circuit. The series, now in its 15th season, consists of six international events in a cumulative, point-scoring format. The top six scoring athletes in each discipline move onto the Grand Prix Final, Dec. 3-6, in Tokyo, Japan, which will be combined with the ISU Junior Grand Prix of Figure Skating Final for the second consecutive season.
The six Grand Prix events are Trophee Eric Bompard, Oct. 15-18, in Paris, France; Rostelecom Cup, Oct. 22-25, in Moscow Russia; Cup of China, Oct. 29-Nov. 1, in Beijing, China; NHK Trophy, Nov. 5-8, in Nagano, Japan; Skate America, Nov. 12-15, in Lake Placid, N.Y.; and Skate Canada, Nov. 19-22, in Kitchener, Canada.
The points toward the Grand Prix Final that are awarded for each place are 15 points for first; 13 points for second; 11 points for third; nine points for fourth; seven points for fifth; five points for sixth place; four points for seventh place; and three points for eighth. In pair skating, only the top six receive points.
__________
Figure Skaters Online strives to be an accurate source of information related to the sport of figure skating. To report an error, please e-mail the news editor. Include the article date and title in your e-mail.