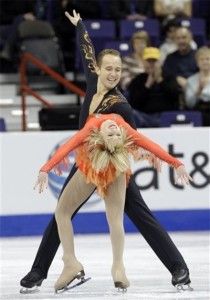 Caydee Denney and Jeremy Barrett have done it again. With relative ease, the Floridian duo captured the lead at the 2010 U.S. Championships in Spokane, Wash., just as they did a year ago as newcomers in Cleveland.
"We've had an extra year," Barrett said. But their skating, highlighted with  triple twist and a triple Lutz to the music of "Firebird," lit up the Spokane Arena, making them again look like they had been at it for years, not since summer 2008.
Denney and Barrett, the reigning U.S. silver medalists, scored 63.01 points, putting them ahead of the surprise second place finishers Caitlin Yankowskas and John Coughlin (62.09), who were a career high sixth at the 2008 U.S. Championships. Current pewter medalists Amanda Evora and Mark Ladwig are third with 58.76.
With momentum from a gold medal performance at the Ice Challenge earlier this season, Yankowskas and Coughlin skated confidently, receiving all positive grades of execution. Their program was highlighted by a solid throw triple Salchow and side-by-side triple toes.
"We had personal bests on both of our programs, and that was where we made that jump," John Coughlin said of the Ice Challenge. "We competed against some of the top international teams in Europe. That was a big turning point for us and gave us that motivation."
Yankowskas and Coughlin, like Denney and Barrett, were not a pair when Spokane hosted nationals in 2007.
The three teams who have won the U.S. Championship did not fare well on the first day of the 2010 event. Two-time gold medalists Rena Inoue and John Baldwin, the only 2006 Olympians in this event, are fourth with 57.77, which includes a one point deduction for her fall on their signature throw triple Axel.
Brooke Castile and Ben Okolski, the champions the last time the event was in Spokane, had problems on their side-by-side triple Salchows. She singled the jump while he fell. They're currently fifth with 55.64.
Two-time defending U.S. Champions Keauna McLaughlin and Rockne Brubaker crumbled under the pressure to win a third straight title, which would come with a ticket to the 2010 Olympic Winter Games. The favorites are in seventh place after two major errors: McLaughlin's fall on their side-by-side triple Salchows and her second fall on their death spiral.
"I'm not going to lie, I'm upset," said McLaughlin, who has recently seen a sports psychologist because of problems with her technical elements. "I've got a fire lit inside of me. I'm going to go out and be aggressive, and I'm not going out without a fight."
Until a fourth place finish at November's Skate America, McLaughlin and Brubaker, who are faces of Coca-Cola and Nike, had medaled at every competition they had entered in their career except the 2009 World Championships, where they were 11th to Denney and Barrett's ninth place. Yet, they seemed like the only sure lock for one of the two spots on the Olympic team, something could now be in limbo.
"After the mistake on the triple Salchow, things got real tentative, and when you don't stay real aggressive, things can get off," said Brubaker, of Algonquin. "After that, there were mistakes here and there. That's part of sport. There's no reason to dwell on it.  We know we can come out and skate really well tomorrow."
After the conclusion of the free skate on Saturday, U.S. Figure Skating will nominate two pairs for Vancouver based on the results from the U.S. Championships in Spokane as well as other selected events including this season's Grand Prix series and last year's World Championships.
Other placements include: Marissa Castelli and Simon Shnapir (49.28) in 11th and Tracy Tanovich and Michael Chau (49.00) in 13th. Both pairs are making their senior debut in Spokane. Last year, Tanovich and Chau won the junior title with Castelli and Shnapir, reigning World Junior Championship bronze medalists, were third.
__________
Figure Skaters Online strives to be an accurate source of information related to the sport of figure skating. To report an error, please e-mail the news editor. Include the article date and title in your e-mail.