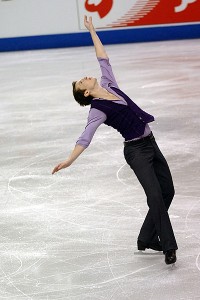 The favorites lived up to expectations. On Friday at the 2010 U.S. Championships in Spokane, Wash., 2009 U.S. Champion Jeremy Abbott staked a claim to the title by winning the men's short program over 2009 World Champion Evan Lysacek and Johnny Weir, three-time national title holder.
All three of the U.S. Champions were well ahead of the field. Abbott scored 87.85 points, about five points higher than his personal best (although national scores do not count toward International Skating Union records), while two-time national titlist (2007-08) Lysacek narrowly topped three-time champ (2004-06) Weir, 83.69 to 83.51. Their closest competitors are Adam Rippon (72.91) and Armin Mahbanoozadeh (72.56) in fourth and fifth.
In the free skate Sunday, Abbott plans to attempt a quad while Weir has already ruled out the risky move. Lysacek said that will be a game-day decision of his coach Frank Carroll. A quad could make the difference between the skaters.
Abbott, performing to the Jeff Beck version of the Beatles classic "A Day in the Life" in the short, looked on from the moment his program started. He started with a solid triple flip-triple toe combination than did a three-turn entry into a high triple Axel. He also performed a triple Lutz, which left a smile on his face.
"It was like an explosion inside and it just felt really, really good," Abbott said. "The rest of the program was just a blast. I had so, so much fun."
His commanding lead from the personal best performance put to rest any worries that leaving longtime coach Tom Zakrajsek after the 2009 World Championships was the right decision. Abbott, who lived in his parents' house when he won the national title, moved out to the Detroit suburbs on his own to train with 1994 World Champion Yuka Sato, who never coached an elite athlete before Abbott.
"There is always worry when you make changes, but I felt so strongly about my decision that regardless of the outcome, I wasn't going to have any regrets," Abbott said. "She has been in my shoes, had ho deal with pressure, so she knows what it takes. I feel really confident she could take what she learned from her skating and translate that to my story."
Abbott closed the first group of skaters, coming only a few skaters after Weir, who set the tempo for the competition with a solid rumba to "I Love You, I Hate You". Despite troubles in the warm up, Weir nailed a triple Lutz-triple toe, a triple Axel and then did footwork into a triple flip, which received a warning for the wrong takeoff edge.
"(This) made me regret ever thinking of not even trying," Weir said. After placing fifth at the 2009 U.S. Championships, the first time he had failed to medal since 2003, and being left off the World Championship team, Weir quit skating until his mom Patti talked to him into trying the sport again.
Weir opened the season with a fourth place finish at Rostelecom Cup in Moscow, Russia, making people doubt his ability to come back from such a poor season ending performance last year in Cleveland. But Weir has been near top form since, placing second at the NHK Trophy and third at the Grand Prix Final, ahead of Abbott in both competitions.
Lysacek won the Grand Prix Final to polish off an incredible 2009 that started with a rocky performance at nationals, where he place third to Abbott and Brandon Mroz after a sloppy free skate. In February, he was the silver medalist at Four Continents and the world's best skater in March. He finished second at Cup of China and then won Skate America.
Riding the momentum into Spokane Arena, the same arena where he won his first national title, Lysacek was confident but at times appeared a little cautious in his skate to "Firebird," complete with a Vera Wang designed costume. He started his program with a mistake on the landing of the triple Axel — something he attributed to his 6-foot-2 frame getting to close to the boards. "That happens, I'm big," he said.
Lysacek, who has signed deals with several companies in the months leading up to the games, including AT&T, Coca-Cola and Ralph Lauren, managed to keep his program on track after the opening mistake. He performed a solid spread eagle into triple lutz-triple toe. Lysacek also did a triple flip from a back spiral. Unlike earlier this season, the flip was judged as a clean element on the correct take-off edge.
Weir edged Lysacek on the technical mark but lost to him on the components.
Rippon also had trouble close to the boards. Attempting a triple Lutz varriation with both hands over his head, he bailed out, performing a double, then skated into the barriers. Seconds later he tumbled to the ice during his footwork. But strong spins, including two Level 4 moves at the end, kept him at the top of the Olympic threat list. Mahbanoozadeh did a triple Axel, triple flip-triple toe and a triple Lutz.
Abbott, Lysacek and Weir have practically joined the 2010 U.S. Olympic team barring a bizzare occurrence in Sunday's free skate — or a dreaded injury, which all three have already suffered from at some point in their careers. Ryan Bradley (70.63) was expected to be in the mix but after a quadruple toe-triple toe, he handed in a double Axel and a double Lutz, losing significant standing.
Grant Hochstein proved his worth in the transition from junior events to the senior nationals. Currently in eighth place with 65.55 points, he fared much better than newcomer Alex Johnson (54.29), who was in last place for most of the night but ended up in 22nd of 23 skaters.
Other results included: Jason Wong (64.56), ninth; Douglas Razzano (64.27), 11th; Parker Pennington (61.58 ), 15th; Stephen Carriere (58.68), 17th; Wesley Campbell (55.98), 19th; and Jonathan Cassar (55.53), 20th. Reigning silver medalist Brandon Mroz is 10th with 64.65 points.
__________
Figure Skaters Online strives to be an accurate source of information related to the sport of figure skating. To report an error, please e-mail the news editor. Include the article date and title in your e-mail.