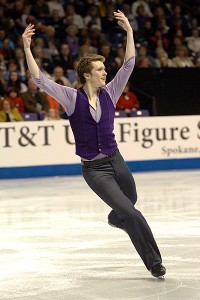 Jeremy Abbott is the 2010 U.S. Champion. At the 2010 U.S. Championships in Spokane, Wash., Abbott won his second consecutive national title in dramatic fashion, scoring a personal-best 263.66 points that made him look like he was in a different league than his competitors. He won by just under 25-points. Here is what you need to know about Abbott heading into the 2010 Olympic Winter Games in Vancouver, Canada:
Name Jeremy Abbott
Age 24
Birthday June 5, 1985
Birthplace Aspen, Colo.
Hometown Aspen, Colo.
Training Town Bloomfield Hills, Mich.
Coaches Yuka Sato and Jason Dungjen
Choreographers Shae-Lynn Bourne, Pasquale Camerlengo and Tom Dickson
Getting his start "I started skating at 2 years old when my mom took me to the rink for public sessions, but I really knew that I wanted to skate when I was 4," Abbott said. "My mom took me to a skating show in Aspen, Colo., where I grew up, and I saw Robin Cousins skate.  I turned to my mom and told her that was what I wanted to do."
International personal bests Abbott scored 237.72 points at the 2008 Grand Prix Final, which at the time was the highest score ever recorded by an American man. He scored 83.00 in the short program at the 2009 NHK Trophy and 159.46 in the free skate at the 2008 Grand Prix Final.
Key results 2010 U.S. Championships, 1st; 2009 Grand Prix Final, 4th; 2009 Skate Canada, 1st; 2009 NHK Trophy , 5th; 2009 World Team Trophy, 1st; 2009 World Championships, 11th; 2009 Four Continents Championships, 5th; 2009 U.S. Championships, 1st; 2008 Grand Prix Final, 1st; 2008 Cup of Russia, 4th; 2008 Cup of China, 1st; 2008 World Championships, 11th; 2008 U.S. Championships, 4th; 2007 Four Continents Championship, 3rd; 2007 U.S. Championships, 4th
Go to moves Abbott is known for beautifully choreographed programs that highlight his edging and transitions. Yet, what could make the difference in Vancouver is the first move of his free skate to the music "Symphony No. 3 in C minor" by Camille Saint-Saens. He will try a quadruple toe, a move that he perfected at nationals while others faltered.
Cha-cha-changes In April 2009, Abbott left his long time coach Tom Zakrajsek for 1994 World Champion Yuka Sato. "I wouldn't be where I am today without Tom," he said. "I am so grateful to him and everyone else at the World Arena for all that they have done for me in the past." Abbott and Zakrajsek worked together for over 10 years.
Moving on Abbott relocated from Colorado Springs, Colo., to suburban Detroit in April 2009 after announcing his coaching change. It was his first time living without his mom. . "There's always doubt when it come to making big moves, but deep down in my heart it felt right. I'm very happy with the decision I made and the lifestyle change I made," he said.
Without a doubt Abbott struggled with self confidence until recently. "Everyone has doubt in themselves, but I used to believe it," Abbott said at the 2010 nationals. "That little nagging voice in the back of my head that told me I couldn't do it, I'd believe it. I'm learning I can quiet that voice and tell it to shut up."
Pigs can fly "'Pigs can fly' sort of became my motto during the 2005 season, the year I won the junior national title," Abbott said. "It basically means that anything is possible. My family got a hold of it, and now it has spiraled out of control. Pigs are flying everywhere. I created a monster." His family runs the Pigs Can Fly Club.
Just put it in the bag Abbott and his "Pigs can fly" motto is the inspiration behind ZÜCA's first athlete inspired bag insert. A portion of the $45 price tag will benefit the New England Amateur Skating Foundation.
Giving back Even before Abbott reached the top of the sport, he started the Jeremy Abbott Skating Fund. The  fund provides financial assistance to boys skating competitively for the Aspen Figure Skating Club, which was his first club. "Growing up in Aspen and being one of the few guys figure skating in a hockey town wasn't easy—or cheap," he said. "The cost of skating, even from the beginning, can keep families from participating in the sport. I wanted a way to help get—and keep—younger boys in figure skating and this was a small way to start."
Inked On Jeremy's left shoulder, he has a tattoo of a Chinese character for good luck and good fortune. He wants another tattoo in the future. "If I got another one it would have to be more personal. Something original that is unique to me," he said. Maybe Olympic rings?
JerWear When the camera pans to Abbott's family and friends during the competition, they will likely be wearing some JerWear, designed by his sister Gwen Abbott. When you order JerWear through www. powderpump.com, 20-percent of all the proceeds go to your choice of the Global Citizen Project or Doctors Without Borders. Those wearing JerWear are dubbed part of the "JerForce".
X-Factor His older sister Gwen Abbott was a nationally-ranked downhill skier who competed in the Winter X-Games s a ski racer. She is currently a personal trainer working in Estes Park, Colo., and the surrounding area. She also does fitness boot camps.
Unclympian? Or oluncle? Just a week before heading to Vancouver, Abbott found out that his step-brother and step-sister in law are expecting their first child, who will be his first nephew or niece. On his Twitter, he asked "I'm an Unclympian… or am I an Oluncle?"
• For more information on Abbott, visit www.figureskatersonline.com/jeremyabbott/
• Become a fan of Abbott on Facebook at www.facebook.com/jeremyabbottpcf/
• Follow Abbott on Twitter at www.twitter.com/jeremyabbottpcf/
__________
Figure Skaters Online strives to be an accurate source of information related to the sport of figure skating. To report an error, please e-mail the news editor. Include the article date and title in your e-mail.