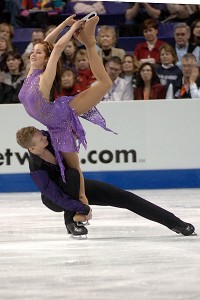 Emily Samuelson and Evan Bates are the 2010 U.S. Championship bronze medalists in ice dance. Previously, they finished second (2009) and fourth (2008). Here is what you need to know about Samuelson and Bates heading into the 2010 Olympic Winter Games in Vancouver, Canada:
Names Emily Samuelson and Evan Bates
Ages 19 and 20
Birthdays May 14, 1990 and February 23, 1989
Birthplaces Southfield, Mich. and Ann Arbor, Mich.
Hometowns Novi, Mich. and Ann Arbor, Mich.
Training Town Ann Arbor, Mich.
Coaches Yuri Chesnichenko and Yaroslava Nechaeva
Choreographers Yuri Chesnichenko and Yaroslava Nechaeva
Getting their start Samuelson began skating at age 5 because she saw a girl skating while she was on vacation in Switzerland and wanted to try it too. Bates began skating at the age of 4 because his mom "lost him" every time she brought him to watch his older sister Alexis skate, so she put him out on the ice where she could see him.
Coming together Samuelson and Bates began competing at the juvenile level in 2000 after they were paired up by Gary Clark, their freestyle coach. "Emily and I both had previous partners. When things didn't work out, our coaches paired us together for a tryout. We've been skating together ever since," Bates said.
International personal bests The team's highest overall score came from the 2008 World Junior Championships, where they won the gold medal with 181.66 points. Their highest compulsory dance score is 35.11, also from World Juniors. At the 2009 Four Continents Championship, they scored a personal best 59.48 in the original dance and 89.90 in the free dance.
Key results 2010 U.S. Championships, 3rd; 2009 Skate Canada, 5th; 2009 Trophee Eric Bompard,  4th; 2009 World Championships, 11th; 2009 Four Continents Championships, 3rd; 2009 U.S. Championships, 2nd; 2008 NHK Trophy, 3rd; 2008 Skate America, 4th; 2008 Nebelhorn Trophy, 1st; 2008 World Junior Championships, 1st; 2008 U.S. Championships, 4th; 2008 Junior Grand Prix Final,  Gdansk, 2nd; 2007 Junior Grand Prix Austria, 1st; 2007 Junior Grand Prix United States, 1st; 2007 U.S. Championships (junior), 1st; 2006, U.S. Championships (junior), 2nd; 2005, State Farm U.S. Championships (novice), 1st
Outstanding original Samuelson and Bates will benefit from their crowd pleasing original dance to "Long Time Gone" and "White Trash Wedding" by The Dixie Chicks. At 2009 Skate Canada, they finished third in the original dance, although they finished fifth overall.
Nothing to lose As the third ranked American ice dancers, behind two-time U.S. Champions Meryl Davis and Charlie White and five-time U.S. Champions Tanith Belbin and Ben Agosto, both who have won multiple senior internationals, Samuelson and Bates have little pressure on them. "I am really looking forward to the experience," Samuelson said.
Handy work Samuelson's biggest life-defining moment is coming back from hand surgery to win the 2008 World Junior Championship. At the 2007 World Junior event, Samuelson and Bates were in second place going into the free dance. Halfway through the free dance, Samuelson fell and Bates stepped on the back of her hand, severing a tendon. They were forced to withdraw.
Olympic idols Samuelson's favorite skaters are her Olympic teammates Belbin and Agosto. "I look up to Tanith Belbin and Ben Agosto because they are great skaters and are always energetic and fun to watch on the ice," she said.
Book smart In 2008, during her senior year of high school, Samuelson was named to the U.S. Figure Skating Scholastic Honors Team. She received numerous other academic honors in high school, including Honor Roll (2004-08), Presidential Award for Educational Excellence (2006-08) and Phi Beta Kappa (2008) before graduating summa cum laude. Bates graduated high school with a 3.85 grade point average.
Red, white, maize and blue Both Samuelson and Bates are sophomores at the University of Michigan. Bates is majoring in business. Samuelson has not yet declared a major. She said she "would like to get a job she enjoys and raise a family after her skating career."
Ice house Bates lives near campus with three skaters including White. The other roommates are senior pair skater Trevor Young and junior ice dancer Alex Shibutani. Young told the Detroit Free Press that Bates the wittiest of the group.
Good genes Bates's sister Alexis is a former skater who now runs marathons. His father was the captain of Princeton's cross country team while his grandfather played basketball for Michigan State. Bate's grandpa also won two gold medals at the Senior Olympics.
Charity case Bates supports the Alzheimer's Foundation of America because his grandfather suffers from the disease. Samuelson supports the American Cancer Society through Relay for Life. Throughout their partnership, they have participated in various charitable shows.
Beauty queen Samuelson was a finalist for 2008 Miss Teen Michigan.
• For more information on Samuelson and Bates, visit http://emily-evan.ice-dance.com
• Follow Samuelson on Twitter at www.twitter.com/emilysamuelson/
• Follow Bates on Twitter at www.twitter.com/evan_bates/

__________
Figure Skaters Online strives to be an accurate source of information related to the sport of figure skating. To report an error, please e-mail the news editor. Include the article date and title in your e-mail.