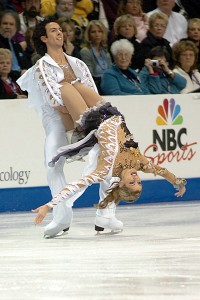 Tanith Belbin and Ben Agosto are the 2010 U.S. Championship silver medalists in ice dance. Leading up to the 2009 nationals, which they withdrew from because of Agosto's injury, they had won five consecutive U.S. titles and an Olympic silver medal. Here is what you need to know about Belbin and Agosto heading into the 2010 Olympic Winter Games in Vancouver, Canada:
Names Tanith Belbin and Ben Agosto
Ages 25 and 28
Birthdays July 11, 1984 and January 15, 1982
Birthplaces Kingston, Ontario and Chicago, Ill.
Hometowns Kirkland, Quebec and Chicago, Ill.
Training Town Aston, Pa.
Coaches Natalia Linichuk and Gennadi Karponosov
Choreographer Natalia Linichuk
Getting their start Belbin began skating at age 2 because her mom Michelle, a former competitive skater, was coaching skating. Agosto started skating at 6-years-old, after receiving a pair of ice skates for his birthday.
Coming together Unable to find a partner in her native Canada, where she competed in pair skating and ice dance, Belbin moved to the Detroit area in 1998 to train with renowned ice dance coach Igor Shpilband. It was Shpilband who paired them together later that year. It instantly clicked for Belbin and Agosto.
International personal bests Belbin and Agosto have not set a personal best since winning the silver medal at the 2005 World Championships, where they received their highest overall score of 221.26 points. They also set their record 67.54 points in the original dance and the 111.54 in the free dance at Worlds. Their best compulsory dance was at 2005 Four Continents Championship, where they scored 44.00.
Key results 2010 Championships, 2nd; 2009 Cup of China, 1st; 2009 Skate America, 1st; 2009 World Championships, 2nd; 2008 Cup of China, 2nd; 2008 Skate America, 2nd; 2008 World Championships, 4th; 2008 U.S. Championships, 1st; 2007 Grand Prix Final, 2nd; 2007 Cup of China, 1st; 2007 Skate America, 1st; 2007 World Championships, 3rd; 2007 Four Continents Championships, 2nd; 2007 U.S. Championships, 1st; 2006 Cup of Russia, 1st; 2006 World Championships, 3rd; 2006 Olympic Winter Games, 2nd; 2006 Four Continents Championships, 1st; 2006 State Farm U.S. Championships, 1st; 2005 Smart Ones Skate America, 1st; 2005 World Championships, 2nd; 2005 Four Continents Championships, 1st; 2005 U.S. Championships, 2004 U.S. Championships, 1st; 2003  U.S. Championships, 2nd; 2002 U.S. Championships, 2nd
Been there, done that As the only medalists returning from the 2006 Olympics, Belbin and Agosto's biggest asset this year is that they are proven champions in a field of mostly rising stars. In the four years that have passed since Torino, Belbin and Agosto won a silver and two bronzes at the World Championships, and finished fourth in 2008. They have also won five gold medals on the Grand Prix. Their career accomplishments are unmatched by any currently competing team.
Simply the best Belbin and Agosto are the most decorated ice dancers in American history. Since the start of the 2005-06 season, they have medaled at every event they've finished except for one, the 2008 Worlds. Their second place finish at the 2005 Worlds made the duo the highest-placing U.S. ice dancing team in 30 years and the first U.S. dance team to medal at the competition in 20 years.
Captain America Belbin and Agosto were voted the captains of the U.S. Olympic figure skating team. "We are very proud that our teammates voted us captains of the U.S. Olympic figure skating team," the team wrote on their Web site. "What a great honor."
Better than 1976 On Feb. 20, 2006, Belbin and Agosto won the silver medal in ice dancing, making them the first U.S. ice dancing team to win a medal in the Olympics since 1976 when Colleen O'Connor and Jim Millns captured the bronze. Belbin and Agosto were born in 1984 and 1982, respectively.
Last chance Following the Olympics and possibly the 2010 World Championships, which are scheduled for March in Torino, Belbin and Agosto are likely to retire from skating. "Clearly we have to be prepared to take advantage of any opportunities and life after the Olympics, but we really have to keep our minds focused on the task at hand," Agosto said.
Back to back The team missed two consecutive events in the 2008-09 season because of Agosto's back injury. At the 2008 Grand Prix Final, Belbin and Agosto competed in the original dance but his pain was too severe for the couple to skate in the free dance. They also withdrew from the 2009 U.S. Championships, ending their five-year reign as the national titlists. They came back to win the silver at Worlds.
Sayonara Shpilband After the 2008 World Championships, where they were fourth, Belbin and Agosto ended their 10-year professional relationship with Shpilband, who set-up their partnership, and Marina Zoueva. They moved from suburban Detroit to Aston, Pa., to train with 1980 Olympic and two-time World ice dancing champions Natalia Linichuk and Gennadi Karponosov at the IceWorks Skating Complex. "Detroit will always be like home for us, but sometimes to grow you need to leave home and explore new opportunities," Agosto said.
Knowing the enemy Belbin and Agosto are the only skaters who know what Russians Oksana Domnina and Maxim Shabalin, the 2009 World Champions who have sat out the entire season because of an injury, are capable of doing in Vancouver. The two teams train together every day.
Homecoming The Vancouver Olympics will bring Belbin back to her native country. She is a Canadian who grew up about three hours outside of Montreal. Belbin never competed for Canada but had five partners in dance and pair skating before she moved to the United States in 1998.
A special act Belbin barely received her U.S. citizenship in time to compete in Torino. On Dec. 22, 2006, the U.S. Congress passed legislation to speed up the citizenship process of "aliens of extraordinary ability" and it was signed into law by President George Bush on Dec. 30. However, the law required that those getting citizenship through the act must compete the process by Jan. 1. Belbin completed the entire process in a day so she could represent the red, white and blue at the Olympics.
Tailor-made The team's costumes are designed and often made by Belbin's mother. "My mom has always designed my dresses since I first started skating," Belbin said. "I think it's really special that she is able to help Ben and I with something as important as our costumes. Working with her ensures that we are going to get exactly what we want every time."
Belbin reporting live She has worked as a "Good Morning America" correspondent and done red carpet work. After skating, Belbin wants to become a national news correspondent or a television host. The person she would like to meet most Anderson Cooper because she "admires and respects him and the career he has built for himself".
He's entertainment Agosto has been talking his way to the top of the entertainment industry, doing voice over work for video games. He has also been spending time playing the guitar and singing the blues, a hobby that he hopes to make into a career someday.
Model Olympians Before packing their bags for Vancouver, Belbin and Agosto signed a deal with Ralph Lauren, an official outfitter of the U.S. Olympic team. The team appears in print advertisements and on RalphLauren.com. Belbin is also a contract with Ford NY Models.
Hot, hot, hot Belbin's natural beauty is one of skating's best marketing tools. The December 2009 issue of Men's Health Magazine named her "America's hottest Olympic Athlete" and in 2006, she was voted ESPN.com's "Hottest Female Athlete."
Signature scent Although she is a spokesperson for Proctor & Gamble products, including Secret deodorant, Belbin never leaves home without her Bvlgari Rose perfume. "I've been wearing it for so many years I don't even smell it on myself anymore but my friends always know when 'Tanith's been here,'" she said.
Bilingual banter Belbin is fluent in French while Agosto also speaks Spanish. 
• For more information on Belbin and Agosto, visit www.tanithandben.com
• Follow Belbin on Twitter at www.twitter.com/tanithjlb/
• Follow Agosto on Twitter at www.twitter.com/ben_agosto/

__________
Figure Skaters Online strives to be an accurate source of information related to the sport of figure skating. To report an error, please e-mail the news editor. Include the article date and title in your e-mail.