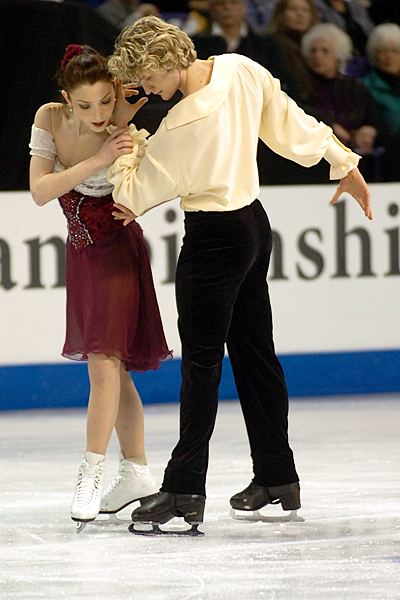 Meryl Davis and Charlie White are the 2009 and 2010 U.S. Champions in ice dance. Since finishing fourth at last year's World Championship, the team has gone undefeated, even becoming the first American dancers to win the Grand Prix Final. Here is what you need to know about Davis and White heading into the 2010 Olympic Winter Games in Vancouver, Canada:
Names Meryl Davis and Charlie White
Ages 23 and 22
Birthdays January 1, 1987 and October 24, 1987
Birthplaces Royal Oak, Mich. and Dearborn, Mich.
Hometowns West Bloomfield, Mich. and Bloomfield Hills, Mich.
Training Town Canton, Mich.
Coaches Igor Shpilband, Marina Zoueva, Johnny Johns and Adrienne Lenda
Choreographers Igor Shpilband and Marina Zoueva
Getting their start Davis started taking lessons when she was 5-years-old. At the time, she wanted to be able to skate on the local lake outside her house during the winter, not win the Olympics. White started skating at age 3 because his parents wanted him to be able to skate with his friends when he got older.
Coming together "Our coach put us together in dance, and Meryl had never really done ice dance before and I was a little advanced," White said to NBCOlympics.com. "So I was like, 'Really? You're going to make me skate with this girl who has no idea what she's doing?'" They were 8 and 9 years old at time time.
International personal bests Their highest overall score is 201.97 from the 2009 NHK Trophy. Also at the NHK Trophy, Davis and White scored their highest score in the compulsory dance, 38,09. The team set their high scores in the original dance (65.80) and the free dance (103.64) at the 2009 Grand Prix Final, which did not include a compulsory dance.
Key results 2010 U.S. Championships, 1st; 2009 Grand Prix Final, 1st; 2009 NHK Trophy, 1st; 2009 Rostelecom Cup, 1st; 2009 Nebelhorn Trophy, 1st; 2009 World Championships, 4th; 2009 Four Continents Championships, 1st; 2009 U.S. Championships, 1st; 2008 Grand Prix Final, 3rd; 2008 Cup of Russia, 3rd; 2008 Skate Canada, 1st; 2008 World Championships, 6th; 2008 Four Continents Championships, 2nd; 2008 U.S. Championships, 2nd; 2007 World Championships, 7th; 2007 U.S. Championships 3rd
Secret weapon Davis and White's strongest move is the twizzle, which are multirotational one-foot turns similar to a pirouette. But the twizzles could also be a downfall for the team. In the original dance at the recent nationals, Davis stumbled on that move.

Dazzling debut At the 2007 World Championships, Davis and White placed 7th. It was the the highest placement by a U.S. team in its debut at the World Championships since Judy Blumberg and Michael Seibert finished 6th at the 1980 Worlds in Dortmund, Germany.
Four one-hundredths At the 2009 Worlds, Davis and White missed a medal by only .04 (four one-hundredths) of a point. Although they missed the podium, they did receive two small bronze medals for finishing third in both the original and free dance phases. The team also received a standing ovation for their free dance.
Magazine marvels In the 2010 Olympic preview issue of Sports Illustrated, Davis and White were picked to lead a North American sweep of the ice dance podium, over training mates Tessa Virtue and Scott Moir of and five-time U.S. Champions Tanith Belbin and Ben Agosto. Of the group, Davis and White are the only couple who have not medaled at the Worlds.
Bollywood stars Davis and White's original dance has made them a sensation in India. In the dance, they depict a traditional Indian wedding ceremony to a selection of Indian songs, chosen with the input of a traditional Indian dancer. Their international debut of the program, from the 2009 Nebelhorn Trophy, has been viewed more than 26,000 times on YouTube. Their performance from Cup of Russia has over a quarter of a million hits. "Charlie and I have always been excited about being different and embracing what we could bring to the sport. It's really exciting to expand the fan base, and expand the fan base to parts of the world that haven't really experienced it before," Davis said.
Go Blue Both Davis and White are students at the University of Michigan in Ann Arbor, Mich. She is a junior majoring in cultural anthropology. White, a sophomore, has not chosen a major yet. ""I've always been a crazy, huge, big U-M fan. Huge. I love football, basketball, hockey, all of it. There was nowhere else I really wanted to go to school but here," Davis told Michigan Athletics.
Sorority sister Davis is a member of Michigan's Delta Delta Delta sorority and lives in the Tri-Delt house with about 60 women. "Charlie was the first one to make fun of me when I pledged," Davis said. "I think he likes it now though. I let him tag along to the events and parties sometimes."
Animal house White lives on the Michigan campus with three other skaters including fellow Olympic ice dancer Evan Bates, who will also compete in ice dance in Vancouver with partner Emily Samuelson. The other roommates are senior pair skater Trevor Young and junior ice dancer Alex Shibutani.
Twiddly diddly deet White recently snagged the No. 1 spot in the NBC Olympics "Tweet of the Week" feature. Since then, he has continued to compete with his Olympic teammates Jeremy Abbott, skating in men's, and Belbin be No. 1. He also uses Twitter for an "Educational Tweets" series with Shibutani.
Goldie locks White is known for his blonde mop. "He's the prettiest man in skating," Bates said with a laugh.
• For more information on Davis and White, visit www.merylandcharlie.com
• Follow Davis on Twitter at www.twitter.com/meryl_davis/
• Follow White on Twitter at www.twitter.com/charlieawhite/

__________
Figure Skaters Online strives to be an accurate source of information related to the sport of figure skating. To report an error, please e-mail the news editor. Include the article date and title in your e-mail.