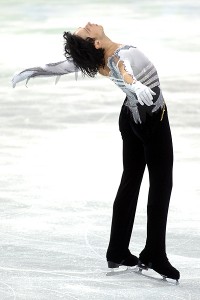 COLUMBUS, Ohio — Three-time U.S. Champion Johnny Weir announced today that he has joined the cast for the Skate for Hope, a charity fundraiser, June 19 at the Nationwide Arena in Columbus, Ohio. It is a rare U.S. appearance for the two-time Olympian, who has participated in only a few shows since placing sixth at the 2010 Olympic Winter Games in Vancouver, Canada.
Also headlining the seventh annual breast cancer benefit show are 2007 U.S. Championship silver medalist Ryan Bradley, 2010 U.S. Champion Rachael Flatt, 2006 Olympian Emily Hughes, two-time U.S. Champions Keauna McLaughlin and Rockne Brubaker, 2010 Olympians Emily Samuelson and Evan Bates and 2009 Ice Challenge Champions Caitlin Yankowskas and John Coughlin. Local skaters will also perform in Skate for Hope.
Tickets for the event are on sale now through Ticketmaster with the proceeds going to Stefanie Spielman Fund at the Ohio State University James Cancer Center and the Vera Bradley Foundation for Breast Cancer. On Friday at 10 a.m. Eastern, 20 VIP front row seats that include a backstage meet and greet opportunity go on sale for $250. Front row tickets without backstage passes are $45, rows 2-3 are $25 and all other rows are $15.
Skate for Hope has also partnered with Figure Skaters Online to give away six tickets in a special loge box on the club level of the arena as well as autographed memorabilia from Flatt, McLaughlin and Brubaker, Weir and Yankowskas and Coughlin. To enter, click here.
"Every chair in the Nationwide Arena is more funding for breast cancer research so as a survivor, I am truly grateful to everyone who comes out to Skate for Hope," said Carolyn Bongirno, the show creator and director. The show has raised $233,000 since its inception in 2004.
In her early 30s, Bongirno battled and overcame a stage three breast cancer diagnosis. She credits figure skating and her skating friends in helping her stay positive throughout her treatment process. In turn, Bongirno to help empower young girls and women to better cope with a friend or family member cancer diagnosis.
Previous participants in the star studded show include 2007 U.S. Champions Brooke Castile and Ben Okolski, 2009 U.S. Champion Alissa Czisny, 2006 Olympians Marcy Hinzmann and Aaron Parchem and 2006 Olympic Champions Tatiana Totmianina and Max Marinin. Kiri Baga, Jennifer Kirk, Parker Pennington and Katy Taylor have also participated in the show.
For more information, visit www.skateforhope.org.
__________
Figure Skaters Online strives to be an accurate source of information related to the sport of figure skating. To report an error, please e-mail the news editor. Include the article date and title in your e-mail.