By Cristina Valencia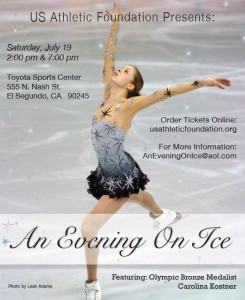 With the day of the show rapidly approaching, the cast and crew of "An Evening on Ice" is currently hard at work on all the preparations for the US Athletic Foundation's fundraising event. Preparations that begin roughly six months before the show when Nick and Tricia LaRoche, the team of siblings behind the foundation, start extending invitations to the skaters in order to get a rough shell of a cast. Even though this year they fell a bit behind due to the Olympic Games and the World Championships, the 4th Annual "An Evening on Ice" promises to be the best one yet. The stellar lineup of skaters this year includes four Olympic medalists, eleven Olympians, twelve national champions and eighteen international medalists.
"Each skater is worked with directly on trying to make their stay here in Los Angeles an amazing one," said Nick.
Planning their travel arrangements, hosting the official dinner and having a goodie bag in each hotel room for every skater are a few of the things the foundation takes care of. For the three days the skaters are in town, their schedule is full. The day of the show, choreographer Karen Kwan Oppegard has the ice with the entire cast for a couple of hours in the morning to teach them the opening and closing numbers that she has come up with. After this, the skaters have a warm up, lunch, afternoon show, dinner, warm up, evening show, and post show meet and greet for the evening VIP ticket holders. It is a sixteen hour day.
When Tricia and Nick first started the US Athletic Foundation, they did multiple silent auctions and small events to get some money into the general fund.
"As the number of athletes asking for assistance started to grow, we knew we had to do something larger to get more funds into the foundation and that's when we came up with hosting 'An Evening On Ice,'" Nick pointed out.
He reached out and invited the friends he had made over the years through skating and was surprised to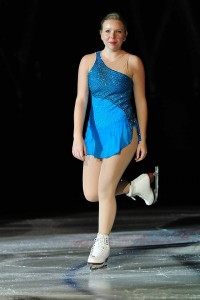 have an overwhelming reply of skaters confirm they would be interested in helping. They were so proud of how the show took off and each year they keep growing and growing, proving what a wonderful family the figure skating community is. Once again, this year's cast fell into their hands by the amazing friendships Nick has made through his career. His friends keep volunteering to make the event larger, but he doesn't take it for granted.
"I am truly one blessed man with friends like these," he said.
Although they take the event year by year and try to get as much support as they can get, Nick and Tricia have a goal of having the show presented by a large sponsor so that all the money coming in can be given back out in its entirety.
"We have a lot of costs to put this event on and could most certainly make a larger impact with more financial backings from outside sponsors," Nick stated.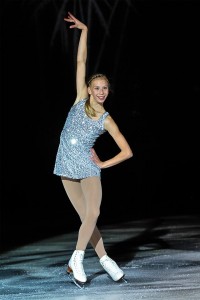 As a rule, they also try to outdo the previous year's cast. It has gone from Olympians to Olympic medalists. When Figure Skaters Online asked Nick what his dream in putting this event together would be, his reply was "To have an Olympic Champion headline."
The US Athletic Foundation is split into two sections. They have a general fund where they raise money through events like "An Evening on Ice" and then award the skaters with assistance. They also help skaters who have their own donors and sponsors by paying their training expenses so the sponsor can be comfortable knowing the money is being used for the right reasons. They work hand in hand with the donors and the clients who need to be paid. Tricia takes on the deed of finances since she is a full time accountant, while Nick works mainly on the show and other small events to get more funding into the foundation. Since Nick is the former skater, he understands the logistics side and how to make the show come together.
"An Evening On Ice" will be hosted by World Champions and Olympians Tai Babilonia and Randy Gardner and will be held on Saturday, July 19, 2014, at the Toyota Sports Center in El Segundo, California, with two performances. Tickets can be bought online at http://www.usathleticfoundation.org. The cast includes 2014 Olympic Bronze Medalist Carolina Kostner of Italy, 2014 Olympic U.S. Team Bronze medalist Ashley Wagner, 2014 U.S. Olympians Polina Edmunds and Madison Chock and Evan Bates, 2014 Olympic Team Silver medalists and two-time World Bronze medalists Meagan Duhamel & Eric Radford of Canada, Alissa Czisny, Rachael Flatt, Adam Rippon, Douglas Razzano, and many more.
We leave you with Nick's message to all figure skating fans who would like to help support the athletes:
"If people want to help the best way for us is spread the word. We know not everyone is able to attend the event or make a donation so we ask people to keep spreading the word so that we do sell these two shows out and get the most amount of money into the fund as possible."