By Gina Capellazzi
Ice skating and dance came together this spring when 2014 Olympic Champions Meryl Davis and Charlie White ditched their skates for some ballroom dancing shoes to take part in ABC's hit show, "Dancing with the Stars." This weekend, ice skating and dancing will come together in Charleston for a one-of-a-kind show entitled, Skate Dance Dream.
Skate Dance Dream is a show that combines the nation's best off-ice dancers and elite figure skaters. The cast includes finalists from FOX's hit show, "So You Think You Can Dance" and Olympic, world and national level figure skaters. In addition to the stars, the next generation of youth talent in skating and dance take part in the show. They are coined as "Dreamers."
The idea for Skate Dance Dream was conceived in 2009 with figure skater, Parker Pennington. Pennington, who has won national titles on four levels, was producing a show called, "Skate for Life", which benefited the Muscular Dystrophy Association. It was during that time Parker was getting into the show, "So You Think You Can Dance." He saw several of the top finishers on the show, like Sara Von Gillern and Gev Manoukian, who used to be figure skaters. That got Pennington thinking that it would be interesting to have them come in and dance in the show and also throw on their skates and take to the ice.
Pennington added, "Watching them perform live on stage, immediately gave me goosebumps. This occasion later served as a main sticking point of why we decided to merge dance and skating together into one show."
In mid-2010, Pennington founded Skate Dance Dream and in August 2011, the very first Skate Dance Dream show took place at the Alice Noble Ice Arena in Wooster, Ohio. This weekend's show in Charleston is Skate Dance Dream's ninth official show.
"Skate Dance Dream has continued to grow every show from the overall production and set, to the concept and experience we offer for fans and participants alike," added Pennington.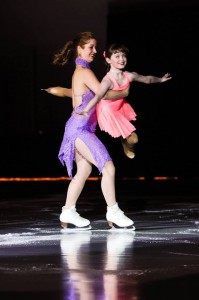 Besides being the only touring show that combines both figure skating and dance, Skate Dance Dream also allows the opportunity for aspiring figure skaters and dancers to perform with and learn from the stars that they see on TV. "Dreamers", as they are called, get to meet and hang out with the stars. They attend rehearsals and learn several numbers that they later perform in the show alongside the stars. They also get the privilege of taking a class to learn from the stars.
Pennington said, "For these "Dreamers", we offer the ultimate dream experience. Wouldn't you want to spend a weekend with the heroes you look up to?"
The kids come from all over the nation. Each child that signs up to participate is guaranteed a place in the cast and gets to perform in group numbers with the star performers.
This weekend's show in Charleston features 2012 U.S. junior silver medalist Tim Dolensky, 2013 U.S. pewter medalist Courtney Hicks and U.S. national competitor Sean Rabbitt. On the dance side, the show will feature some of the top finalists from Fox's "So You Think You Can Dance" like Tucker Knox and Amelia Lowe.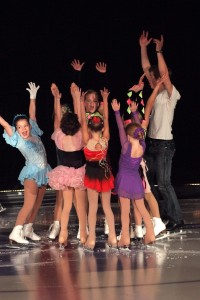 "The local skaters and dance participating are getting very excited about the opportunity and can't wait to meet all of the stars. Many people are also looking forward to taking a seat in the Carolina Ice Palace for this event, as a nice retreat from that summer heat," said Pennington.
Skate Dance Dream is Saturday July 19 at 7:00 p.m. at the Carolina Ice Palace in North Charleston, South Carolina. Tickets are available by visiting www.skatedancedream.com. Proceeds from the show go to Make-A-Wish® South Carolina.
"We chose to team up with Make-A-Wish because our visions of helping youth line up perfectly. Their organization does a lot of amazing work by providing children with opportunities they have only ever dreamed about. We do the same thing by giving opportunities to children, specifically in dance and figure skating, a chance to feel like they are the stars and be a part of something big, " added Pennington.
When Saturday's show is over, Pennington and his crew will get ready for their third show of the year. Skate Dance Dream will head back to Ohio and perform in Kettering on September 6. Signups for "Dreamers" have already begun.
"Our ultimate goal would be to see Skate Dance Dream sweep the nation with a full tour, so we would have the ability to impact and inspire hundreds of thousands and perhaps one day millions of people. Just like we tell everyone with the show, why not shoot for the stars and dream big? We know in our hearts at Skate Dance Dream that we have a show that achieves all of this," said Pennington.