By Gina Capellazzi, website administrator
Header photo by Leah Adams
Last year at this time, Jordan Moeller was preparing to step on the ice for the first time since a serious injury sidelined him, causing him to withdraw from the 2016 U.S. Championships. Now, the 2014 U.S. junior silver medalist is coming off his best season on the senior circuit, which first began with his top 10 finish at the 2017 U.S. Championships in Kansas City in January.
"Having a couple of successful skates in Kansas City this year meant the world to me," Moeller said. "It really made all of the ups and downs that I experienced on the road to recovery all worth it. I remember feeling pretty emotional after my short program was through. I was so proud of everything I had accomplished during my recovery. My free skate was just the cherry on top of it all. Skating two, mostly clean, programs was everything I could have hoped for and more."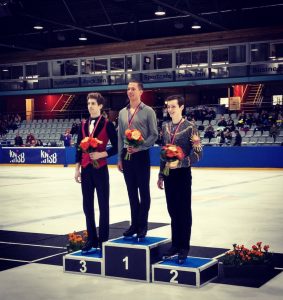 Following his performances in Kansas City, Moeller was given the opportunity to represent Team USA at Challenge Cup in The Hague in February, where he earned his first senior international medal, finishing behind two-time Belgian National Champion Jorik Hendrickx to claim the silver medal.
"I was very excited to be able to get back on the international scene, especially after my performances in Kansas City. Challenge Cup was a great experience for me. Earning a silver medal was another great confidence booster for me after my injury last year," Moeller exclaimed. "I was especially proud of my free skate as I didn't have the best start to my program, but I was able to get myself focused after a couple of mistakes and finish out my program strongly. It certainly made me excited to compete again this upcoming season."
While his singles competitive season ended following Challenge Cup, Moeller is not yet finished with competition. This past March, Moeller took the ice and competed at the 2017 Adult Midwestern Sectionals in Oxford, Ohio in the adult bronze ice dance discipline with his partner, Ashleyann Carlson.
"This was very different from what I am used to, as I have never competed in ice dance before," he said. "It was very fun to see a different side of the sport and all of the adult skaters I met helped to make my experience a wonderful time."
Carlson and Moeller finished the event in first place and will compete at the 2017 U.S. Adult Championships in Wake Forest, North Carolina, April 18-22.
"I can't wait for Adult Nationals," Moeller said.
But if you think Moeller will be slowing down after Adult Nationals, think again. Following the competition, Moeller will head to his hometown in Illinois to prepare for his annual One Skate at a Time benefit show, a show he's organized for the past six years.
"I'm getting excited for this year's show," Moeller said. "The format of this year's show is going to be similar to past years, but I always look forward to seeing what kind of excitement each year will bring."
The April 29 show at Southwest Ice Arena in Crestwood, Illinois, raises money for "One Step at a Time", a program through Children's Oncology Service Inc. in Chicago. The program allows children with cancer to have a traditional over-night summer camp experience, just like other kids, while still having all of the medical resources that one might need while being at camp. The idea of the show began when Moeller was in high school. At the time, the niece of one of his high school teachers attended the camp and Moeller knew that he could help give back by raising money doing what he does best: skate.
This year's show will include two-time U.S. Champion Alissa Czisny, 2017 U.S. Nationals 7th place finisher in senior men Timothy Dolensky, 2015 NHK Trophy silver medalist and 2016 Rostelecom Cup bronze medalist Courtney Hicks and 2016 World Junior bronze medalist and 2016 U.S. junior champion Tomoki Hiwatashi.
Moeller said last year's show raised over $10,000 for Children's Oncology Service Inc. According to Moeller, it costs about $1,000 to send a child to camp. So far, he said "One Skate at a Time" has been able to send 44 children to camp over the past five years.
"My goal for this year's show is to put on a great show and raise as much money as we can for this great cause," Moeller exclaimed. "This show has been such a blessing to all of those involved, including myself."
Following the show, Moeller will head back to Colorado Springs to finish up his spring semester at the University of Colorado, where he is taking 17 credit hours and is working on earning two bachelor's degrees in Psychology and Criminal Justice.
"It has been a challenging, but a great experience," Moeller revealed. "Depending on what happens this season, I am looking to graduate in either the Spring or Fall of 2018.
Despite this non-stop schedule he's leading, Moeller has already begun working on next season. Moeller said he has begun brainstorming and working with Rohene Ward to figure out his programs for this upcoming season. Moeller said he has started a new short program with Ward to the piece called "Tribal Gathering" performed by violinist Vanessa-Mae.
"It is going to be pretty exciting," Moeller said, about his new short program.
As of right now, Moeller said he is planning to keep his Romeo and Juliet free skate from this past season so he can continue working and growing it.
"My early goals for this season are to get my new programs established and continue working my quads. I am also wanting to put out a couple of quads in each of my programs early on in the season to get some good practice in before our season starts up full swing," he said.
—
Can't make Jordan's show? No problem! Follow this link to make an online donation directly to Children's Oncology Services Inc. on behalf of One Skate at a Time: http://cosil.convio.net/oneskate