Press release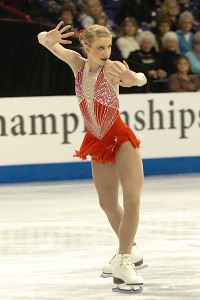 COLORADO SPRINGS, Colo. — Agnes Zawadzki, the 2010 U.S. junior champion, announced today she will resume training with David Santee after spending three seasons under coach Tom Zakrajsek.
"I want to thank Tom for all of his hard work," Zawadzki said, "I'm proud of what we accomplished together, but I am excited to make this change and am looking toward the future."
Santee coached Zawadzki for seven years in her native Chicago and helped her to the 2007 U.S. intermediate silver medal.
"Agnes and I have always had great chemistry," Santee said. "I'm happy she has chosen to continue her career with me."
Christy Krall will assist Santee with day-to-day training while Zawadzki trains in Colorado Springs. Krall coaches 2011 World Champion Patrick Chan of Canada.
Under Zakrajsek, Zawadzki is a two-time World Junior medalist, having earned silver in 2010 and bronze in 2011. In her two Grand Prix assignments, Zawadzki finished fourth (2010 Rostelecom Cup) and sixth (2010 Skate Canada). She won the pewter medal at the 2011 U.S. Championships in Greensboro, N.C.
__________
Photo courtesy of Leah Adams
Figure Skaters Online strives to be an accurate source of information related to the sport of figure skating. To report an error, please e-mail the news editor. Include the article date and title in your e-mail.