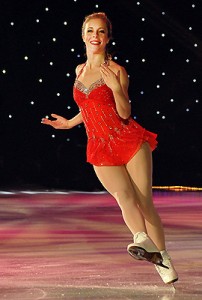 By Jim Bagley
Special to Figure Skaters Online
__________
On the eve of the 2013 U.S. Figure Skating Championships, Figure Skaters Online sat down with Ashley Wagner to talk about her life in skating, her future goals, and outside interests.
How did you get started in skating?
I started skating when I was five years old.  I was an army brat living outside of Anchorage, Alaska.  My dad was away on business for a couple of months at a time and my mother was cooped up in the house with me and my three year-old brother Austin.  We were driving her crazy, so she enrolled us in skating classes to get us out of the house. I loved skating immediately. It was a lot of fun for me.  I was lucky that I was able to keep on skating throughout my dad's military career.  The more we moved around, the closer I became to the sport.  The ice was the one place that felt familiar to me.
Do you feel the relocations aided in your ability to deal with adversity?  
It definitely helped me learn to adapt to uncomfortable situations.  It was tough in that I had a new coach every year and I couldn't really get comfortable with my surroundings.  But at the end of the day, you are not going to have every single thing that you want and need go your way… especially at skating competitions.
You competed annually at the U.S. Championships since the 2002-2003 season, never finishing in the top three at the Intermediate, Novice, or Junior level.  Then you finished third in Juniors at Nationals and third at Junior Worlds in 2007.  What elevated you to these new heights?
I was finally able to stay in one place: Virginia.  My dad had retired and we weren't moving around any more.  I think settling down and being able to work with one coach for a couple of years made a difference once I reached the Junior level.


Your coach in Virginia was Shirley Hughes.  What did you learn from her that still benefits you today?
Shirley was a phenomenal coach to work with at that point of my life.  She gave me a great base to build from and helped me with my work ethic.
What about your next coach Priscilla Hill?
Priscilla and I worked together at a weird point in my life.  When you're a teenager, you are trying to figure out if this is really what you want to be doing. Are you only skating because your parents want you to?  She helped me to realize how much I loved the sport.  On top of that, Priscilla is one of the best technical coaches in the world and she was a huge help with my jumps.

How did you come to work with your current coach, Mr. Nicks, in 2011?
I didn't think I would make the next Olympic team where I was and I didn't want to settle for just being the first alternate to Vancouver. I started looking around… One of the things that I think Priscilla and I had an issue with was that she and I had become too close.  You should be close, but not too close to your coach.  I looked around at the available coaches and who wasn't working with any of my major competition and Mr. Nicks kept coming up as the obvious answer.  He's a legend in the sport and an amazing man to work with.  Since he took me on, I have accomplished so much in skating.
From your debut in 2008 through 2011, you had a series of third and fourth place finishes at the U.S. Championships at the Senior level. What changed last year to help you finally emerge as National Champion? And then Four Continents Champion?
Mr. Nicks helped improve my competitive mindset. I was really frustrated that I would train so well, but as soon as I got into competition, I would not perform up to my ability. Mr. Nicks helped me in practice to feel that I was gaining control of my programs. By the time I stepped onto the ice for competition, I felt totally in control because I knew I had done it over and over again in practice.
Did you acquire this confidence by expanding the number of hours you were practicing?
No, I started working a lot smarter.  Instead of just going out on the ice and trying to do complete run-throughs of a new program, Mr. Nicks had me learn the program in small sections.  Once a section was clean, I would then add another section until finally, we had covered the entire program.  It made a new program less intimidating and once I got into competition, I knew I could skate it well.
Did you feel added pressure competing at the World Championships in Nice last year, knowing that a solid free skate performance was needed to ensure that U.S. ladies would get two skaters for this year's Worlds?
I was warming up backstage when Alissa went on the ice and I didn't want to know how she did.  But I did peek up at the jumbotron and I saw her crying, so I assumed she was happy.  At that point, I just focused on myself. I did feel a little pressure simply because the short program hadn't gone as well as I wanted and I knew I needed a good free skate to be competitive.
You seem so relaxed on the ice this year.  What has changed?

It's a combination of things. When I step onto the ice, I thrive off of being National Champion. That feeds my competitive nature and my confidence. But at the end of the day, what makes me cool, calm and collected on the ice is that I know that I am well trained.  Mr. Nicks wouldn't put me out on the ice unless I was prepared to compete.
How do you typically go about selecting music for a program?
I try to find pieces of music that emphasize my strengths. I feel I am more of a powerful type of skater and not dainty and soft.  I will come to Phillip (Mills) with music, and he'll make suggestions, but ultimately it is my choice. It is far easier for me to develop a program with music that I love 100%. This year was really difficult because I went through five different ideas for my long program.  For awhile, I was going to skate my short program as my long program. 

Do you have all-time favorite short and long programs? 
Honestly, I am in love with this year's programs.  I love what Phillip was able to do with the choreography of the "Red Violin" short program. I love the way that the music is cut.  It's perfection for me. "Black Swan" last year was a huge program for me and it will always have a special place in my heart, but I think this year's free skate "Samson and Delilah" is who I am as a skater.
Is there an exhibition that you consider your favorite?

I love the Ellie Goulding ["Your Song"] program that I started skating to last year on the Stars On Ice tour. It's a really soft piece and it has helped me with my flow… the smooth, delicate areas of skating that I need to improve. Phillip and I collaborated on the choreography and it feels like it is my own.
What do you think it will take to win a medal at the Olympics?  

It is my ultimate dream to go to the Olympics, so that is always on my mind.  I think that a triple-triple is obvious.  And then, I think it will take two solid programs, with technical components like jumps and spins and the triple-triple, as well as attention to the second mark.  It can't just be jumps back and forth.  The programs should be complicated and intricate.
What do you think of the figure skating team event being added to the Olympics?
I love it!  I am so excited about it!  I was fortunate to participate in the World Team Trophy in Japan last year. It was a really fun event… The team competition provides skaters with another chance to win an Olympic medal.  I think it's great!   

The team event is scheduled to take place at the Olympics before the individual skating disciplines.  Do you worry about being drained during the ladies event if you participate in the team competition first?
I have been on the senior circuit for so many years that I am used to competing a lot.  Competing back to back isn't anything new for me or most other skaters. [As far as using different skaters for the short and long programs in the team event], it will be interesting to see what the U.S. does. But I don't think it will be a big deal if I am asked to skate twice.
Does being a spokeswoman for Nike and Pandora add pressure or fun to your life?
At first I thought, how am I going to handle this added responsibility?  It is overwhelming, yet very exciting. Finally, I decided that I am going to have fun with it.  At this point in my skating career, I am happy to work with both companies. Ever since I was a little girl, I dreamed of being with Nike.
What do you think you would like to do after your eligible skating career is over?
I love performing, the feeling I get from having an audience watch me tell a story on the ice.  I would love to do shows and, I am sure, some coaching. But at the same time, I don't want skating to be the only thing in my life. I would love to get into journalism or some other creative endeavor after I leave the sport… I am currently blogging for ESPN.
Your brother Austin was also a National level competitor in figure skating. What is he doing now?
Austin skates recreationally now.  He goes to Pratt in Brooklyn and is majoring in Interior Design.
What types of music do you listen to?
I listen to just about anything.  I grew up on country music. I listen to top 40 and I think Florence and the Machine are phenomenal. When I'm off the ice, I prefer more relaxing music.  When I am on the ice, anything goes.
Do you have a favorite song?

I love "Vienna" by Billy Joel. Billy Joel is amazing.
Do you have a favorite television show?

I don't watch much television.  I spend most of my free time reading.
Do you like an actual book in your hands or do you prefer electronic books?

Right now I am at a crossroads.  I can't decide if I want to keep the book industry in business and dedicate myself to all things paperback or switch completely over to digital.  Right now I am half and half.
Do you have a favorite book?
I really like A Thousand Splendid Suns by Khaled Hosseini. Right now, I'm reading The Fault In Our Stars by John Green.
What skaters do you admire?
I always liked Tara Lipinski.  Her skating at the '98 Olympics was amazing to me.  It was mesmerizing to see someone so young win an Olympic gold medal.  And she was a feisty competitor.  I loved that about her. As I grew up, I began to appreciate Michelle Kwan for her artistry and what she has accomplished in the sport. She was able to captivate an audience by just doing a spiral.