Figure Skaters Online would like to welcome Chloe Katz to the staff. She is a former U.S. senior national and international pair skater (with Joseph Lynch from 2000-2011) and singles skater who retired from competitive skating in 2011.  Chloe graduated from New York University in 2012 where she studied International Business and she currently holds a position in New York City working in financial services consulting. FSO hosted her and Lynch's official site from 2006 until 2011.  Chloe is thrilled to be working with FSO and as a former skater and fellow athlete her perspective adds a unique outlook to her athlete interviews. Adam Rippon was the first skater with whom she conversed in September 2013, about a month and a half before the start of his international season at Skate America (October 18-20, 2013, in Detroit, Michigan).
Photos by Leah Adams.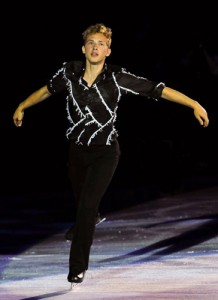 In 2010, a fifth place finish at U.S. Nationals left Adam Rippon just short of a spot on the U.S Olympic team; he was second alternate.  That same year he rebounded to win the ISU Four Continents Championships and then took advantage of a last-minute opportunity to compete in his first World Championships where he placed sixth.  Now, four years later, he is once again focused on his Olympic quest.  This time, he has an improved weapon in his arsenal – a quad Lutz jump.
A quad Lutz turns four rotations in the air in a fraction of a second; this is half a rotation more than the more commonly performed quads, the Salchow and toe loop.  Adam may be the only skater on the 2013-2014 ISU Grand Prix circuit planning to execute a quad Lutz in his programs.  Currently, he is one of only a handful of skaters to have ever attempted the element in competition.  Although he previously had tried the quad Lutz in his free skates during the Grand Prix series in the fall of 2011, this season he plans to perform two quad Lutzes – one in the short program and one in the long.  Landing it in competition truly would be an accomplishment and could make Adam a strong contender for the 2014 U.S Olympic Team.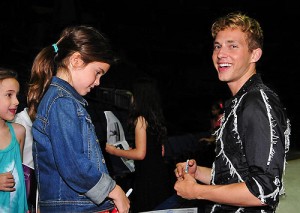 Few people contemplate attempting something others on earth rarely can do, and even fewer accomplish such a feat.  I'd like to know how Adam has done it, and why he's trying. Surely a quad Lutz is dangerous.  Just break down the basic components of a figure skating jump: acceleration plus gravity over ice, multiplied by a lot of determination.  In a perfect jump these forces are mastered; otherwise, there are painful consequences.  Ice is not a forgiving surface.  I decided to talk to Adam to get some answers.
It is a Saturday morning when Adam calls me; 9am his time.  I wonder why he is up so early; I am still drinking my morning latte.  "Adam, thanks for calling me, you are up early," I say.  He laughs and tells me he started his gym workout at 7am.  A typical Saturday, when the rest of the world is lounging in bed, Adam is busy doing a workout that would sweep most people off their feet.  Like other elite athletes, he gets confidence knowing he is fit and strong and will do whatever it takes to get that way.  I take notes on Adam's workout: core strengthening, plyometric jumps, hydrate repeat, hydrate repeat; I want to be strong like Adam.  I take a sip of my latte.  I am a bit tired just listening.
"Adam, what is difficult about skating that people do not realize?"
He tells me: "People do not realize how taxing skating is on the body.  They see a quick three minutes for one routine and five for the other and they don't understand the work and hours that are put into these routines."
He explains that a movement of only ten seconds can be worked on for countless hours in front of the mirror until it conveys the perfect message, or the years it takes to learn a triple jump.
"Skaters look so effortless on the ice; our goal is to look effortless.  But if you talk to just one skater you will find that each one always has an injury and they are almost always putting off necessary rest time or they are postponing surgery."
Smart athletes understand how to manage their training in a strategic way and do their best to mitigate the effects of injuries so they can sustain training in the long-term.  However, regardless of how well a skater manages training, the reality is that the human body is not created to skate, and spectators often overlook the difficulty behind performances because skaters make the end result look so easy.
In reality, skating is dangerous. "We are doing things on a regular basis that our body isn't meant to do, like quads where the impact is so high," Adam says.  I ask him if he's ever been injured in a quad.  He tells me he suffered a series of reoccurring ankle injuries during the 2010 Olympic season and that one of them was from a quad [Editor's note: An ankle injury sustained while practicing a quad jump also forced his withdrawal from the 2013 Four Continents Championships]; fortunately his ankles are fine now.
Skating is a mental challenge, he tells me.  Apart from rebuilding your physical strength post-injury, you have to resist the urge to not subconsciously protect weak muscles.  For example, you cannot favor a stronger part of your body or compensate in your motions to avoid putting pressure on a newly healed joint.  A move like this will throw off your timing and most likely lead to another injury.  Adam talks a lot about the mental aspects of skating; it is a big mind game he tells me.
Skating is more than a mind game; it is a competition.  One with an intricate set of rules that determines how skaters pick which elements they will include in their routines.  I ask Adam: "If you could change one rule in skating what would it be?"
He replied: "I think they should broaden the GOE (grade of execution) spectrum to minus five plus five because this allows for a larger scale when grading an element."
I think he has a point there.  A larger grade scale has the capability to more accurately reflect the quality of an element than a smaller one.  As it stands, Adam says, "when an element is executed the scores do not always capture its value"; therefore, as he pointed out, a larger GOE range would also create more fairness in the judging.  "It would allow more credit to be earned for harder elements as well as ones that are more innovative."  He could be referring to the triple Lutz he does with his arms over his head – certainly that is worth more merit. I like where he is going with this.
As a skater moves up the ranks, creativity is brought to the forefront.  The pressure to be innovative within the constraints of the rules grows exponentially, and adding unique facets to a performance becomes a strategic challenge.  Coupled with the mental and physical brutality of the sport, practice is exhausting.
I have one final question for Adam:  "What keeps you coming back for more?"
He said, simply: "It's the thrill; I love the thrill of jumping, to push myself beyond my limits.  I know I am doing something I was made to do."
In a way we are all like Adam; we all want to experience the surge of intense pleasure and excitement that comes from being thrilled.  As we go about our days, we secretly envision ways to escape the constraints of the mundane.  Some of us will fly to white sand beaches, others indulge daydreams of a secret crush; there are the daring that will sky dive or gamble with their money and then there are those, like Adam, who will become masters of the ice.  Ultimately we all want to evoke those undeniably good sensations that come from breaking the norm.  In the end, we all want to be thrilled.
[Postscript: Adam Rippon went for the quad Lutz is both his short program (light hand down) and free skate (fall) at Skate America. Both attempts were called under-rotated by the technical panel and given 70% of the jump's base value, an improvement on his previous attempts in competition in the fall of 2011.]