We would like to welcome Jason Brown to Figure Skaters Online. He is a two-time World Junior medalist, the 2011 Junior Grand Prix Final champion, and the 2010 U.S. national junior champion. This season, Jason is competing in his first senior Grand Prix series. Stay tuned for the launch of his official website in the coming weeks! In the meantime, Jason spoke with Figure Skaters Online's Gina Capellazzi about the start of his international season and his quest to make the Olympic team.
Four years ago, just like millions of people from around the world, Jason Brown watched the 2010 Winter Olympic Games from home. Unlike most skaters who dream about the Olympics at a young age, Jason says it was something he never dreamed about.
Now four years later, Jason has begun his quest to make the Olympic team. In order to further his training and better prepare for the upcoming season, Jason moved more 1,000 miles from his home in Highland Park, Illinois to train in Colorado. His longtime coach, Kori Ade, came along with him. Kori has been Jason's coach since he was five years old.
 "She is the first coach I ever had and will be the last coach I ever had. She is like my second mom. She stands by me and stands by my decisions. She knows me better than I really know myself. I think I got really lucky to have her. For me, it is such an advantage because when I compete I feel so comfortable with her. I feel every step of the way I'm doing it with her and she understands, she understands what I'm going through. She has been there through it all. She knows my good days, she knows my bad days, she has been at my worst events and she has been at my best events," said Brown.
While this season is still just getting started, it has already been an impressive start for Jason. Last month, just two weeks before the start of the ISU Grand Prix series, Jason got a phone call he says he'll never forget.
"It was incredible. At first, it didn't set in.  But then three days later, I woke up and was like, 'I'm going to Skate America, what? How is this happening?!?'" said Brown.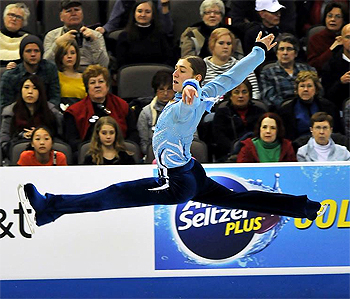 Jason had learned that 2010 Olympic champion Evan Lysacek had withdrawn from Skate America because of an injury. That meant as the alternate, Jason would be lacing up his skates and competing at his first senior Grand Prix in front of a home country crowd in Detroit, Michigan. The timing worked out well for Jason. He had just returned home from competing in Germany at the Nebelhorn Trophy, where he won the silver medal.
"The timing actually worked out very well because I had just gotten back from Germany that Sunday and when I came to the rink that Monday that's when I found out. Once we found out, we changed modes and started training more. It worked out with the timing of my other event," said Brown.
His accomplishments in Germany seemed to provide even more inspiration and confidence. After competing his short program at Skate America to "The Question of U", Jason found himself in second place, less than eight points behind the leader, Japan's Tatsuki Machida. His score of 83.78 was a personal best for Jason.
"I tried to stay calm. I didn't celebrate. I had to remember that it is a two part event," said Brown.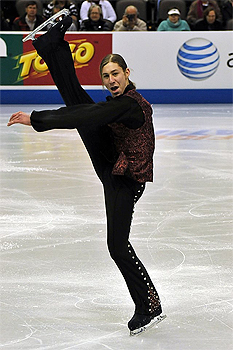 In his Skate America short program, Jason had pulled off his triple Axel, a jump that hasn't come easily for him. While many of the top male skaters have been working on landing quads, Jason has struggled at times with his triple Axel. He had made his senior debut at U.S Nationals in 2011 without attempting the triple Axel. Despite a standing ovation from the crowd and a clean long program, he finished ninth that year. He knew that in order to be competitive at the senior level he would need the triple Axel, and his hard work paid off when he landed all three of his triple Axels cleanly at the 2013 World Junior Championships in winning the silver medal.
Jason did have some troubles with his triple Axel in his Skate America long program, which caused him to finish in fifth place. However, Jason says the experience of skating in his first senior Grand Prix and performing in front of the U.S. crowd was something he'll never forget.
"There is something special about being able to perform in front of a home crowd at my first Grand Prix, that's something I'll always cherish," said Brown.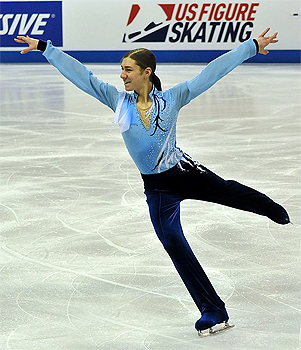 Jason will have a second chance to make the podium when he skates in Paris at Trophee Eric Bompard on November 15-17. It is another opportunity for Jason to compete against some of the best male skaters in the world. He's hoping to take what he learned at Skate America and use it in Paris.
"My goal is to get a personal best each time I skate and to skate two clean programs. It has been my main focus this season. I'm trying to worry less about placement. Competing against the top men in the world, I'm trying not to get too overwhelmed and I'm working on trying to stay focused," said Brown.
But while Jason has had these out of this world experiences, there is still one experience that is in his reach, the 2014 Winter Olympics Games in Sochi, Russia. With only two U.S. spots available, Jason knows the competition is tough. But Jason says he's ready for the challenge.
"It is cool to know that it is a realistic possibility and not out of my reach. I know that I'm going to have to skate two clean programs at Nationals. But I definitely think that it is possible and I do really think that the possibilities are endless. Four years ago, I was watching all the people I inspired to be like and look up to compete and now it is crazy to be like in their shoes and I'm going to be the one on the ice this season and I'm really excited. It would definitely be an honor for me to compete in Sochi and represent my country," said Brown.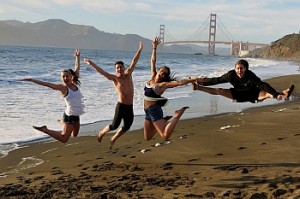 Some fun facts about Jason:
—College: Jason is taking two classes at the University of Colorado this semester. He's taking Japanese and English. But doesn't know what he wants to major in, but knows he wants to work with kids in the future.
—Favorite Breakfast Food: Eggs with toast.
—Embarrassing moment: Tripping or falling over his bags.
—Favorite Drink: Water. He thinks he drinks 10 bottles of water a day.
—Superstitions: Jason only travels in black. He does this every time he gets on a plane. He doesn't know how it started. Jason also always puts on his left skate first. After the six minute warmup and the time he competes, Jason says he never goes to the bathroom.
—One thing he can't leave home without (besides skates): His pillow.