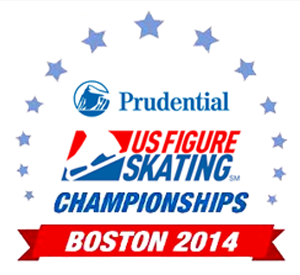 Boston is home to the 2013 World Series Champions Red Soxs. But this week, they won't be the only champions in Beantown. There will be national champions crowned on the ice.
The 2014 U.S. Figure Skating Championships gets underway on Sunday January 5. Not only will new national champions be named, but we will also learn who will represent the U.S. at the Winter Olympic Games in Sochi, Russia in February.
More than 370 figure skaters will compete at the juvenile, intermediate, novice, junior and senior levels for 20 U.S. titles in ladies, men's, pairs and ice dance. But all eyes will be on the senior level competitions. In the ladies, two-time national champions Ashley Wagner looks for her third national championship and to be named to her first Olympic team. Also hoping to make the podium and earn one of the three coveted spots to Sochi are Gracie Gold, Christina Gao, Mirai Nagasu and Agnes
Zawadzki. In pairs, the Skating Club of Boston's Marissa Castelli and Simon Shnapir are hoping to defend their title and win a second national title in front of a hometown crowd. Also hoping to land on the podium and be named to the Olympic team is 2012 U.S. Champions Caydee Denney and John Coughlin and 2013 U.S. silver medalists Alexa Scimeca and Chris Knierim. In the men's competition, three-time national champion Jeremy Abbott is hoping to wrap up his competitive career by making a second trip to the Olympics. With only two spots and with reigning Olympic champion Evan Lysacek out of the race, the competition will be fierce between Abbott, 2013 U.S. Champion Max Aaron, along with Adam Rippon, Jason Brown, Josh Farris and Boston's Ross Miner.
Boston last hosted the U.S. Championships in 2001. It is expected that thousands will attend the events going on at the Boston Convention and Exhibition Center and the TD Garden. Those unable to be there in person will be able to check out the action on IceNetwork and on NBC Sports.
The Figure Skaters Online staff will be in Boston this week. We will bring you highlights all week. You can also follow us on Facebook and Twitter (@FSOnline or @ginaballerina). For ice dancing highlights, make sure you follow Ice-Dance.com on Facebook and Twitter (@Ice-Dance.com)
FSO wishes all the skaters the best of luck in Boston!