By Leah Adams
Photos by Leah Adams and Royal Caribbean
Scott Smith retired from competitive skating in 2009. During his competitive career, he won three senior international medals, silver at the 2003 Nebelhorn Trophy and 2003 Karl Schäfer Memorial, gold at the 2005 Ondrej Nepala Memorial. He placed fifth at the 2005 Four Continents Championships. Smith also had his highest placement at the senior level by placing 4th at the 2003 U.S. Championships.   He was the U.S. Junior Champion in 1998. Though he has hung up his competitive skates, Smith can still be skating aboard cruise ships for Royal Caribbean. He has been on and off the ships now for four years.
For our new section called, "On the Record," Smith answers our questions about life at sea and what it is like to skate aboard a cruise ship.
Figure Skaters Online (FSO) : What surprised you about being on a ship?
Scott Smith (SS): What surprised me about being on the ship was the quality of the ice show. I had no idea what to expect and when I first saw the show, "Strings " on Royal Caribbean's Independence of the Seas, I was floored by the quality of skating and of the costumes , lighting , choreography etc. At the end of my contract, I was also surprised how few material things I needed to live happily for six months.
FSO: When did you know ship entertainment was what you wanted after your competitive career? How many years have you been on a ship?
SS: I knew I wanted to do shows after my competitive career, but I didn't know I wanted to skate on ships until I went on vacation on the Independence of the Seas and saw the ice show. I have been on and off the ships now for four years and will continue to skate on ships in the future.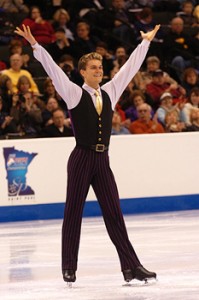 FSO: What is your schedule daily, rehearsal, exercise on board?
SS: I really enjoyed the daily routine I get into when I am on the ship. I usually sleep until about nine , get something to eat and go to the gym first thing. On a port day, I enjoy site seeing and experiencing wherever the ship has taken me for the day. At night, there are fantastic shows in the theater that include singing, dancing and a variety of specialty acts. It's amazing to have access to everything within a couple minutes walk. It is a great feeling to never have to commute /sit in traffic.
FSO: How was adjusting to the ice sheet on the ship and have you ever had to do a show in rough water?
SS: The rink on the ship is about 40′ x 60′. It was a little bit of a challenge at first, but after a couple weeks I got completely used to it. Now I feel more comfortable skating on small sheets of ice than I do large sheets of ice. Sometimes the ship is rocking a little bit during an ice show, but it usually doesn't affect me too much. It does make it harder to center a spin, haha. If the seas are very rough, the shows are canceled, which doesn't happen very often.
FSO: What do you do for relaxation on your day off? Diving, sightseeing etc.
SS: My favorite activity I have picked up on the ship has been scuba diving. I did my first contract in the Caribbean last year and got to dive with amazing coral reef, tropical fish and sharks. When I am cruising in the Mediterranean, I enjoy going on tours of Europe's most famous historical sites such as the Leaning Tower of Pisa and the Eiffel Tower. When I was in New Zealand and Australia, I enjoyed the fjords and the movie set of the Hobbit, as well as the Sydney Opera House. Climbing the Sydney Bridge has also been one of my highlights.
FSO: What is your favorite Caribbean island?
SS: My favorite Caribbean island that I have visited so far has to be St. Maarten. I really enjoy the white sand beaches, blue water and the delicious food that the French side has to offer. Airport Beach is also one of the highlights there. You can watch huge commercial jets land on the runway right behind you while laying on the beach. It's a thrill.
FSO: Collect souvenirs?
SS: I'm not much of a souvenir collector,  but I do enjoy taking pictures everywhere I go as a reminder of each place I have been.

FSO: How much luggage are you allowed?
SS: Packing for the ship can be tricky ,especially the first time. You are allowed to bring as many bags as you are willing to pay for at the airport, but you must remember that you have a small room to store everything so the more you bring, the less space you will have in your cabin. I have gotten pretty good at packing, just the essentials so I end up not bringing much.
FSO: What made you retire and when did you know was time?
SS: Retiring from competitive skating wasn't a decision I made overnight and it was more of an evolution overtime. After my hip surgery in the fall of 2009, I felt that I would have a hard time getting back to the level of skating that I wanted to be for competition. That is when I started exploring my other options as a skater because I knew I still wanted to skate.
FSO: What is the hardest part of your job now?
SS: The hardest part of my job now is balancing real life at home with a life on the road.I really enjoy the travel of my job but I also like to have the feeling of a stable life somewhere which is why I have continued to live in Salt Lake City during my downtime from shows.
FSO: Can you address the sacrifices your parents and sisters as well as brother made for your skating?
SS: Coming from a large family, I had a lot of support from my siblings and parents. My parents definitely sacrificed time and money driving me to lessons, practice and taking time off work to take me to competitions. My siblings also were supportive, driving me to the rink and attending my competitions. We are a very close family and we continue to support each other and everything that we do. Most importantly, my family has always been there for me emotionally  as skating has very high highs and very low lows.
FSO: What is Louie's living arrangements while you travel?
SS: My little 4 pound Yorkshire terrier Louie has spent a long time living with my brother while I am gone. I have also had neighbors and friends in Salt Lake City take care of Louie when I am on the road. Luckily, he is a well-behaved fun dog to have around.
FSO: Tell us about your partner, Michael. How is it to be a part from him for an extended amount of time?
SS: Michael also has a job that takes him on the road very often. If I am on a ship and he is off of work he is able to come and visit, sometimes for as long as a month at a time. We try to arrange times to both be home in Salt Lake City at the same time as well. We have done a good job timing our contracts to make sure we have time to spend together.I can't believe we have been together almost 7 years already!
FSO: What would you like to see happen in skating?
SS: I would love to see skating have more separate events like other sports have in the Olympics such as swimming and gymnastics. I think there should be jump events where speed,height and distance of jumps is all calculated into the score. I think we are losing our audience with the perception that the majority of the score comes from flashy outfits and music rather than from athletic sport moves such as quadruple jumps. Adding lyrics to the competition will not help the "sport" at all in my opinion.
FSO: What do you admire in skating now?
SS: I do admire how the IJS has really improved the quality of skating,spins and footwork especially at the lower levels. I am really impressed with the young skaters of today when I watch competitions.
FSO: Tell us about your change of coaches and move to Salt Lake City to Boston.
SS: My move to Salt Lake City from Boston was a difficult decision for me because I had lived in Boston for a long time and was very settled there. I made the move because I felt I was ready for a change of scenery to light a fire in my training. Unfortunately it was just a few months after I moved to Salt Lake City that my hip injury really took over my skating. I have decided to stay in Salt Lake City because I really love living here. During the summer the weather is beautiful and I enjoy time swimming and being in the mountains. In the winter the best ski resorts in the world are here and I have grown to love skiing.
FSO: Ms. Webster help sponsored your skating career as well as many others. She recently passed away. What did she mean to you?
SS: I was very sad to hear of Ms. Webster's death. I was on a ship at the time and felt very removed from real life. I knew her health was not doing well, but it was still a very big shock. Her contribution to my skating and to the skating world will never be forgotten and I am very grateful to this day for everything she did for me.
FSO: What is next for Scott?
SS: I am very excited about my future in skating. I have put together a skating a trapeze specialty act. It's about a 4 1/2 minute routine of tricks on the trapeze as well as some of my favorite skating tricks. I am really looking forward to performing my new act on the ship coming up soon in the future.