By Johanna Bear
Photos by Leah Adams
Going into the 2014-­2015 Grand Prix season, many eyes within the figure skating community were on Joshua (Josh) Farris to see how he would follow up his fourth place pewter medal finish at the U.S. Figure Skating Championships the season before. Unfortunately, a high ankle sprain temporarily derailed his training and he was forced to withdraw from the Cup of China and went into the NHK Trophy in Osaka, Japan, up against skaters who were already competing in their second Grand Prix event of the season.
"To be honest, I hate to admit it, but I actually felt really good [going into NHK]," Farris confessed, "Looking back at it now, I changed my training regimen after I got back and it was a night and day difference. I thought I was ready… I thought I had the ability to podium. I think focusing on the results and the outcome and focusing on how other people were skating, I was focusing on everything external instead of focusing on what I needed to do at that moment, and I think it's that pressure and the distraction just got to me."
An eleventh place finish, last in the event, brought up questions and doubts about his training and his mental fortitude, all of which served as continued motivation to take control of his skating and work for the results he knew he was capable of.
"Obviously, right after I skated, I was in tears. I feel like that's an appropriate reaction," Farris said with a wry laugh, "I was devastated. I was humiliated, actually, but the more I thought about it and the more I processed my performance, I realized that that was a complete fluke and I knew that everyone else knew that too. I had never performed like that in my entire life and I'll do everything in my power now to not have that happen again. I am very stubborn. I don't like to accept help very much, but I had to step aside and accept the fact that my way wasn't the right way and I think once I did that I started becoming happier on the ice and off the ice, I started to train more efficiently, I became more organized, everything started to magically change. Unfortunately, I think NHK had to happen for me to realize this, so it really was a blessing in disguise."
In the wake of the disappointment of NHK, Farris threw himself into his training in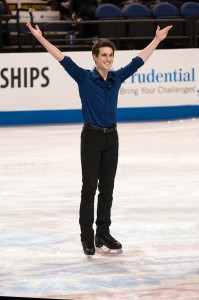 the lead-up to the 2015 U.S. Figure Skating Championships in Greensboro, North Carolina. As a result of his struggles during the Grand Prix season, he went into Nationals with little expectation and little of the attention that was surrounding the other top American men. There were also no worries of potentially repeating what had happened in Osaka.
"I had talked to my sports psychologist and she really helped me let go of the residual feelings and frustrations of NHK. NHK could not happen again," Farris stated, "It is impossible because I was in Greensboro, I wasn't in Japan, it wasn't the same date, it wasn't the same anything. I had trained so much better than I ever had before Nationals in my whole entire skating career. Of course, I was nervous because I cared, but I wasn't scared that NHK would happen again."
In spite of returning to the site of a horrific Nationals experience in 2011 that involved a stay in the hospital due to an anaphylactic reaction to dairy as well as a broken fibula and torn abductor muscle, Farris was confident about his ability to put the past behind him and move forward.
"The good part about it is that it happened four years ago, and that's a significant amount of time to have passed," Farris acknowledged, "They did a lot of renovations in the rink and the hotel so it looked similar, but it didn't at the same time. I accepted the fact that that had happened and I chose to focus on what was happening in that moment instead of what had happened in the past."
With a new outlook and a desire to prove himself, Farris was one of the biggest surprises of the men's event in Greensboro, performing a nearly clean short program to Ed Sheeran's "Give Me Love" and a clean free skate to music from "Schindler's List," which put him in third place and earned him a bronze medal, his highest ever finish at Nationals.
"The skate I had wasn't a surprise, but the results were," Farris admitted, "I still can't believe the points I got, they were ridiculous!"
Unfortunately, with the advent of a new rule dictating how many double jumps a skater can execute in their programs, Farris was penalized for doing three double toe loops in his free skate and had his triple Lutz­-double toe loop combination invalidated. If he had done his planned triple flip-triple toe loop combination in the first half of his program, then he could have won the gold medal.

"When it first happened, I was so focused on what I was doing and I was so excited that it didn't even cross my mind that I had done too many double toe loops," he explained, "But I think I'm in a really good position. I think defending your title is a lot harder to do than earning a title, and it's the first year of this quadrennial, so I don't have to win, and it was an improvement from the last two years, so I think I'm in a really good spot."
Even with the consequences of those double toe loops, Farris joked that it still wasn't enough to supplant the triple loop as his least favorite jump.
"Loops suck," Farris stated emphatically with a laugh, "It's like for me I either have to be perfect or I'm on my butt."
One of the most improved parts of Josh's programs has become his spins, and one in particular has stood out both for its exceptional difficulty and its exceptional position. It resembles a camel but then the bent free leg is lifted above the hip.
"I will give 100% credit to my spin coach Becky Bradley for that one," Farris confided, "Honestly, I don't even know how she came up with it. It took me a while to get that spin consistent. It took me maybe two months; right before Nationals actually was when I first got it to where I could do it almost all the time. It's really hard to keep the speed in that spin, I have to really keep all the tension and when you're tired you don't really want to do that!"
Fans, who watched the men's free skate on NBC, also got treated to hearing Josh sing and play his guitar as he waited for his warm­up. "Every competition that I've had, I've always brought my guitar," Farris said with a smile, "I really haven't been playing for too long, so Damon (Allen) and Christy (Krall) said since I skated last in the long program and I had like forty five minutes, you need to do something to keep your mind occupied so you don't think about the program too much, so they pitched the idea of me bringing my guitar to the rink and trying to find a room that's private. We actually got to the rink early before my six ­minute warm­up, and I thought why not play a little bit? Then the camera crew came in and I thought that they were just recording for like a backstage Icenetwork type of thing, and then I got a text from my guitar teacher saying, 'I just saw you on TV singing and playing,' and I was like, 'What?!'"
Farris also hadn't been planning on having to perform an exhibition program with his results earlier on in the season and so he had to repeat his short program instead.
"I did not know that I was going to have to do the exhibition," Farris laughed, "I was not expecting any result whatsoever, because skating can be so political sometimes. I thought that they were going to hold me down because of my NHK performance. Apparently not, which is awesome, but I thought I wasn't going to get in the top four so therefore I wouldn't do an exhibition, so I didn't have one planned. I didn't think you could do your short until literally two minutes before I went on the ice to do it, and I was so exhausted, I mean I had just competed my long program, so yeah that was funny. If you didn't see my reaction after I did my program I was just laughing."
As a result of his placement at Nationals, Farris was named to the U.S.'s Four Continents and World Championship teams for the first time in his career. He went into Seoul, South Korea for Four Continents wanting to justify those assignments and prove his consistency at the top level against some of the best skaters in the world, including Olympic bronze medalist Denis Ten of Kazakhstan and 2012 World Junior Champion Yan Han of China. He was joined by Adam Rippon and newly minted U.S. Champion Jason Brown, whom Farris has been competing against since they were ten years old.
"The good thing about having Jason going is that it does bring a sense of familiarity and, since he's from [Colorado] Springs, I guess you could say home. We're just going to keep supporting each other. I hope he skates amazing, and I'm sure he will. He's probably one of the most consistent skaters ever. I still can't believe I'm going to Worlds," Farris said in disbelief, "Hopefully, the shock of it kind of goes away over the next few weeks so that I don't get there and be all star­struck, but I'm sure once I get there, I will be motivated and determined to do my best."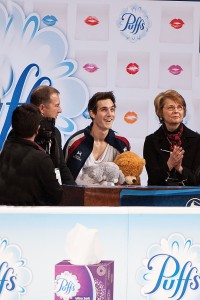 The first step towards Worlds was Four Continents, which took place a mere two weeks after Nationals. "It felt like forever to me," Farris joked with a grin, "I didn't really do a whole lot, I mean obviously I did my programs every day, but I did not push it at all. The first week I got back, I didn't do any full programs, I just did choreography programs with maybe two or three jumps thrown in, and then the next week, I did full programs, but I took it really easy and I didn't over ­train at all. I had already had the muscle memory of having done clean programs, so I wasn't worried about not performing well. I took it easy and did the best I could. I didn't expect much. I had a hard time sleeping that whole week. Come to think of it, I had a hard time sleeping at Nationals, so maybe not sleeping is the key to my success?" he joked, "Being exhausted is the best way to skate well!"
Though he didn't expect much going into Four Continents, Farris used his momentum from Nationals to propel him to a second place finish, behind only Denis Ten, and posted the second highest component score of the competition. He was able to avoid being intimidated by the international competitors and focus on himself and his skating.
"One of the lessons I learned from NHK was trying to block out the thoughts of focusing on everybody else and how they're doing. I just accepted that they're doing well and they're going to do their job, but I needed to switch focus onto me, and I really think I'm becoming a lot more successful with that and I was not intimidated," Farris asserted, "I've competed against Denis before, I've been competing against Shoma [Uno] for a while now. Since I've traveled internationally quite a bit now, I think I've kind of met everyone and almost everybody I'm friends with, I mean I think we all go through all this (stuff) together and we just try to support each other as much as we can. The event was very friendly. Everybody was so nice and it was so much fun."
Getting to see so many international skaters also gave Farris some new perspective on the state of men's figure skating.
"I think the guys that do two quads in their long programs, they do sacrifice the artistry to a degree in the beginning of their programs to save up energy for the rest of the program. I think the American men, including myself; we haven't consistently tried quads in our programs enough to have that balance," he explained. "You can't put 100% energy into your choreography and 100% into the jumps, it's impossible. You can't do it. I think the American men just need to get it out there a little bit more and experiment with it since we haven't had a whole lot of experience. To sum it all up, you can't have a perfect balance between artistry and technical all the time. I think we just need to stop over thinking it."
Farris also announced that he will be adding a quad toe loop in his short program for the World Championships. He originally intended to include it for Four Continents, but the abbreviated turnaround made that impossible. Most likely, he will attempt the quad in combination and follow it with a triple Axel and a solo Lutz. Heading into Worlds, Farris appears to be the frontrunner among the American men, but instead of worrying about that status, he is trying to use that pressure as motivation to improve.
"I am a huge procrastinator," Farris admitted with a wry laugh, "Ask U.S. Figure Skating, for forms and stuff, I am the last person to get them done, but I need the pressure to get something done. Obviously, too much pressure would get to me if I let it, but I think a little bit of pressure will help me. It'll keep me on track and I won't slack off."
With regards to his goals going into the upcoming World Championships in Shanghai, Farris offered some thoughts on what he will be striving for and on his mentality with his newfound success.
"I think top five is achievable for me," he said, "I think that's kind of what I expect is top five, especially with it being my first Worlds. My biggest pet peeve is people who are arrogant. I hate arrogance with a passion and I have done everything in my power not to be arrogant. I think it's been one of my struggles, has been kind of connecting confidence with arrogance. I didn't really know where confidence stopped and arrogance started and now I'm becoming confident with my skating and I am still finding that line between arrogance and confidence. I think the attention and, obviously, skating well, has helped my confidence so much. I don't come out of a bad session and say I don't deserve my World Team jacket. The attention is something I've wanted for a while because I knew I had it in me, I knew that something needed to happen, something needed to click, and maybe that was NHK, for me to be one of the top U.S. male skaters. So in my mind nothing has changed, because I expected it for myself."
Looking ahead to next season, Farris is considering adding both a quad Salchow and a quad toe loop in his long program. He also announced that he will be retiring his free skate music, which he has now used for two seasons, and will most likely be moving away from his short program music as well, to let it stand as his breakout program.
By changing his training, his mentality and the way he approaches the sport, Josh Farris has cemented himself at the forefront of U.S. men's figure skating. With incredible technical ability and a tremendous capacity for connecting with his music, he is a talent that will be sure to rise in the coming years ahead of the 2018 Olympics in Pyeongchang. In the words of one of his favorite singers, Jason Mraz:

I'm letting myself off the hook for things I've done
I let my past go past
And now I'm having more fun 
I'm letting go of the thoughts
That do not make me strong
…
And I know I'll only do this by
Living in the moment.