From Carly Gold:
"I attended the 2006 Nationals in St. Louis when I was ten years old. I vividly recall being mesmerized by the senior ladies event. They became my instant role models! From that moment on, my goal was to compete at the senior level at the U.S. Championships, no matter what it took.
Exactly ten years later, I achieved my goal. It took hard work, dedication and resilience. Along the way, others suggested I try to find a different hobby, knowing I was less talented and would always be in the shadow of my twin sister. Of course, they were right. But for me, it was never about sibling rivalry, it was my own passion for the sport that pushed me forward. Despite hardships and many disappointments, I would not change a second of my journey. What an amazing life it's been!
All adventures must come to an end at some point. I am so proud and honored to have finished my competitive skating story with the 2016 U.S. Championships in St. Paul, Minnesota.
This fall, I will be attending Marymount California University full time, and I look forward to finding myself outside of the sport that has defined me for so long. I'm hoping to pursue a career in photography, another passion of mine.
I want to thank everyone along the way who never gave up on me, including my parents, coaches, and my amazing sister, Gracie. Thank you, thank you, thank you!"
–Carly
Getting Candid with Carly 
By Gina Capellazzi
Photos courtesy of Carly Gold
Though she has announced her retirement from competition, Carly isn't hanging up her skates for good. On July 29, she will join Gracie to perform in the ISI World Recreational Team Championships Benefit Show at Fogerty Arena in Minneapolis, Minnesota. Before preparing for her trip there, Figure Skaters Online caught up with Carly and asked her some fun, mostly non-skating related questions.
Figure Skaters Online (FSO) : What's your favorite thing to photograph?
Carly Gold (CG): My favorite subject would definitely have to be candids of my friends and family. Wildlife and landscapes are a close second!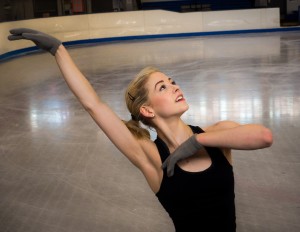 FSO: What's your favorite photo that you've taken?
CG: My favorite photo I've taken was of my sister after practice ice at the Skating Club of Boston at Worlds this past year (see right). She had a great session, the lighting inside the rink was absolutely perfect, and everyone was in great spirits. Certain photographs are really special to me because of the stories that surround them.
FSO: What's the most unusual thing you ever photographed and how did that come to be?
CG: I took a lot of pictures in Harajuku (Tokyo) earlier this month when I visited Japan. The street style there is truly one of a kind!
FSO: What type of photographer do you hope to be or what do you hope to do with photography in the future?
CG: It would be my dream to work for a publication like National Geographic. Their work is inspiring and truly incredible. I've also been dabbling in action photography recently. I would love to photograph a big skating event one day!
FSO: Why do you like photography? How did it all begin for you?
CG: My favorite thing about photography is how it can preserve memories. I'm a very nostalgic person, so I like that I can have little snippets of happy times from my past that I don't want to forget! I took a beginning photography class in college last fall because I wanted to learn how to take nice photos. My professor was very inspiring and I learned so much; it became an immediate hobby for me.
[Editor's Note: To view Carly's photography account on Instagram, please click here.]
FSO: Where has been your favorite place to travel?
CG: Having a twin sister who is also a top figure skater certainly has its perks! I've been able to accompany Gracie to several of her international competitions, going to amazing places like Japan, Germany, Russia and China. I can't say that there's a place I visited that I haven't completely fallen in love with.
FSO: Where is somewhere you haven't been but want to visit?
CG: I would love to go to Iceland someday. It looks like a photographer's dream!
FSO: What is something you can't travel without?
CG: I can never travel without my phone. #21stcenturyproblems 🙂
FSO: What is your favorite thing about being a twin?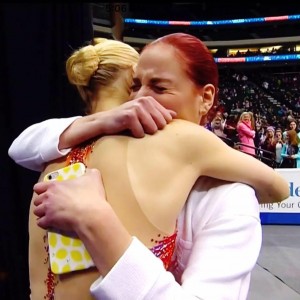 CG: My favorite thing about being a twin is knowing I will never have to face any challenge alone. Gracie always has my back 🙂
FSO: What's your least favorite thing?
CG: There's honestly nothing I don't like about being a twin!
FSO: Did you and Gracie wear matching clothes when you were little and was there a time when you switched places or when people would mistaken you for your sister when you were younger?
CG: Since we are fraternal, even when we dressed the same when we were younger, everyone could tell us apart, haha!
FSO: You have been a red-head, blonde, brunette? What has been your favorite hair color and why? Any plans to change it up again?
CG: I was very fond of my red hair. I kept it that color for more than two years. When I decided I was done competing, I thought it was time to change my hair too. Right now, it's about shoulder length and cinnamon brown-ish. Subject to change, of course!
FSO: What has been your most embarrassing moment?
CG: At the Gala for the 2016 U.S. Championships, they asked me to do the introduction for Gracie. It was broadcasted on NBC. I got really nervous for some reason and totally blanked out while I was speaking. It makes me cringe to think about it!  I can't remember exactly what I said, but I think it was along the lines of, 'U.S. Championships………Senior Ladies……Champion……….and my twin sister……….Gracie Gold'.  A lot of my friends made fun of me after that!
FSO: What has been your most memorable moment?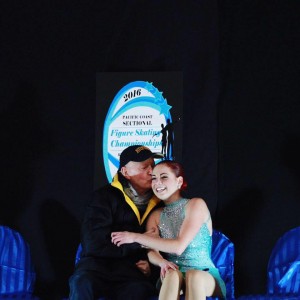 CG: At sectionals this last year, they announced my score and we realized I qualified for Nationals. Frank (Carroll) was so happy he kissed me on head. At that moment, all was right in the world!
FSO: Do you and Gracie have any plans for your upcoming 21st birthdays? How are you celebrating?
CG: Our birthdays are on a Thursday, so probably not much celebrating the day of! Gracie and I want to do a nice dinner or a pool party though.
FSO: Even though it is not the Winter Olympics, will you be watching the Olympics in Rio?
CG: I wouldn't miss it! The Olympics are exciting and emotional, no matter what season or sport.
FSO: What sports will you be watching?
CG: My favorite is definitely gymnastics, but I'll be rooting for all of Team USA!