By Johanna Bear
Photos by Leah Adams and Hannah Miller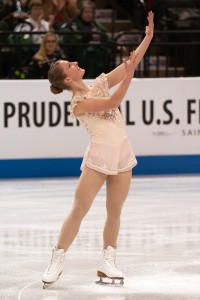 It would be an understatement to say that a great deal has changed for Hannah Miller over the last thirteen months. In that span, she has moved away from her family in Michigan to train under renowned coach Rafael Arutyunyan in Southern California, and has had to simultaneously balance dealing with the culture shock of living in a new city, adjustments of training in a new coach's system and, now, with being on her own for the first time.
"I recently signed a lease by myself, which was the weirdest thing, 'cause I'm like, 'oh my gosh I'm getting my own place,'" Miller said with a laugh. "I had to buy myself a car, I go grocery shopping, I cook for myself, so it's just been like me exploring really stepping out of my comfort zone and growing up and living on my own and having the freedom to figure out who I am. I think as a person I've matured a lot."
"It was a big change to not have my three younger sisters there every day, my parents cooking me dinner, all of that," Miller added. "I used to be pretty shy, but coming out here has definitely made me more outgoing, more comfortable. I think it's been good for me. It was definitely tough at first, and I didn't really like living away from everything (familiar) but I'm enjoying it a little more now. Once you start doing things on your own, it becomes so much easier!"
In spite of all the changes that have been happening off the ice, perhaps the most complicated changes have taken place inside her new rink.
"I would say the hardest part is adjusting to Raf [Arutyunyan] and Nadia [Kanaeva] and Vera [Arutyunyan] and the technique they're trying to get me to do. The technique Raf coaches is different than anything I have ever experienced. It has a lot to do with timing and torque of the body," Miller explained. "I have battled with old habits because what I have known my entire life is almost a complete opposite of what Raf has taught me. The thing about Raf is that he always has new ideas. He devotes much of his life to the sport and it shows when he comes in every morning with new exercises. It's always a challenge with him but I have really enjoyed it."
At this time last season, Miller was preparing to make her ISU Grand Prix debut season at Cup of China and Rostelecom Cup. This year, however, she has yet to be assigned to any international events, a disappointment that she somewhat expected.
"I kind of knew that it was coming. I didn't have a very good international season last year, which was very disappointing for me, but when you take a step forward there's always a step back and then you take a couple more steps forward, so I think moving out here and trying to adjust to everything else in my life made the beginning of last season a little rough and then I got a little handle on it for Nationals, so I didn't expect the Grand Prix. Of course there's always hope, as with anything, but what can you do? You just put your head down and get back to work. I'm just training hard and looking forward."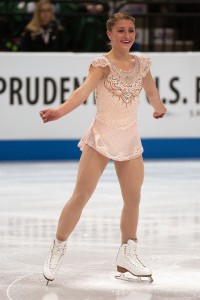 Miller had an impressive showing at the U.S. Championships last season, placing 7th, which is her highest ever finish at Nationals at the senior level. Miller says she knows not to dwell on that success, but instead she uses it as motivation to keep improving.
"I was happy with my Nationals performances and placement, but I know there is a lot of room for improvement," Miller stated. "I was proud to be able to show what I had learned throughout the year with Rafael, Nadia, and Vera. Moving to California was a big challenge and I was happy to show improvement within a year. This year, I look forward to continuing to improve."
One of the biggest changes in moving to her new rink was having to adapt to sharing the ice with other top level international skaters, including 2016 World silver medalist Ashley Wagner, 2016 U.S. national champion Adam Rippon, and 2016 U.S. national bronze medalist Nathan Chen, as well as new addition Michal Brezina, the 2013 European bronze medalist and two-time Olympian (2010 and 2014), who represents the Czech Republic.

"I would consider my biggest inspirations the athletes I train alongside every day," Miller said. "Training alongside Ashley, Adam, Nathan, and now Michal has been inspiring. To be surrounded by dedicated and hardworking people makes pushing myself a bit easier. We all work very well together and they make going to the rink fun every day. [They] have shown me this last year what it means to never give up. They come into the rink every day and give training 100%. It has been incredible to watch this and be a part of the team. Drive, fight, dedication, and persistence is brought onto the ice every day by these guys."
This season, Miller will be keeping her "Arabesque" short program, as she hopes to further improve it with more devoted training time.
"The short program I actually got last year in August, late in the year, and it was just a program that I really instantly loved and the facial expressions and how the program was put together just really worked for me.  So coming home from Nationals and reevaluating what we wanted to do with this upcoming season, I hadn't had it for that long and we wanted to give me a chance to really develop it more and really let it reach its full potential," she recounted. "I asked Raf and he was like 'I don't see why not – let's do it!' and I said, 'Sounds good to me, I'm totally comfortable with it!' so I basically just want to develop it more this year and make it a little bit better."
Though her short program will be familiar, her free skate program is brand new and she will be debuting it at the Glacier Falls competition the last weekend in July.
"It's very different from anything I've ever done," Miller said of her new program to three pieces ("Spring Wind," "The Unbending Chinese Tree" and "Ad Martem") by Balázs Havasi. "Nadia choreographed it and that was a lot of fun, but I think that she laughed at me more than anything else because she is an amazing skater. She would do this program for me and then I would try to do it, and she would start giggling and I would be like, 'Oh my gosh I'm trying, stop laughing at me!' It kind of starts off very slow and then my footwork is actually in the slow section which is different. I don't think I've ever had slow footwork before. Then it builds and the end is very powerful and that was something that I really wanted this year, was a really powerful ending and a program that built to an end, so it definitely does that. The program has kind of a modern dance look to it, a lot of the movements are edgy and different and the beginning starts off with really flowy and beautiful movements. There's a lot in it – I'm hoping that everyone really likes it and enjoys it, but I've definitely had to do a lot more to develop it and keep working on it."
As with any elite athlete, Miller's training schedule is packed every day with both on-ice and off-ice workouts, but it is also subject to alterations depending on her needs on a given day.
"It is always changing depending on what my body needs and the ice times," Miller explained. "The basics are, I skate a hour in the morning, take a couple hours break and then go back to the rink for a couple more hours of skating. I also do spinner workouts at the rink 2-3 times a week. Added to that, I do muscle strengthening twice a week and workouts at the beach or track three times a week. The workouts at the beach are some of the most difficult workouts I've ever experienced but I love feeling like I am getting stronger."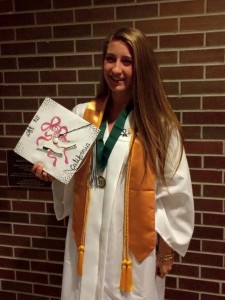 Not being forced to split her time between schoolwork and skating has also opened up her schedule and allowed for her to devote more time to her career. Miller graduated from Williamston High School in her hometown of Williamston, Michigan in June of 2015 . She was the valedictorian of her class with a 4.0 GPA. She is reveling in no longer having to put so much effort into maintaining her high grades.
"It was hard, I would say, in high school, because I would skate in the morning, then I'd go to school and then I'd go skate in the afternoon and then I'd do homework and then I'd go to sleep. So it was that kind of continuous cycle," Miller said with a wry chuckle. "I was always good at time management and if I knew I needed to get something done I didn't put it off, I just got it done and then I let myself go and hang out with friends or hang out with family. I think my advice to people is: manage your time well. Know your priorities. Know what you have to get done and then reward yourself by being able to do something fun with friends or family because you're going to feel more accomplished after getting what you need to get done, done."
Despite not being enrolled in a traditional college or university, Miller is taking online classes part-time through Michigan State University. She is still unsure of what she would like to do after her skating career is over.
"After I'm done skating, I plan to finish up school and find a career that I love," Miller said. "This is incredibly vague, but to be honest, I am very unsure about what degree and profession I want."
Despite this uncertainty, she is very clear about her current goals in the sport, saying that her ultimate goals include making a World and Olympic team with her eyes set on the Winter Olympics in South Korea in 2018. However, even amidst the pressure of her training, Miller is still able to take part in activities off the ice.
"Right now, I spend a lot of time doing schoolwork, which isn't always fun. But when I get a break I love going to the beach, reading, paddleboarding, longboarding, and making jewelry," she said. "I just moved into an apartment 1.7 miles from the beach. I used to live 15 miles away. Now I can easily jog, bike, or longboard to the shore. It is a dream come true because I am such a beach girl. I never though I would live this close to the ocean at 19-years-old!"
While remaining hopeful for an international assignment this fall, Hannah Miller clearly is focused on improving all aspects of her skating and embracing the new lifestyle that has come with adapting to a new city and training regimen. If she can conquer the real-life obstacles that come with any big changes in routine, it will be fascinating to see how her new technique and growing confidence will pay dividends on the ice.