By Kylie Smith, Team FSO contributing writer
Header photo by U.S. Figure Skating, all other photos by Robin Ritoss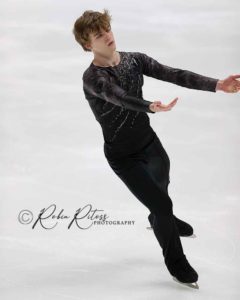 The age-old quote, "Hard work pays off," is proving to be true for many U.S. Figure Skating athletes who earned a spot at the 2023 National Championships. It is especially true for the Skating Club of Boston's Will Annis, who is set to make his senior nationals debut next week in San Jose, Calif.
Annis' path to skating was quite unique. He shared, "I started skating when I was 8 because my family loves to ski and my dad thought that skating lessons would help me be a better skier." 
For Annis, figure skating became more than just lessons to help him become a better skier, which he still enjoys doing. He competed in both singles and ice dance for many years. The reality that he could have a future in the sport began to set in when he won his first nationals in 2017 as a single skater on the juvenile level. Annis told Figure Skaters Online (FSO)  of the experience, "Just being at the national championships gave me a new perspective on my progress in the sport and helped me see a future in international competitions, and soon enough I was there!"
Annis, who celebrated his 18th birthday Jan. 13, competed at the 2018 U.S. Championships in San Jose as an intermediate skater. He finished in 4th place, winning the pewter medal. The following year, the Duxbury, Mass. native was back at the top of the podium, winning the novice title. But then, disappointment struck. After debuting on the Junior Grand Prix that fall, Annis failed to qualify for the 2020 U.S. Championships. The same thing happened in 2021. He told the Boston Globe's Kat Cornetta in 2022 that at the time, he considered leaving the sport for good, yet he decided to make changes in his training instead. Annis moved from Yarmouth Ice Club in Cape Cod to the Skating Club of Boston to work with coaches Olga Ganicheva and Aleksey Letov.
In the fall of 2021, Annis returned to the Junior Grand Prix Series, where he won the bronze medal at the event in Slovakia and finished in fifth-place in his second event in Poland. Also that fall, Annis qualified for the 2022 U.S. Championships on the junior level. A few months later at the 2022 U.S. Championships, his first nationals since 2019, Annis took home the silver medal in the junior men's event.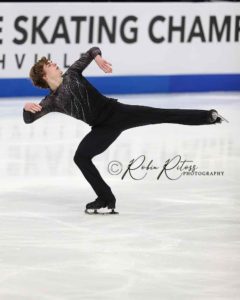 This fall, Annis made his senior international debut at Ice Challenge in Graz, Austria. When asked about his goals for his senior nationals debut next week, he shared, "I hope to skate the way I've been training and show two clean programs and improvement from my past few competitions, which I was not prepared enough for due to a back injury. I also want to get the crowd involved and help everyone enjoy my performance."
As a high school student at Duxbury High School, Annis is balancing quite a bit in addition to skating. For school, he shared, "I do half in person school and half online school so that I can train more. In a usual day I'll go to school for a couple hours and then head to the rink. Then, when I'm done training on and off the ice, I will head home to work on my online classes and my in person school homework. For college, I have applied to school near the Skating Club of Boston, anywhere from Providence to Boston. I am currently planning on majoring in Astrophysics." 
Time away from the ice is equally as important to balance out, too. When asked about his hobbies outside of skating, he told FSO, "I love to hangout with my friends and do things like hiking, going to the beach, going out on my boat, and skiing."
He also shared some thoughtful and valuable advice to young skaters who may hope to be in his shoes (or skates, rather) one day. Annis shared, "My advice for younger skaters would be to skate because you love it. Sometimes you will have bad days and won't want to be at the rink, but if you take a step back and learn from your mistakes, you can turn a bad training day into a good one. I used to struggle a lot with negativity, which actually made me start disliking skating, but once I learned to change my mindset and look at bad days as learning experiences, skating became much more enjoyable and I was able to rediscover my love for it. If you love what you do, it will help you push yourself and work through challenges and compete at the level you want to be at."
You can watch Annis in his senior nationals debut when the 2023 U.S. Figure Skating Championships kicks off in San Jose Jan. 23. The senior men take the ice for their short program on Friday, January 27, and they'll compete in the free skate on Sunday, January 29. Figure Skaters Online will be on site in San Jose and sharing coverage live from the event. Stay tuned to our Nationals Hub for all the behind-the-scenes coverage!