By Claire Cloutier, special to Figure Skaters Online
Header photo by Robin Ritoss
PORTLAND, ME — In some ways, this spring is like a celebration for American ice dancers Madison Hubbell and Zachary Donohue. Now that the challenging Olympic season is over, Hubbell and Donohue can enjoy performing with Stars on Ice and celebrate their many accomplishments this past year, including winning their first U.S. title and their first World medal. Not only that, Madison Hubbell recently became engaged to Spanish ice dancer Adria Diaz. It's certainly been a banner year for the U.S. champions.
Figure Skaters Online caught up with Hubbell and Donohue recently at the Stars on Ice show in Portland, ME, and attended a Q&A session that Hubbell and Donohue hosted with a group of young local skaters.
Hubbell and Donohue have been partners since 2011. After seven years together, there's a strong sense of ease and comfort level between the two dancers. Off ice, Madison Hubbell is serene and gracious—and funny, too. Partner Zachary Donohue is spontaneous, quick-witted, and seldom at a loss for words. It's fun to talk with them; there's lots of little jokes.
Hubbel and Donohue said that winning the silver medal at the World Championships in Milan last month was the perfect end to their season. "It felt amazing," said Hubbell. "Being able to just finish the season standing on the podium. And celebrating with Gabriella [Papadakis] and Guillaume [Cizeron]."
The competition was a highlight not just for Hubbell and Donohue, but for the whole ice dance group in Gadbois, Montreal, headed by coaches Marie-France Dubreuil and Patrice Lauzon. The Gadbois group had seven different ice dance teams competing at Worlds. "And they all had the skates of their life," said Donohue. "It was really awesome. The coaches left really satisfied."
"It was the first time ever that we were able to travel with all of our coaching staff," added Hubbell. "All five of them, plus our performance coach. So we had six people at the boards, cheering us on."
Hubbell and Donohue not only won the silver medal in Milan, but also achieved another objective. "I had my own personal goal of making sure we got all of our level fours. Which is always lofty," said Hubbell. "And not always 100% in your control. But we did manage that goal. So that was a great way to finish the season."
Their World silver medal was the conclusion to an eventful four years for Hubbell and Donohue. During the quad since Sochi, the team experienced a major medical setback (Hubbell's hip surgery), a big coaching change, and a slow climb up the international ranks.
Asked what they'll remember most from the last quad, Donohue said:  "Good question. There's a lot to pick from. The move … our first National title … There's a lot of big moments."
"For me, I think this quad is representative of taking charge of our career," Hubbell said reflectively. "You know, we've always worked hard and been passionate. But finding a place that we feel fully supported … We're just so happy in Montreal. And with our coaching staff. I feel like we found a bit more of our stride in this last quad. Year by year, we were having to climb our way up, and prove ourselves, and do a lot of the grunt work. I feel like we've positioned ourselves to have a quad [where] we can just be more at home, and more calm. Still with that same drive to progress and excel. But with a little bit more confidence."
The couple have many goals for the next quad, looking toward Beijing. "We fought hard for our first National title, and we're not planning to let go of it," Donohue said. "But that's going to take a lot of hard work. And we're looking forward to the push of upcoming teams. And Gabby and Guillaume are not going anywhere. We're looking to get as high as we can on the World podium and looking to medal as high as we can at the next [Olympic] Games as well. We're in it to win it, so to speak."
Next season, the couple will tackle the Tango Romantica, which is the compulsory pattern in the 2018-19 short dance. "I competed it with my brother, but Zach has never competed it. Which, this far into a career, is very rare—to have a dance that you've never done," said Hubbell. "So we're going to try and make that our favorite. I like it a lot."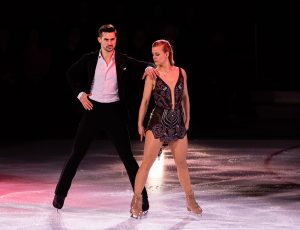 Hubbell noted that her other favorite pattern dances include the Midnight Blues, Blues, and Silver Samba. "I liked all the sassy, fun dances," she recalled from earlier in her career. "And then it was time for a waltz …." (Donohue, meanwhile, said he loves waltzes. Especially the Golden Waltz, which he termed "super-fun.")
For the moment, the couple are happy to turn their focus to Stars on Ice. It's their second year with the tour. They're enjoying being able to perform in more cities this year. 
"The best part about Stars [on Ice] is that we're with our competitors in a non-competitive atmosphere," noted Donohue. "We can laugh and joke and have fun. It's honestly fun."
Hubbell concurred, adding: "A tour like this is a really great opportunity to build different skills.You know, we train all year round on the same program. And we're striving for perfection, and it's easy to feel like your confidence comes from preparation. This teaches you that you have to be confident in yourself, even without a lot of preparation. We have four days to learn a whole show, and we've got to sell it. And make people love it."
The couple is performing their competitive free dance from this season in the show. Hubbell said it's her favorite program ever. "That's why we chose to continue performing it in the show. It's music I always wanted to skate to. I love this artist [Beth Hart]. And certainly, we have a lot of good memories this year, competing it."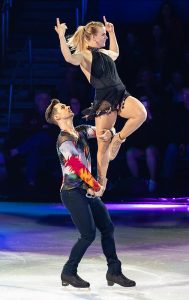 Hubbell/Donohue also have a new show program to "Make Me Feel" by Janelle Monae. Again, it was Hubbell who chose the music.
"Madi kind of came forward with a song she wanted to skate to right away," said Donohue. "And I was like, 'Okay, great, you feel passionate about it.'"
"I went to Spotify, like [I do] for all my programs, and just started putting it on shuffle," Hubbell explained. "I kind of wait until something pops out at me. Because I really want it to be instinctual. I want to hear something and realize, I'm enjoying it, or dancing … So I heard this song. I wasn't even familiar with her music—and it had a really cool, funky feel. It's very current, but at the same time, it has that old Prince vibe. It was just so different from the other program that we're doing. It felt like a cool way to show versatility and get the crowd going. It's just a fun one to dance to."
Samuel Chouinard helped choreograph the show number for Hubbel and Donohue. "He's so much fun to work with. We choreographed this program over two bottles of wine on a Friday night," Donohue laughed.
"We had our own little dance party with Sam," Hubbell said with a smile. "He helped us put together the staple dance sections, and we filled in the rest when we were able, in that chunk of time between Olympics and Worlds."
Chouinard, a member of the coaching staff at Gadbois, is a floor dance specialist with past experience in contemporary ballet and hip-hop. "He's been doing a lot of work on all our programs over the past year," said Donohue.
Chouinard joined the Gadbois group around the same time that Hubbell and Donohue moved to Montreal. "At first it was us who really worked with him the most," said Hubbell. "And then Tessa [Virtue] and Scott [Moir] worked with him a lot. He's just proven to become very versatile in his own style. And he actually has been learning how to skate. He puts on skates for fun and comes on the ice with us. He's just full of energy." In addition to his coaching duties, Chouinard is also doing some work with Cirque du Soleil and appearing in a TV dance show in Canada.
Before Hubbell and Donohue began Stars on Ice this spring, Hubbell got engaged to her boyfriend of several years, Adria Diaz. Hubbell said the engagement was a big surprise to her, but had been carefully planned by Diaz.
"I guess he decided about 6 months ago. And [was] trying to decide where to do it," revealed Hubbell. "We went from [Worlds in] Milan to Barcelona, where we spent 4 or 5 days with his family. It was the second day with them. They said, 'We want to show you this.' It's this spot overlooking all of Barcelona. They said, 'Oh, we're just going to go there. We can take some photos with all the family.' His mother and sister were there, so they took videos and photos [of the engagement]," said Hubbell. "It was definitely a surprise!" The couple have not yet set a wedding date or location.
For now, Hubbell/Donohue will focus on entertaining audiences during the remainder of the Stars on Ice tour.