By Gina Capellazzi, website administrator
Header photo: Craig Sjodin, ABC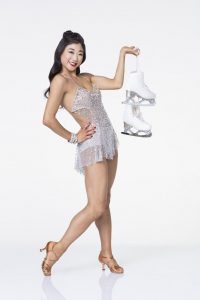 PITTSBURGH, PA — Mirai Nagasu says she is having the best time of her life right now.

The 2018 Olympic team event bronze medalist and current U.S. national silver medalist, who made history and headlines by becoming the first U.S. lady to land a triple Axel at the Olympics, is currently traveling the country with her fellow Olympians on the Stars on Ice tour, and will be making her dancing debut on ABC's Dancing with the Stars: Athletes television show on April 30.

"I'm super excited to compete on Dancing with the Stars," Nagasu said before the Pittsburgh Stars on Ice show on April 27.
Nagasu, along with fellow Olympic team event bronze medalist and good friend, Adam Rippon, will be competing in the show's four-week mini-season that features all athletes. Rippon is also a part of the cast for the 22-city Stars on Ice tour. The two have been rehearsing for the dance show while traveling with Stars on Ice, which started in Fort Myers, Florida, on April 6.
"It is not easy to wake up early and go to dance rehearsals and then come to do the show, but it is really worth it," Nagasu commented about her challenging schedule. "I have to take more naps during the day but I'm having so much fun."
"A little caffeine never hurt anybody," she joked.
The Arcadia, California native, who celebrated her 25th birthday on April 16, will be dancing with professional dancer Alan Bersten, 23, who competed with singer/songwriter Debbie Gibson on Season 25.
"I really like my partner," Nagasu said of Bersten. "He is really young. So I relate to him on so many levels. We get along really well."
"It is the first time I have competed with a partner," she added. "It is something I've really wanted to do for a very long time. So I'm looking forward to it."
Bersten has been traveling with Nagasu so that they can train for the show while she is on the road for Stars on Ice. Bersten did not travel with her for the tour's shows in Pittsburgh, Detroit and Chicago, April 27-29, because he was needed in Los Angeles to learn the choreography for the professional dancers' routines for Monday's show.
"I'm on my own right now. I think Adam and I will probably rehearse together (this weekend)," she said.
Nagasu and Rippon will join their partners and the rest of the DWTS cast following Sunday's Stars on Ice show in Chicago. They will take the red-eye flight out to Los Angeles. Because they are missing the cast rehearsal that takes place on Sunday for Monday's live show, Nagasu and Rippon will begin preparations for the live show at 6 a.m. Monday. Nagasu says they need to learn the opening group number in addition to taking part in dress rehearsals and other preparations for the live show.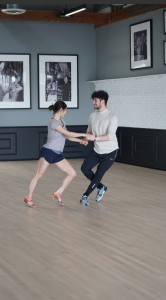 "I'm going to be really tired," Nagasu admits. "With the Olympics that just happened, I feel we (Adam and I) are in pretty good shape. So if anyone can handle it, it is us."
Nagasu was out in Los Angeles last week to do a preliminary rehearsal on the stage and to run her dance in front of the cameras. Nagasu says she and Bersten will be dancing a salsa to Meghan Trainor's "No Excuses" for their first dance on Monday.
"It is so cute," she said of her first dance. "It is so challenging too."
Nagasu also gave Figure Skaters Online some details about her costume for the season premiere.
"It is this cute little hot pink number," she described. "It is going to be bedazzled to the nines."
While Nagasu has competed for the judges and in front of audiences before, one thing that she says will be a new venture for her is performing for the cameras.
"(Performing for the cameras) is something I have never experienced," she explained. "I guess I'll be looking straight into the camera. Usually for figure skating, you ignore the camera, so that will be something new and I don't know how I feel about that."
And just like figure skating where her fate lies in the hands of the judges, Nagasu will have no control over if she stays or goes home. It's all in America's hands, and with Rippon and Nagasu both competing, figure skating fans will have to split their votes if they want to see their 2018 Olympic favorites on the ice both make the finals on the dance floor.
"Maybe they can make two accounts. That would be amazing," she laughed of the predicament for skating fans. 
And Nagasu says there's no competition between her and Rippon either.
"I get that question a lot and a lot of headlines say, 'Ooh…listen to what Mirai Nagasu said about her best friend, Adam Rippon.' And I look at the quote and I'm like, 'That's not cutthroat at all.' We don't really feel like we are competing against each other because we are best friends. Honestly, it is not really up to us if we stay on the show or not. We can only work on our dances and I think we look really good and we have been helping each other out. I hope we both stay past week one and make it to the finals together."
If Nagasu and Rippon need advice about making it far in the competition, they don't have to go too far.  Their Stars on Ice cast mates, 2014 Olympic Champions Meryl Davis and Charlie White, know exactly what it is like to balance the rigorous training and demands of the show with traveling and performing with the tour. Davis and White competed on Season 18 of the show, which coincided with the 2014 "On Top of the World" Stars on Ice tour.  Davis won the coveted Mirror Ball Trophy with her partner, Makim Chmerkovskiy, and White finished in fifth place with his dance partner, Sharna Burgess.
"Charlie said to just have fun and be myself and I think I'm staying real with that," Nagasu said of the advice she has received from Davis and White. "And Meryl said it is going to be really exhausting, but it is going to be so much fun, so take it all in. I feel like I have been taking their advice."
Though Nagasu says she has been dancing more these days since the competitive figure skating season ended, she is still skating between three to four shows a week with Stars on Ice. Nagasu is performing her "Body Language" by Queen number, along with debuting an exhibition program to "No Good Deed" from the musical, Wicked, performed by Idina Menzel.
"I love musicals and I love Wicked," Nagasu told Figure Skaters Online about the new program. "I have seen Idina Menzel live and she is amazing. So I wanted to pick a song that isn't as well known as "Defying Gravity" and I think "No Good Deed" is a catchy one. I hear everyone singing it back stage and that's how I know I picked a good song."
After Stars on Ice concludes on May 20 in Portland, Oregon, followed by Dancing with the Stars' finale one night later, Nagasu isn't sure what her future plans entail and whether she will continue competing or not. 
"I don't know (what's next)," Nagasu admitted. "I'm keeping my options open. I love the entertainment industry. I love that I have this opportunity to share my story and my personality. I'm really just enjoying living in the moment."
Editor's Note: Dancing With the Stars airs on ABC Monday at 8 p.m. (EST and PST). There will be live online-only voting (dwtslivevote.com) during the live broadcast of the season premiere (in the ET/CT time zones) April 30. At the end of the first episode, if Mirai and Alan survive the season premiere elimination, fans can vote for them by phone, at ABC.com and on Facebook, which will factor into the week two eliminations. Toll free phone voting will be open nationwide from the end of the live show until 5:00 a.m. ET on Tuesday. Online voting at ABC.com and on Facebook will open at the end of the live show and closes at 10:00 p.m. ET on Tuesday May 1.