By Maura Sullivan Hill, staff writer
On April 28, U.S. men's competitor Jordan Moeller will host his 7th annual One Skate at a Time benefit show in his hometown of Chicago.
The show is at 7 p.m. at the Southwest Ice Arena in Crestwood, Illinois.
"I am excited to come back to Chicago and perform for all of the friends and family that I don't get to see very often, while raising money for a great cause," says Moeller, who is now based in Monument, Colorado, and trains with Kori Ade.
The show supports Camp One Step, a summer camp for children in the Midwest fighting cancer. Children's Oncology Services, a Chicago-based nonprofit dedicated to helping children with cancer lead a normal life, organizes the camp, which combines the fun of overnight summer camp with any treatment resources the children might need.
"I wanted to find a way to give back to the community after my high school algebra teacher, Deb Swanson, put on a dinner to help raise money for my training," Moeller says. "Her niece attended the camp, and I saw this as the perfect opportunity to raise funds for this organization."
Moeller, who will be skating to "One More Light" by the band Linkin Park, will be joined in the show by 2013 U.S. National pewter medalist Courtney Hicks, as well as other local and national competitors.
Last year, they raised nearly $10,000 and Moeller's goal is to top that mark this year.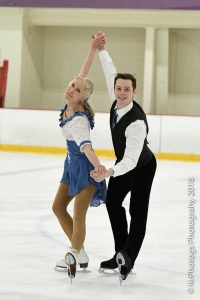 In the leadup to the show, Moeller has been recruiting skaters for the cast, fundraising, and getting the word out to skating fans in the Chicago area. But he took some time away from the behind the scenes prep to compete at the U.S. Adult National Championships in mid-April, where he and partner Ashleyann Carlson won gold in the Bronze level partner dance event. He's also busy preparing for another season on the senior men's circuit and says he is excited to see what the new year holds for his competitive career.
When he's not on the ice, Moeller is also a college student. He is a senior at the University of Colorado at Colorado Springs, studying criminal justice and psychology. With so much on his plate, Moeller says, "It is all about time management and making sure that I allot enough time for school, work, and training."
Moeller's coach, Kori Ade, says that he is a leader at their training rink in Monument, and helped set the tone and culture at her 7K International Skating Academy. Moeller and Ade, along with 2015 U.S. National Champion Jason Brown, moved from Chicago to Colorado in 2013 when she opened 7K.
"When you look at a high level athlete, kids want to emulate their behavior. Jason and Jordan are by far the most, humble, kind, hard working, determined leaders that I could possibly have," Ade says. "Jordan is an amazing young man and I'm so grateful for him."
For his part, Moeller says, "I do my best to promote good training habits while being there for encouragement through all the highs and lows of training every day."
And the gratitude that Ade feels for Moeller is mutual.
"I would not be where I am today in skating without Kori," he says. "She has been a positive influence in my career where I can get work done, keep it lighthearted, and keep the love of the sport alive."
Moeller's love of the sport will be on display at One Skate at a Time this weekend. Tickets will be available at the door: $20 for adults; $12 for children ages 6-12; children 5 and under are free. If you can't make it to the show but want to support the cause, you can make a donation online.
To learn more about Jordan Moeller, visit his official website at www.figureskatersonline.com/jordanmoeller.